Valentine's Day is almost here and I am excited to share an Olaf Valentine card printable idea I came up with. My two year old Delilah has had me watching Frozen, more than twice a day on some occasions, over the past week. She sings it, she watches it, she dances and sings and her favorite part is Olaf.
My older boys even like Frozen, so I knew they would think these Valentine cards were a hit too. I have teamed up with a large group of bloggers sharing printable Valentine Cards. After you check out the Olaf printable, keep scrolling to see a bunch of other awesome Valentine card ideas!!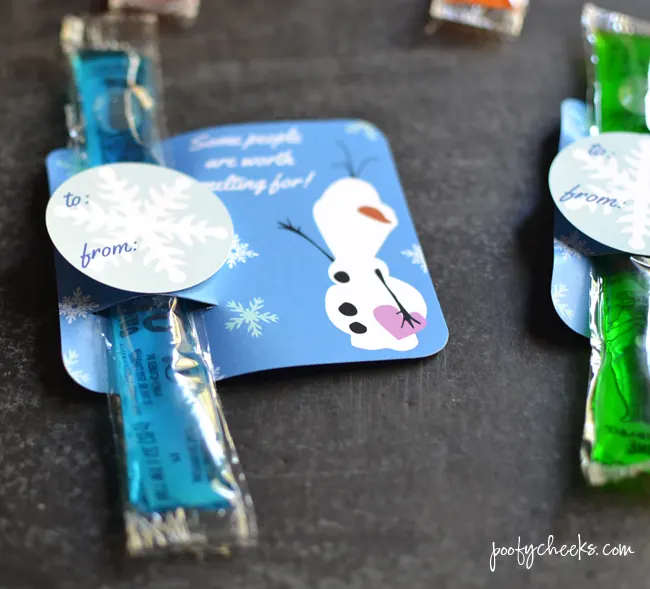 As we were watching Frozen for the umpteenth time I heard the memorable 'Some people are worth melting for' line and thought about how I could incorporate that into a Valentine. I could just stick a lollipop on it and call it a day but Otter Pops popped into my mind (no pun intended) and I knew that would make for the perfect, original Valentine idea.
The Printable-
The printable has two parts – the rectangles and the circles. Each page prints enough for four Valentines.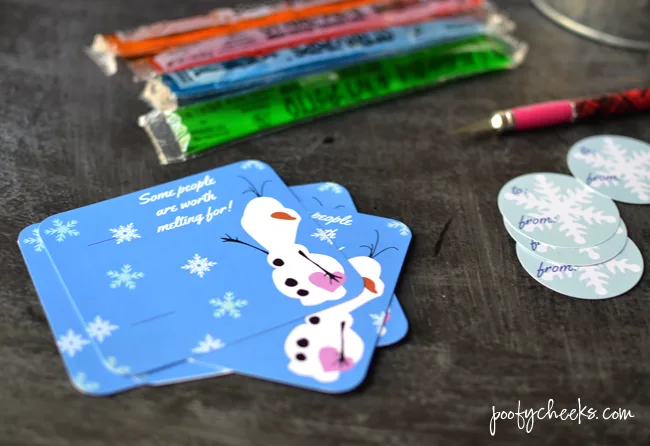 Supplies Needed
Free Printable
Scissors
Cardstock Paper (to hold up the Otter Pops)
Exacto Knife
Glue Stick
**If you have a two inch circle paper punch that is even better for making sure the circle part of the printable comes out perfectly.
Directions:
Print out the printable onto white cardtock or send the file to be printed. I had mine printed at Office Depot for $0.67 per page (that is $0.17 per Valentine since each page prints four).
Use scissors to cut out the cards and circles. If you have a two inch circle hole punch use that for the circles.
(Adult step) Use an exacto knife to cut two slits for the Otter Pop to slide into. I have marked these with dark blue lines on the left part of the printable card. You may need to make your slits are wider than the marked line for the freeze pop to fit through.
Write the names for 'to' and 'from' on the circles and use a glue stick to attach them onto the cards.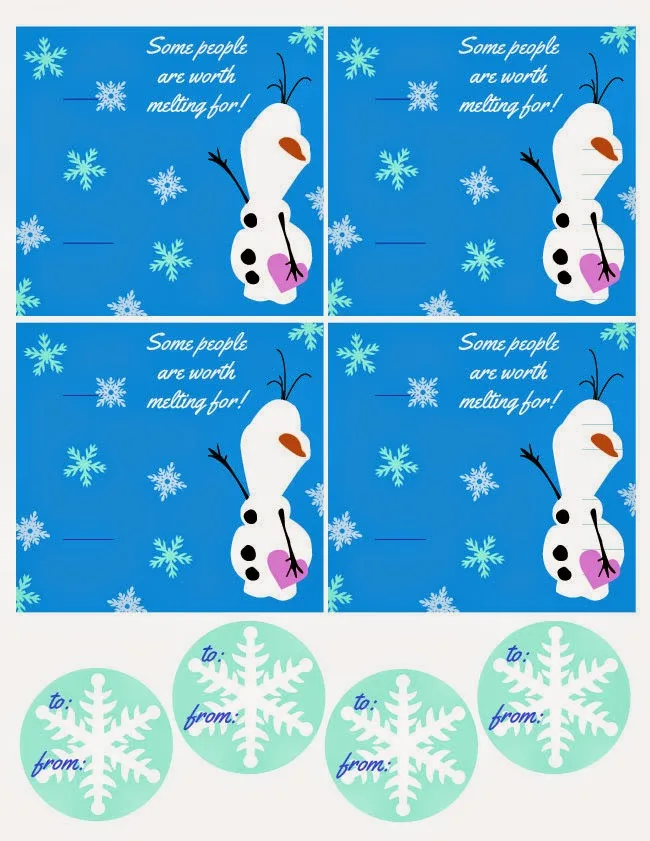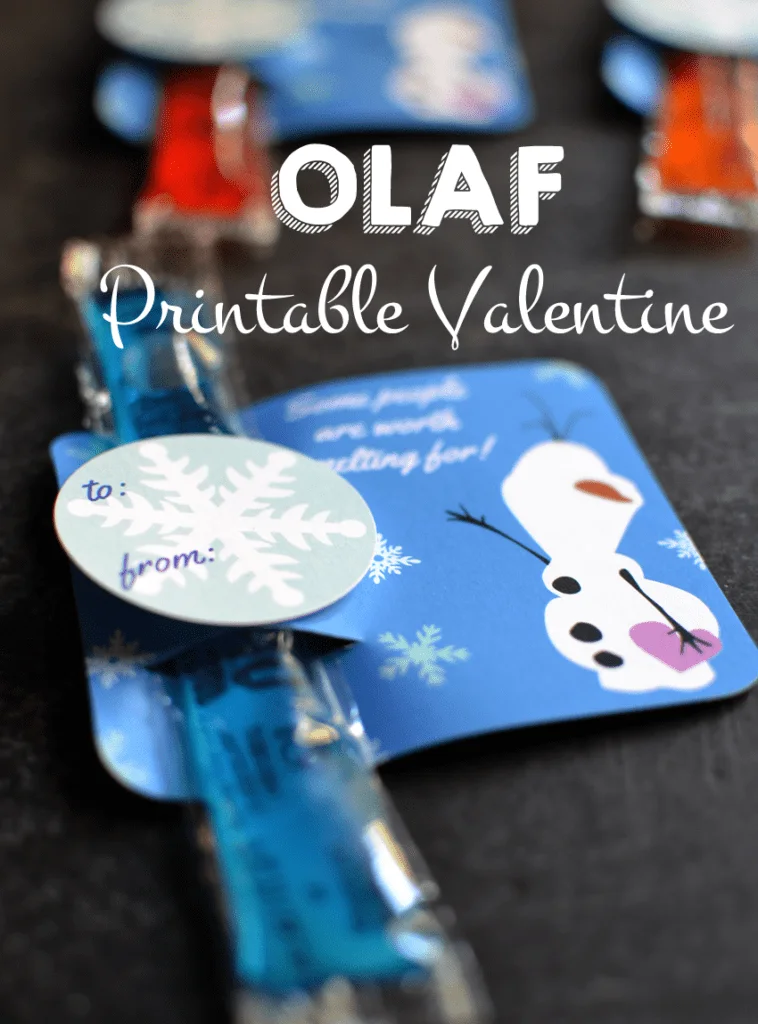 When Delilah saw me cutting these out she instantly yelled out with joy. She took one of the cards and ran off with it to never bring it back. What can I say? The girl loves her some Olaf!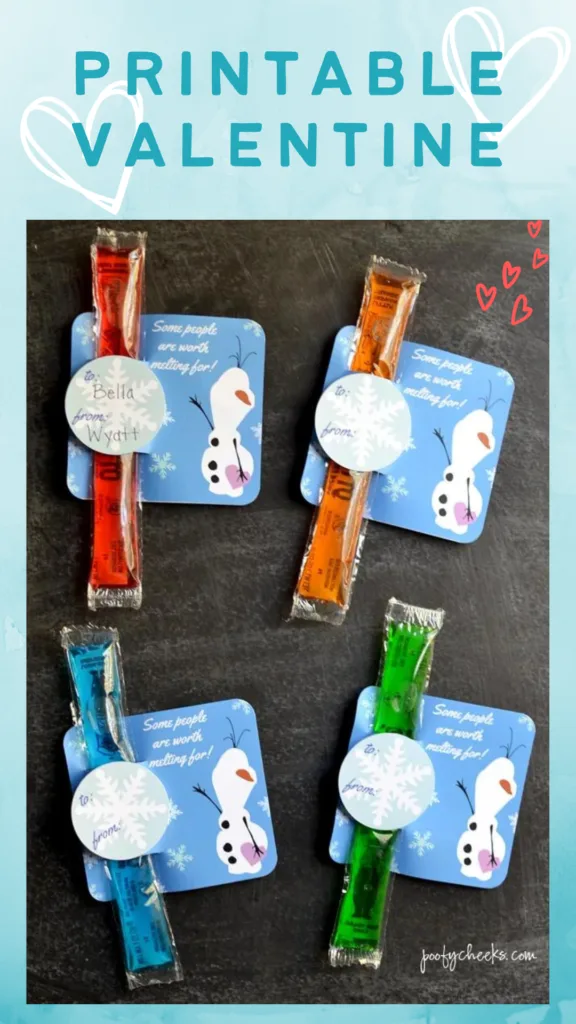 Click the image below to see what my bloggity-blogging friends have been up to!