These no-bake golden graham peanut butter snacks have become a staple in our home since my kids started school. When they get home from school they are ready to tear down the pantry door and ravage through all of the food. Having something ready when they get out of the car has saved many fruit snacks and muffin packs from total extinction.
Cereal is cheap and versatile, so I have been trying to keep some sort of cereal snack around for them to munch on. This one might not be the most healthy but it sure is festive for Valentine's Day! These would even be the perfect school snack if you packaged them up really cute!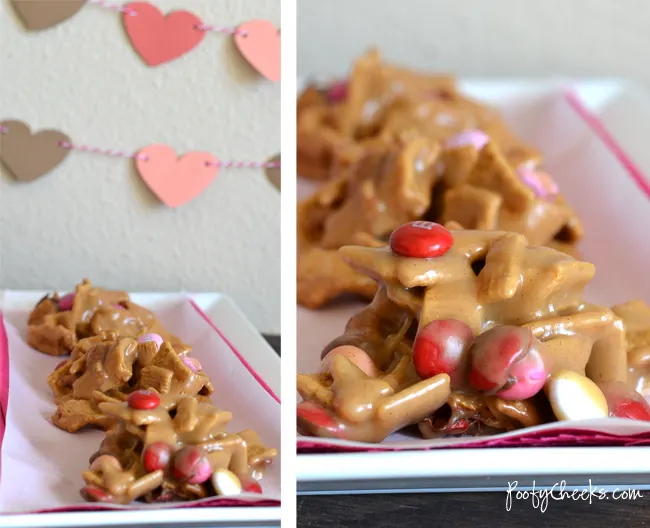 Golden Graham Peanut Butter Snack Recipe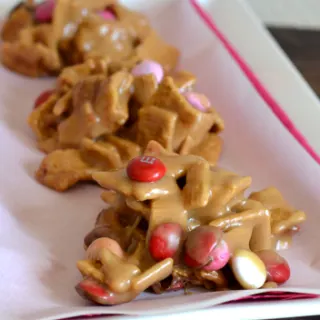 Gayle's Golden Graham Peanut Butter Snack
Additional Time:
20 minutes
The perfect, irresistable snack with crunch and creamy peanut butter.
Ingredients
1 cup of light corn syrup
1 cup of sugar
1 cup of peanut butter
6 cups of golden graham cereal
1 cup of M&Ms
Instructions
Mix the sugar and corn syrup in a medium saucepan over medium heat. Bring to a boil stirring occasionally. Allow to boil for one minute and then remove from heat and stir in peanut butter.
Pour peanut butter mixture over the cereal and M&Ms and stir to coat.
Use a large spoon to spoon the mixture out onto parchment or wax paper in a small pile.
Allow to cool and harden up then serve or store in an air tight container.
Notes
Store in an airtight container at room temperature for 3-5 days.