This loaded baked potoato soup recipe is one my mom made and now one I make for my family. It is a thick, hearty and filling potato soup I make when the weather is cool. It is one of those soups that takes a bit of time, but the end result is worth every second!
I remember the first time I had this soup at a family friend's house. It was a cold fall Illinois night. After the high school Friday night football games, a group of my friends and I (and our parents) would end up together. One of the parents made a big crock pot of this delicious loaded baked potato soup.
My mom got the recipe and made it for many years before I asked for the recipe from her. Nearly all of my soup recipes come from my mom including her Chili and French Onion soup.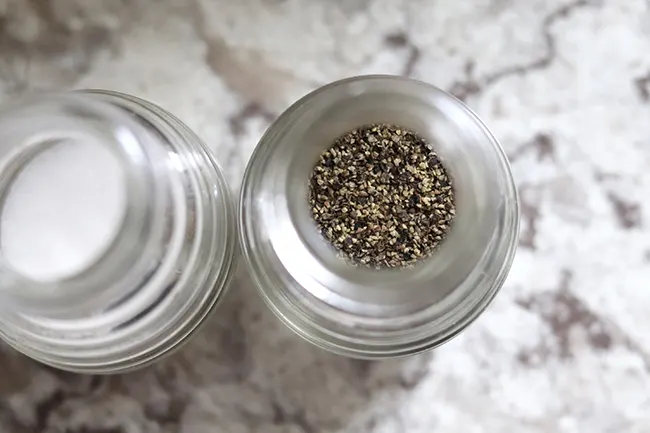 Prep for the Loaded Baked Potato Soup Recipe
The recipe calls for cooked bacon and requires some of the ingredients to be diced, chopped and peeled.
Cooking Bacon
I start out by cooking the bacon on a foil lined cookie sheet at 380 degrees for 15-20 minutes. I like to cook the bacon this way so it isn't taking up room on the stove and I can set it and forget it instead of hovering over a pan. You could also purchase soft bacon bits or pre-cooked bacon if you are trying to eliminate a few steps.
Sweet C's has an entire article on how to bake bacon.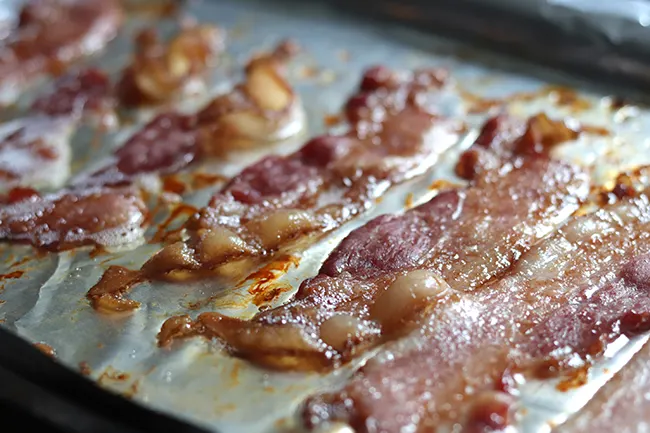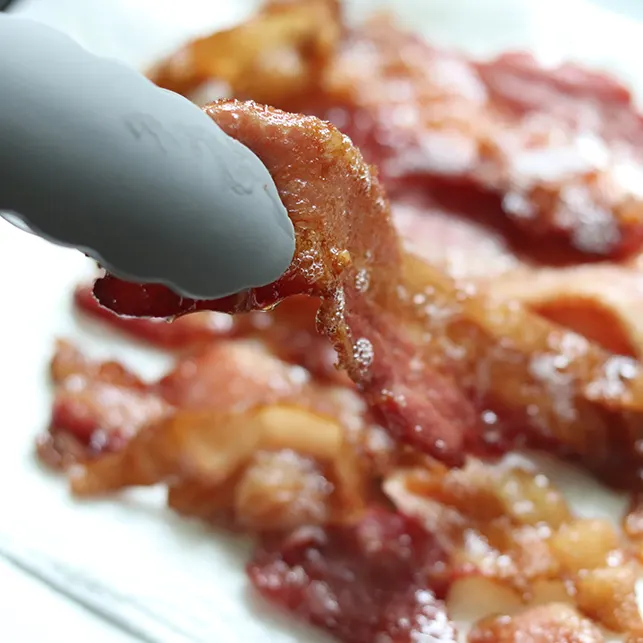 Am I the only one that steals a slice of bacon? I can't resist.
Prepping the Potatoes, Onions and Celery
Peel and dice the yellow potatoes. To ensure the potatoes all finish cooking at the same time cut them into evenly sized pieces.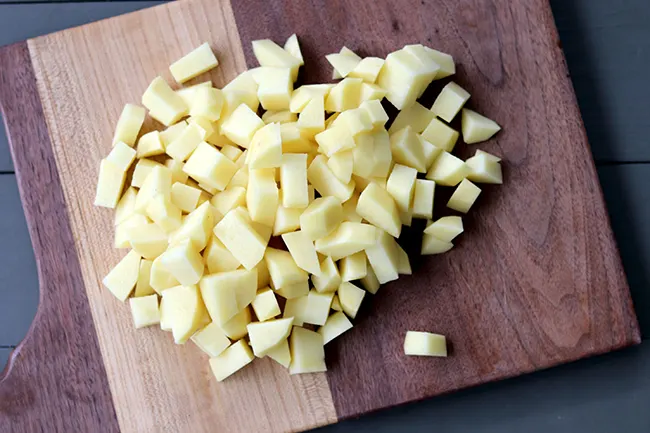 Dice the onion and celery. I like to finely dice them to avoid any complaints from my children. Diced small enough they never even realize the celery and onion are in the soup, but if they saw large chunks they would surely complain.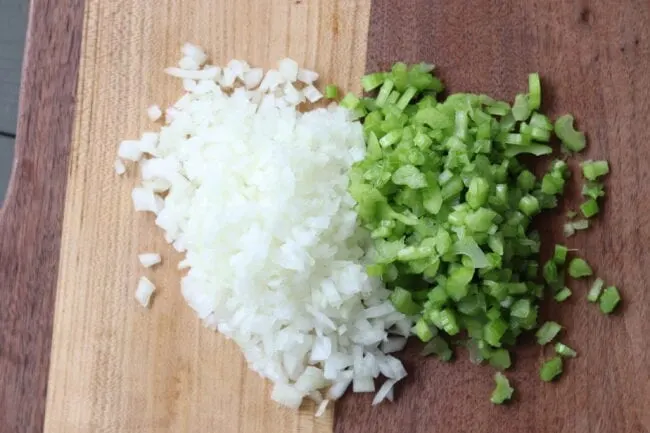 Making Loaded Baked Potato Soup
Place the peeled, diced potatoes in a large pot and fill with water until they are covered by an inch. Once the water starts to boil, let the potatoes boil for 10 minutes or until they can easily be pierced with a fork.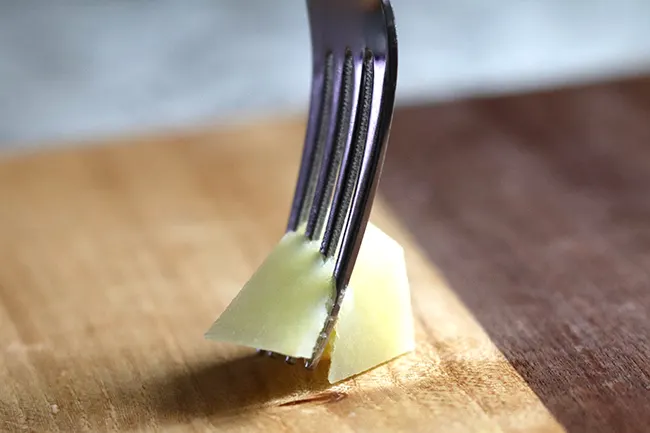 In a saute pan heat olive oil and then add in diced celery and onions. Cook over medium heat until the onions are translucent, stirring occasionally.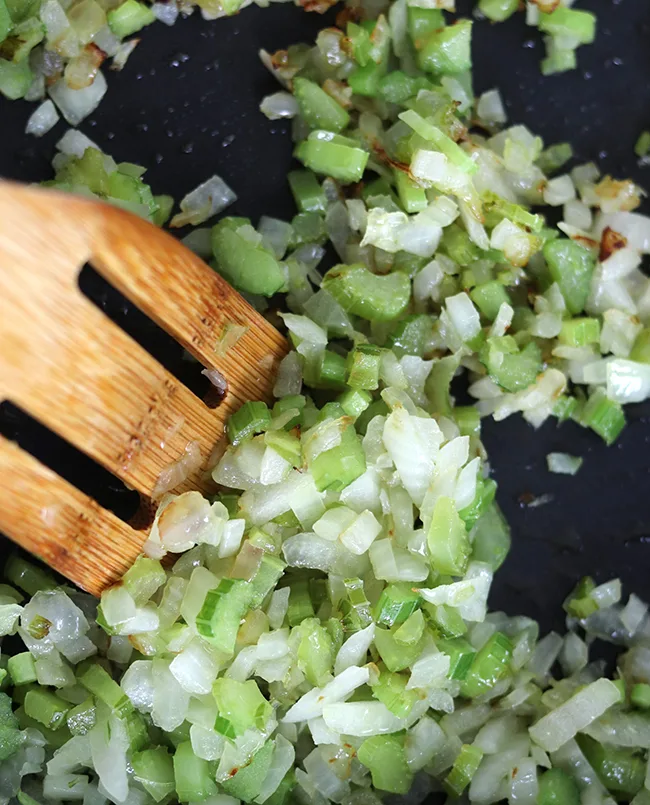 Find a large bowl to put the potatoes, celery, onion and chopped bacon into so you can prepare the soup base. I prefer to use the same pot and saute pan from the potatoes and celery for the soup base to reduce the amount of dirty dishes.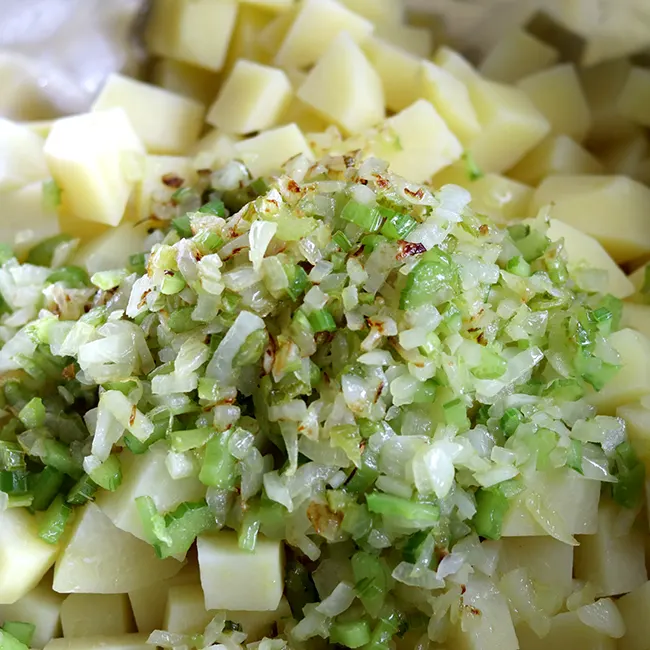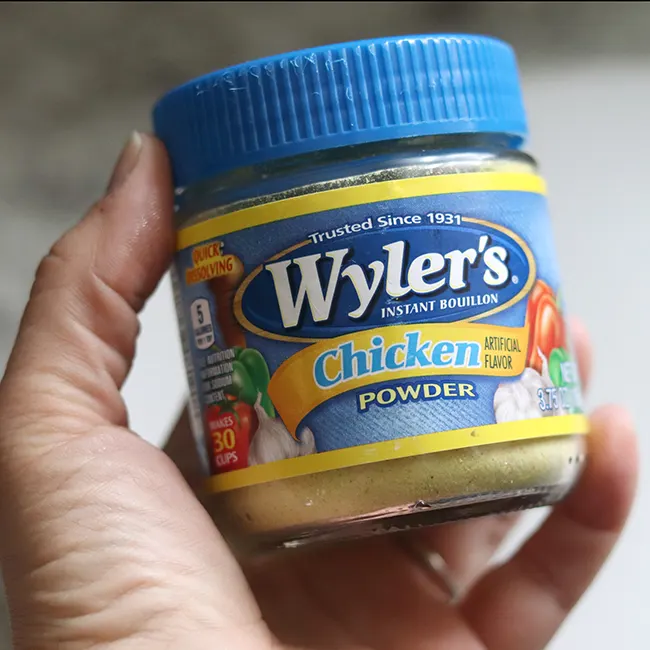 In the large pot heat the milk, water, salt, pepper, chicken broth and chicken bouillon. While that is heating make the roux with the milk and flour. The roux should be the consistency of a paste.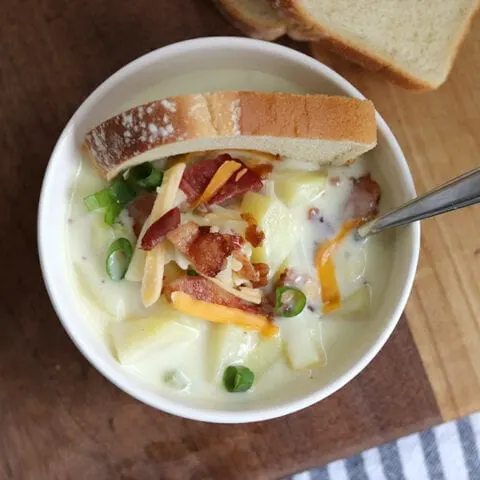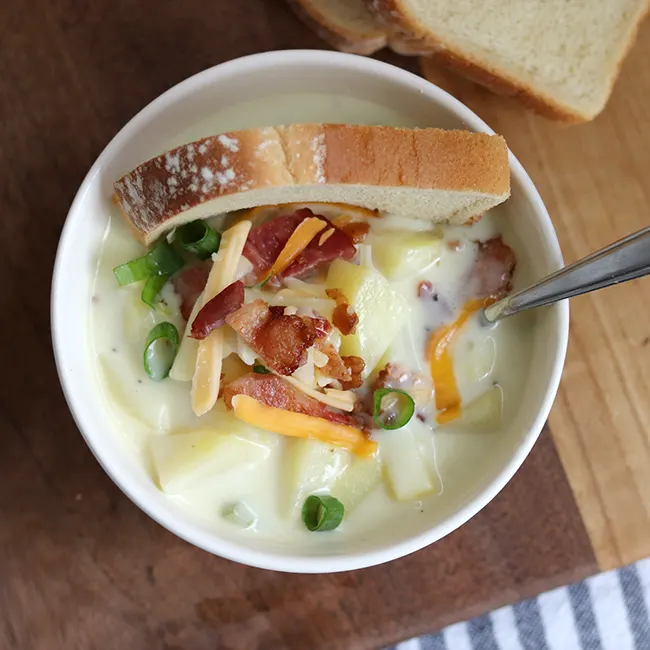 Hearty Loaded Baked Potato Soup Recipe
Total Time:
1 hour
30 minutes
Loaded baked potato soup is the perfect dinner on a cool evening.
Ingredients
8 slices of bacon, cooked and chopped
2 1/2 lbs. yellow potatoes, peeled and diced
1 large yellow onions, dice
3 stalks of celery, diced
2 tablespoons olive oil
4-6 teaspoons granulated chicken bouillon
15 oz. can chicken broth
1 cup heavy whipping cream
4 cups milk
4 cups water
1 cup butter
1 cup flour
1 teaspoon salt
1 teaspoon pepper
desired toppings
Instructions
Place peeled and diced potatoes in a pot and fill with water until covered. Bring water to a boil and boil for 10 minutes or until potatoes are fork tender. Then strain water and place potatoes in a large bowl.
In another pan saute onion and celery in olive oil until they are translucent and tender. Then add to the bowl with potatoes.
In a large pot add milk, water, salt and pepper, whipping cream, chicken broth and chicken bouillon powder. Heat until very hot but do not boil.
Meanwhile, melt butter in a sauce pan. Once melted add flour and mix well with a whisk. Allow the mixture to bubble while stirring for one minute. Flour mixture should be like a paste – you may need to add more margarine or flour to get the right consistency.
Then add half of the flour mixture to the pot with milk. Stir constantly. Keep adding the flour mixture and stir until it starts to thicken. Once thickened add in the potatoes, celery, onions and the bacon.
Stir together and simmer on low for at least 30 minutes before serving. Soup will thicken more as it cooks. Taste and add more salt if needed.
Serve with your favorite baked potato toppings!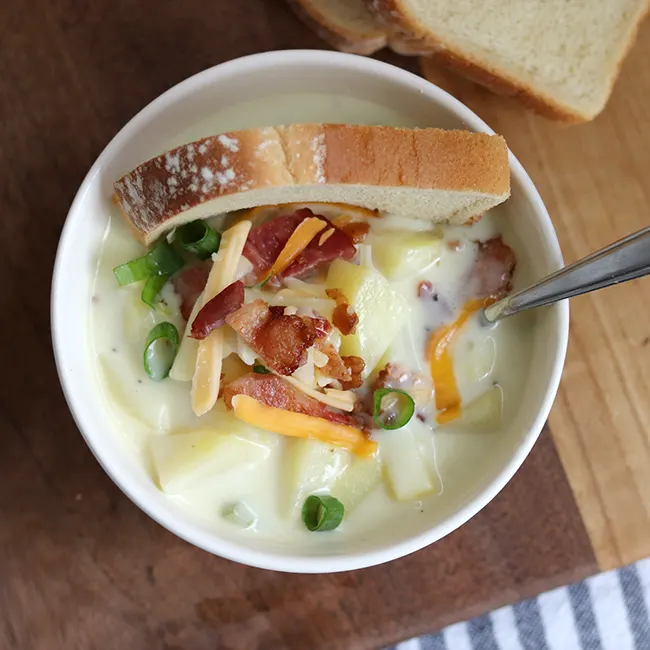 Seriously this stuff is AMAZING! I can't look at another potato soup the same anymore. I even eat the leftovers and I am normally a leftover snob! Another plus – this recipe feeds a crowd! It makes enough for my family of 6 plus enough for leftovers or to put in the freezer for another night.