French Onion Soup Recipe. This post contains affiliate links to products I use and recommend. By making a purchase I may receive a small commission.
This is my momma's recipe for French Onion Soup and the pictures don't even give this bowl of soup justice. If there was internet-smell-o-vision you would be in french onion soup heaven right now. Everyone who has had it (besides for kids who are repelled by the word onion alone) raves about this soup! I don't make it often because my kids are the ones who turn their noses up at the word onion but when I do my husband and I can't get enough of it! Forget the kids – we serve them a can of soup and devour a whole batch on our own!
The recipe calls for vermouth – there are two kinds which you will find at the liquor store and you want the dry vermouth and not the sweet. This bottle cost around $5 and since the recipe only calls for 1/3 of a cup it will last through quite a few batches.
French Onion Soup with Melty Cheese
The melted cheeses are my favorite part of this soup. I start with an oven-safe bowl or crock. I put a pinch of mozzarella cheese in the bottom of the bowl and then ladle in the soup. After that I place the toasted French bread slices with a slice of gruyere over top. Stick the bowl of soup under the broiler just long enough for the gruyere cheese to melt.
If you aren't a fan of gruyere cheese you can also use sliced mozzarella or swiss. I've tried it with all three types of cheeses and none of them disappoint.
Do you see that bubbly cheese goodness!? Dunk it in a bowl of this soup and I promise bread just got even better than ever!
Momma's French Onion Soup
Ingredients
5 cups yellow onions (sliced)
3 tablespoons butter
1 tablespoon olive oil
1 teaspoon salt
1/4 teaspoon pepper
1/4 teaspoon sugar
3 tablespoons flour
2 quarts beef broth
1/3 cup vermouth
loaf of french bread- sliced
swiss/gruyere/or mozzarella cheese slices
shredded mozzarella
Instructions
In a large stock pot add butter, olive oil and onions. Cover and cook on medium/low heat for 15 minutes stirring occasionally.
Uncover and raise heat to medium. Stir in salt, pepper, and sugar. Cook 30-40 minutes or until onions are golden brown. Stir often.
Stir in flour until onions are coated. Remove from heat and slowly stir in broth and vermouth.
Return the pot back to the burner and simmer partially covered for 40 minutes.
Meanwhile place the sliced french bread onto a baking sheet and place under the broiler for 5 minutes (or until just golden brown on the edges) flipping the slices halfway through.
When the soup is finished place a pinch of shredded mozzarella in the bottom of an oven proof bowl or crock. Ladle soup over the top. Place a piece of toasted french bread on top of the soup and then layer bread with a slice of gruyere, swiss or mozzarella cheese. Place the bowl under the broiler until the cheese on the bread starts to bubble.
Remove the bowl from the oven and allow to cool for a few minutes before serving.
Nutrition Information:
Yield:

4
Serving Size:

1 grams
Amount Per Serving:
Unsaturated Fat:

0g
Other Soup Recipes from Poofy Cheeks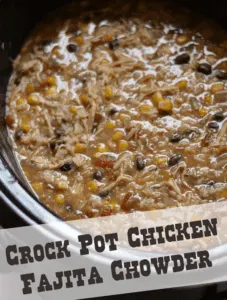 Crock Pot Chicken Fajita Chowder