Fall crafts galore! I teamed up with my creative friends to share a fall craft. I am sharing how to make DIY sweater pumpkins. These are no sew pumpkins and I went with a neutral color palette to keep with my fall decor palette.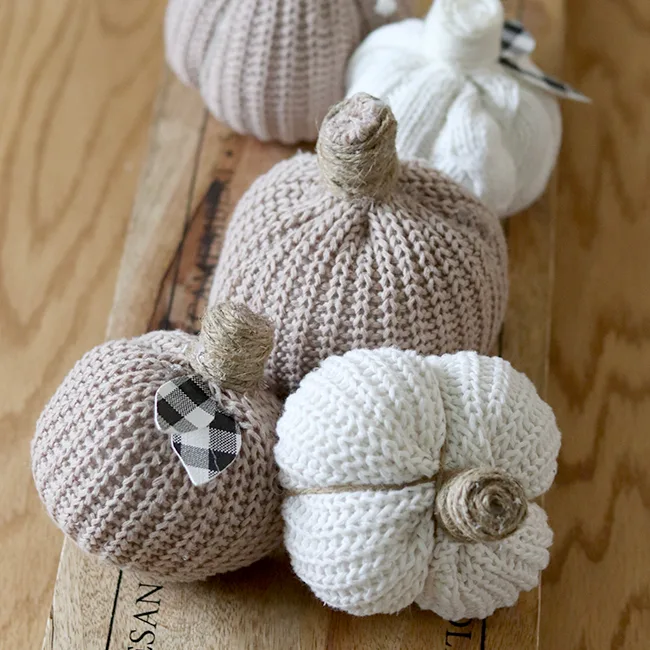 Where to find Sweaters for DIY Sweater Pumpkins
We got our sweaters from the back of our closet and from our local thrift store. Thrift store sweaters cost a few bucks each and make at least four pumpkins.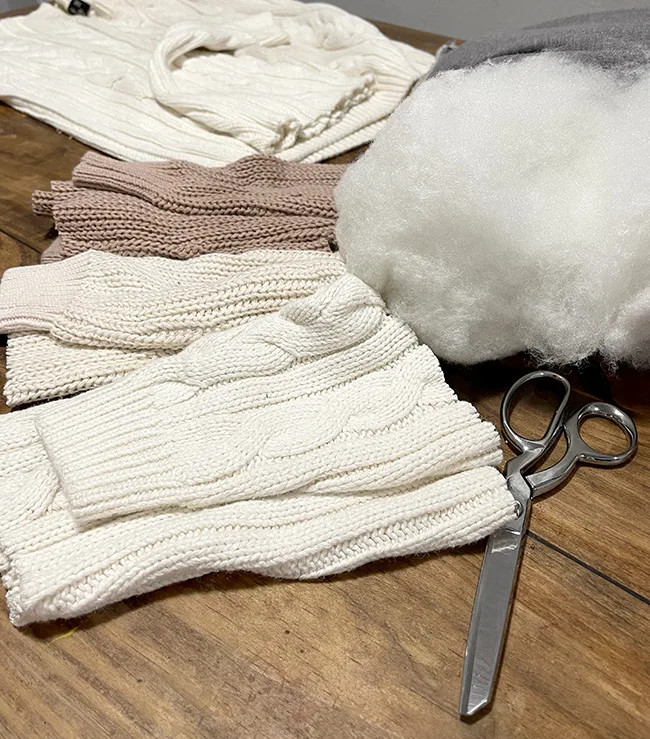 DIY Sweater Pumpkin Supplies
You will need the following supplies and tools to make sweater pumpkins.
Sweaters – each sweater will make at least four pumpkins
Scissors – a nice sharp pair, preferably ones only used for fabric
Hot glue gun and glue sticks
Yarn or twine
Polyfil – You could also use the filling from an old pillow. I had a pillow that was going flat so for my tutorial I pulled the stuffing from that for my pumpkins. It made them that much cheaper to make.
Extra embellishments – this is optional but you can use trims, ribbons, or buttons. I used faux leather scraps for leaves.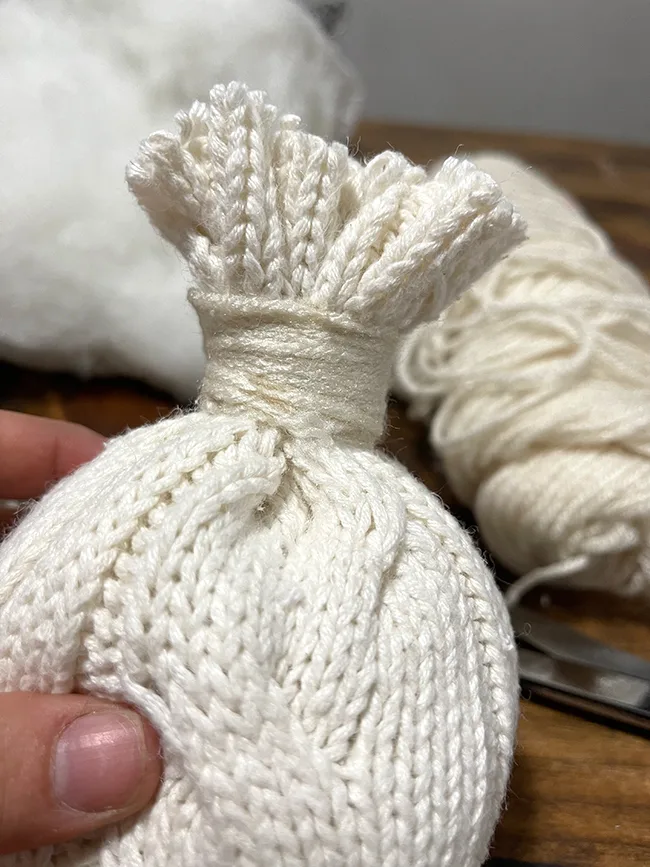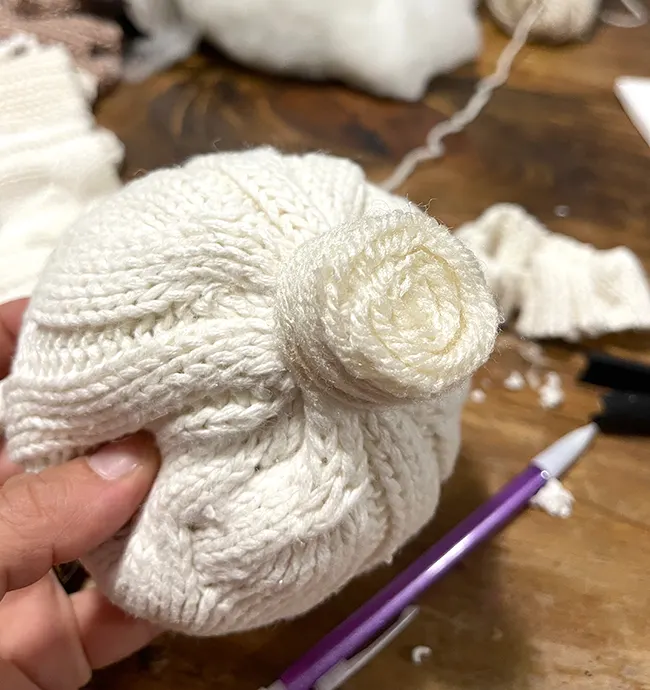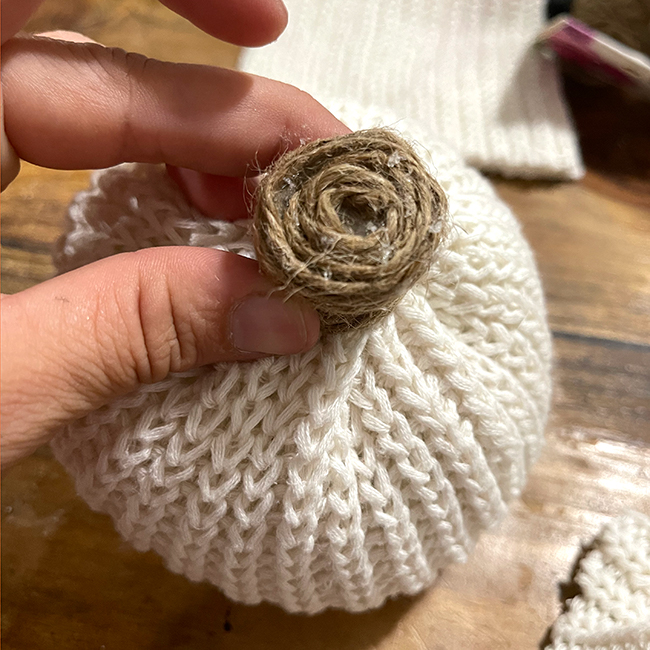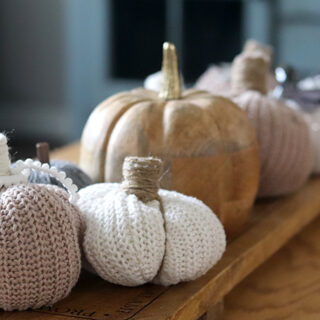 DIY Sweater Pumpkins
Materials
Long Sleeve Sweater
Yarn or Twine
Poly-fil
Faux Leather (optional)
Instructions
Start out by cutting the sleeves off of the sweater. Then cut each sleeve in half or even in thirds
Flip one peice inside out and gather the ends of the widest end and tie a knot around them using yarn
Flip the fabric back to right side out and fill with stuffing 2/3 of the way full
Gather the sleeve fabric at the open end and tie another knot using yarn. Then start wrapping the yarn around and securing with dots of hot glue
Continue to glue and wrap the yarn as little or much as you want to create the stem. Then trim the excess fabric to create a flat top
Stop there or use hot glue and wrap the yarn over top in a coil from the outside towards the middle
If you want to create lines in your pumpkin tie knot one end into the bottom of the sweater pumpkin, wrap up and around the stem and back to the bottom. Repeat as many times as desired
Embellish with faux leather leaves or other findings
Notes
We used sweaters that we purchased for a couple dollars at a thrift store.
More Fall Crafts
Each month I'm crafting and creating with the ladies from Team Creative Crafts. I'm linking to their fall crafts below so be sure to check them out too!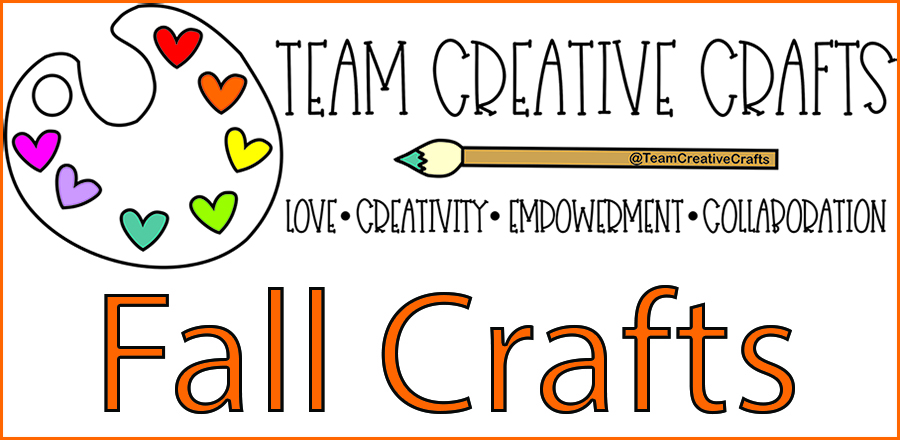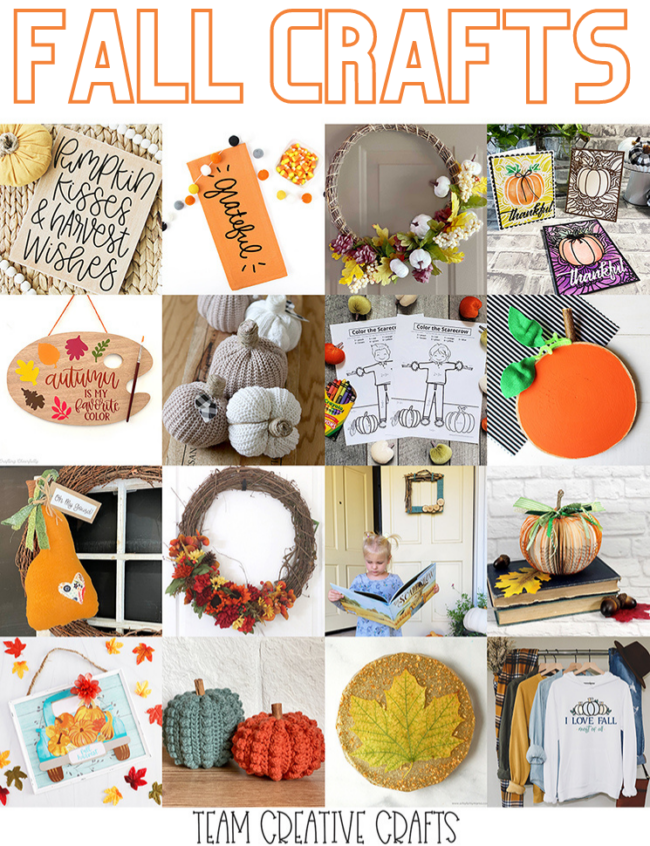 Team Creative Giveaway
a Rafflecopter giveaway