It was only a matter of time before this house saw some sort of office space. Everyone probably thinks we are a little crazy turning an entire bedroom into a workspace because that means all four of our kids are now sharing one bedroom. However, the goal is to make this house work for one more year.
We had outgrown this house before we ever moved into it, (one bathroom and six people), so now that our oldest is a teenager we realize everyone is going to start needing more space.
We had given our daughter her own room and put the three boys into the other bedroom, but then they all ended up sleeping together. Before Christmas I temporarily kicked her out of her room and in with the boys. I needed the extra space for all of my shop orders. The temporary move became permanent a few days before Christmas when I listed and sold the bed I built her on Facebook Marketplace.
The day after Christmas I headed to Home Depot for wood to start on a desk built in for my husband and I. I sketched up a 'U' shaped desk space so he could have half for his 3D printing and painting hobby. The other half is mine for shop and blog work. The best part is that I get my laundry room space back (that's where Mike had his ever growing collection of 3D printing stuff) and I dont have to pull out and put away my supplies every single day.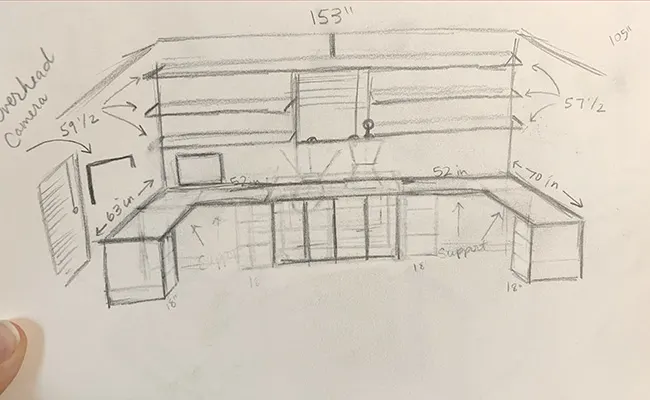 Get the Tools Out – Gangs All Here
To start the build I pulled all my tools out; table saw, miter saw, router, drill and kreg jig. I'm sure I'm forgetting something. Oh don't forget your level, speed square, measuring tape, screws and a trusty penil.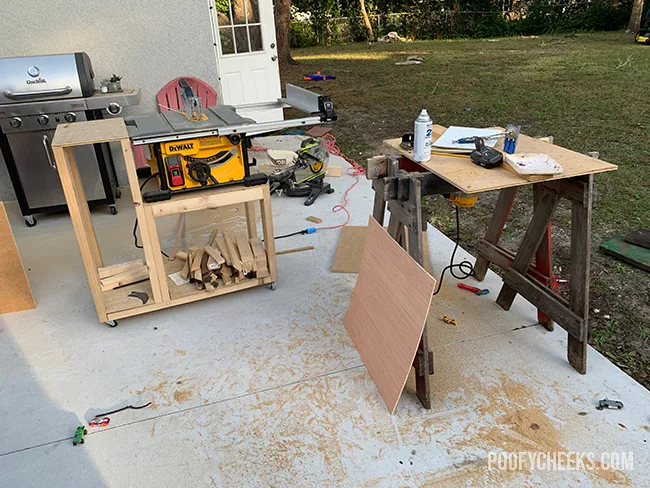 Last time I did a built-in style build I used premade cabinets from Home Depot, but this time I wanted to keep it as budget friendly as possible. I decided to build the cabinets from scratch. This took quite a bit more time and I did make some minor mistakes but in the end they turned out perfect. Since I learned a few things I would do differently next time, do as I say and not as I do.
Build the Cabinet Bases
I decided to do three cabinets. A large one in the middle and two smaller ones on each side. I started with the largest first and used scrap 3/4 inch plywood cut to a height of 3.5 inches tall. This is where the table saw comes in handy!
I ran my ply board through the table saw to get 3.5″ wide strips and then cut to length.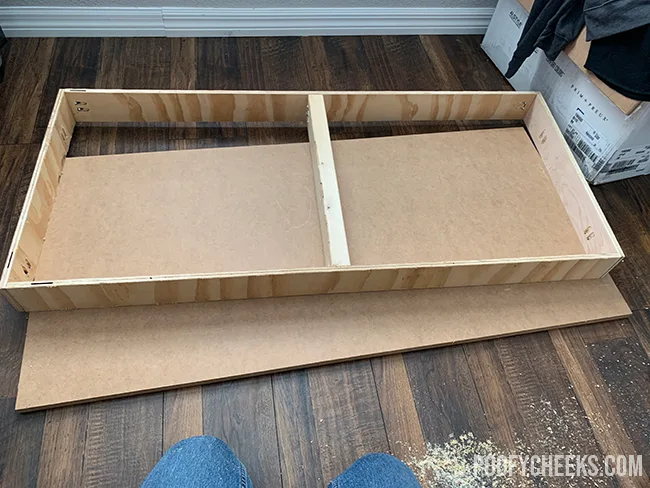 Cabinet Base Cut List
My large cabinet base measured 48″ x 20″ x 3.5″ tall and the two smaller cabinet bases measured 24″ x 20″ x 3.5″
I ripped the 3/4 inch plyboard into 3.5 inch wide pieces using my table saw then cut to the proper length with my miter saw.
Large Cabinet Base
(3) at 3.5″ x 18.5″
(2) at 3.5″ x 48″
Small Cabinet Base (Double these if you are doing two small cabinets)
(2) at 3.5″ x 18″
(2) at 3.5″ x 24″
I used my kreg jig to put the bases together screwing from the short pieces into the long pieces as shown below in red. For the large base I added an extra crosspiece in the center for added support. For the smaller cabinet bases I just made a rectangle with no center crosspiece.
Be sure to use your speed square as you put your bases together to ensure all of your joints are 90 degree angles.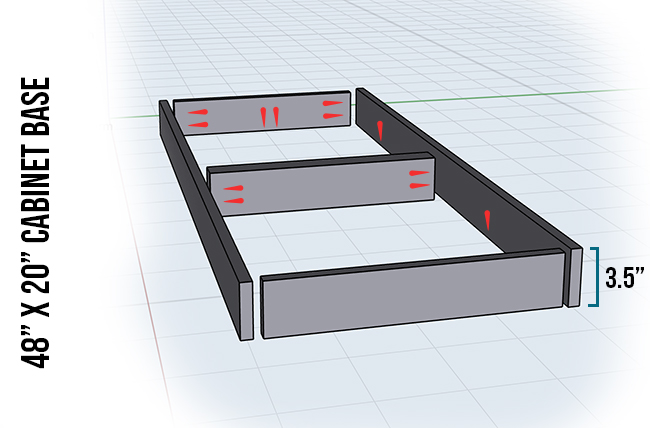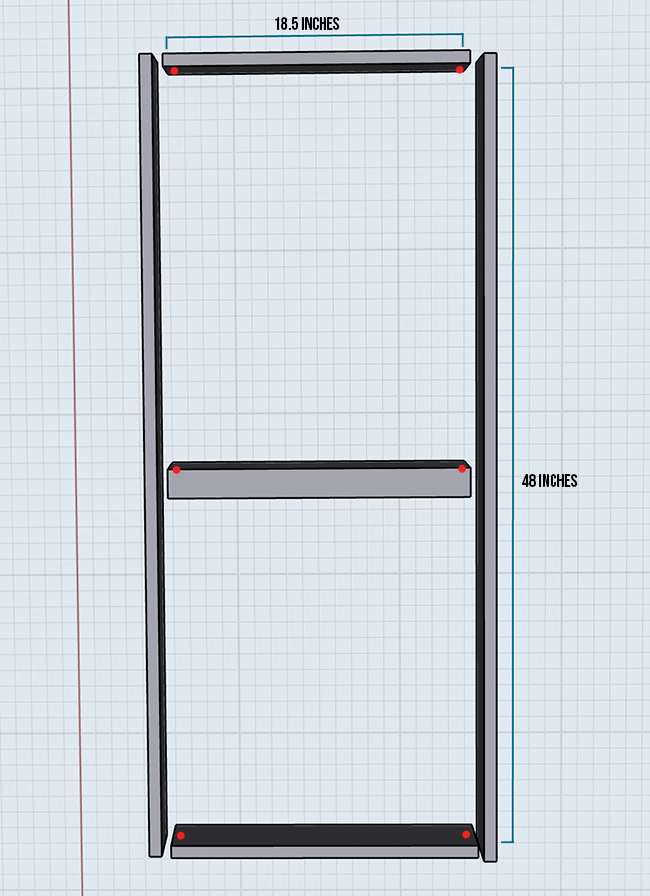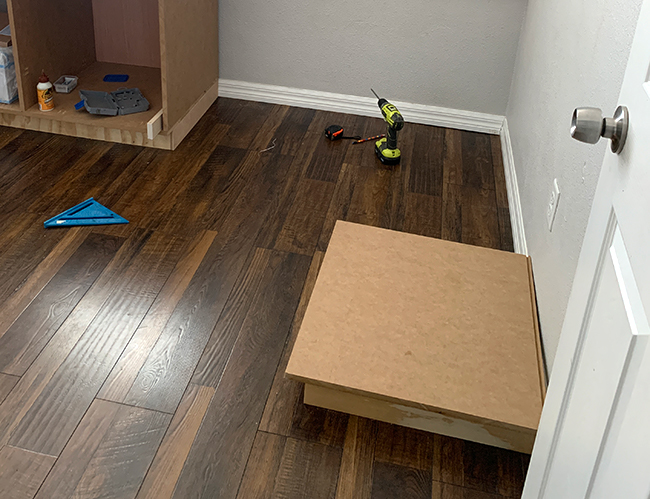 Building the Cabinet Carcass
After building the bases I didn't have anymore 3/4 ply left so I switched to 3/4 MDF for the carcasses. My dad is an amazing woodworker and he has never had many good things to say about MDF, but I really like how easy it cuts and how it accepts paint, so I went for it. Plus it is a little easier on the wallet.
The picture below is the cabinet bottom upside down with the base we just made on top. I kreg jigged the cabinet base to the cabinet bottom and then flipped it over. **Note the cabinet bottom is a few inches wider than the base.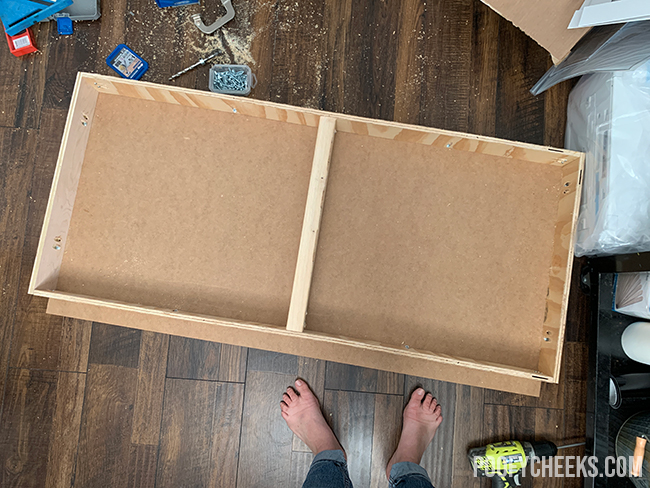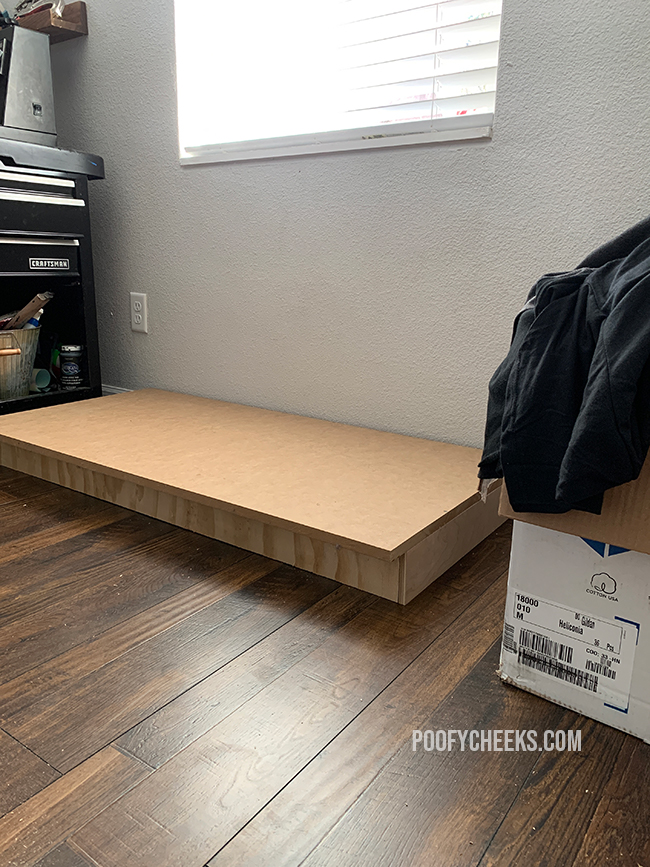 Here is where I went wrong. I cut my cabinet bottom to the length of the base (48″) when I should have cut it shorter and sandwiched it between the two sides instead of stacked on top like I did. This is where you need to do as I say with your cuts and putting the cabinet carcass together…
Large Cabinet Carcass Cut List
3/4″ MDF @ 46 1/2″ x 23″
(2) 3/4″ MDF @ 26 3/4″ x 23″
3/4″ MDF @ 26″ x 23″
(4) 1×4 @ 23 7/8″ (measure before cutting incase adjustments need to be made to length)
Small Cabinet Cut List (Double for two)
3/4″ MDF @ 22 1/2″ x 23″
(2) 3/4″ MDF @ 26 3/4 x 23″
(2) 1×4 @ 22 1/2″ (measure before cutting incase adjustments need to be made to length)
Before I put the cabinets together I routed the back side to slide a 1/4″ ply backing into my cabinets. This is optional – you could just back them up and have the wall showing. I also put all my kreg jig holes in so once I got it in the room it was ready to put together (less sawdust in the house too!)
In the image below I marked the kreg jig holes in red and the routed back edges in green.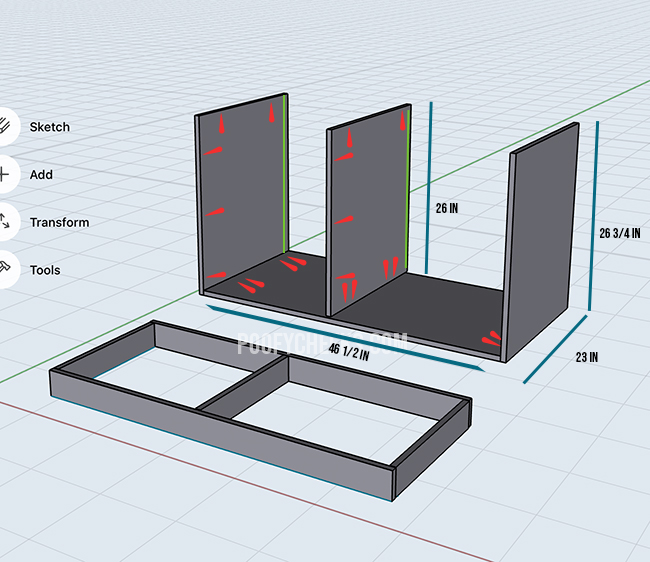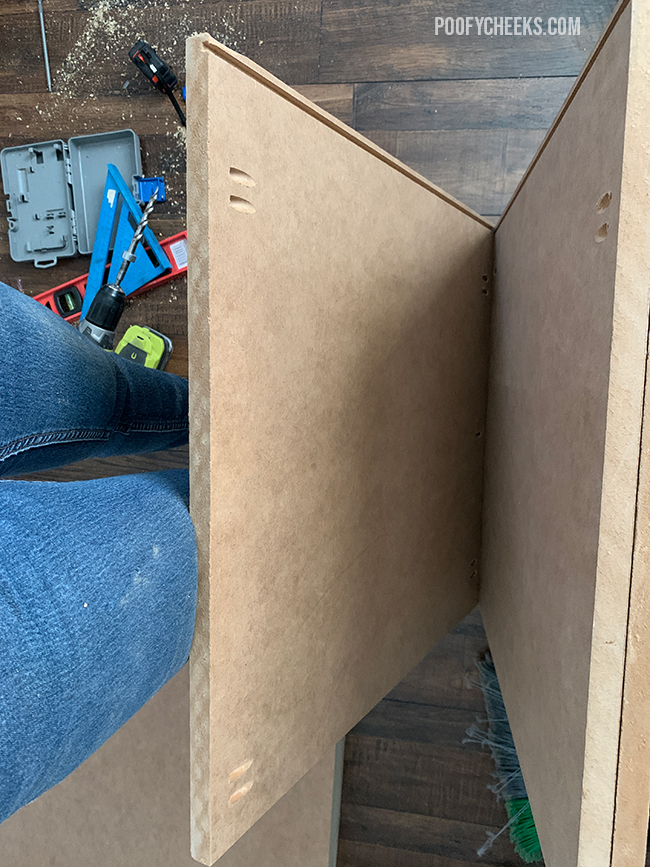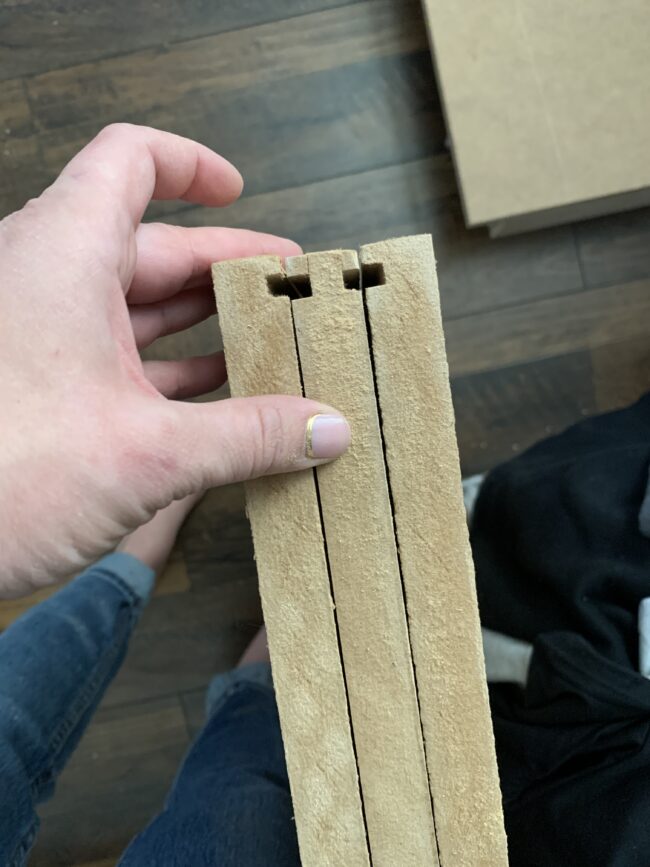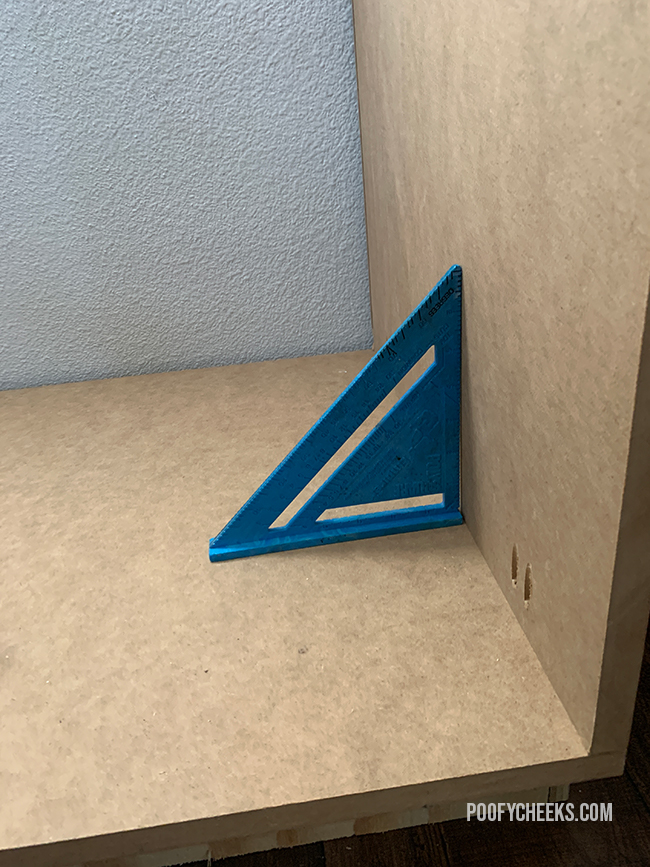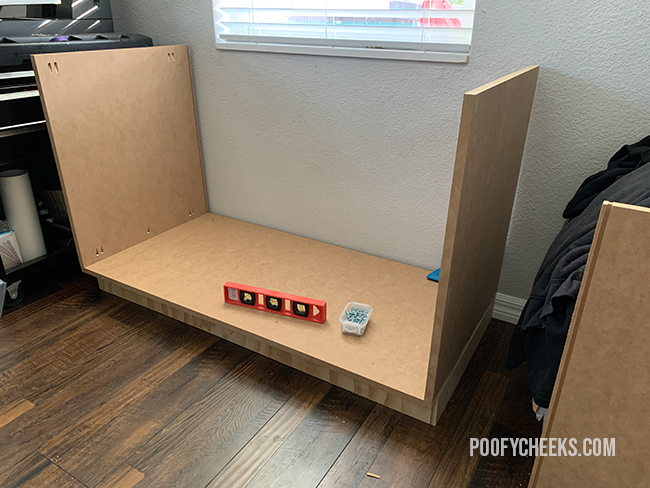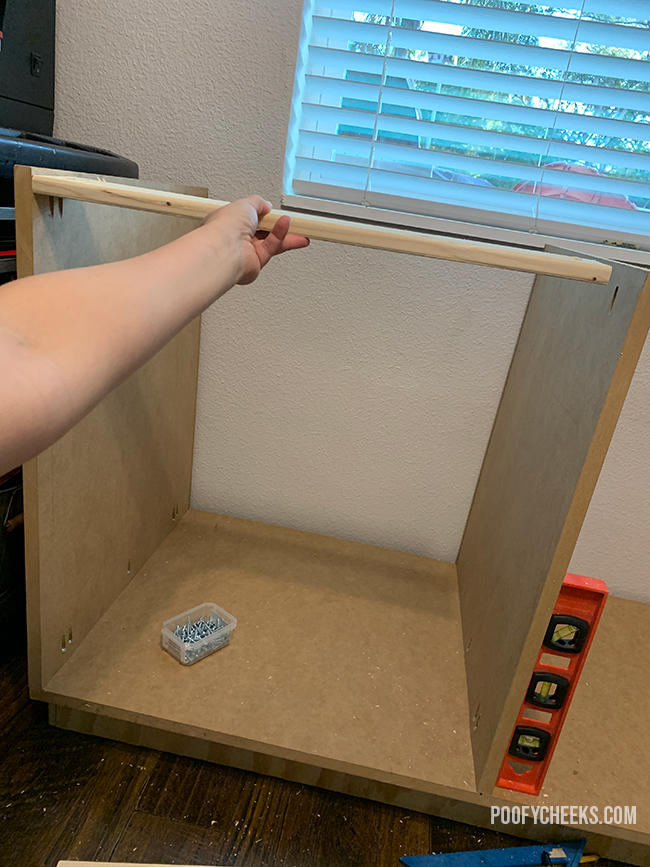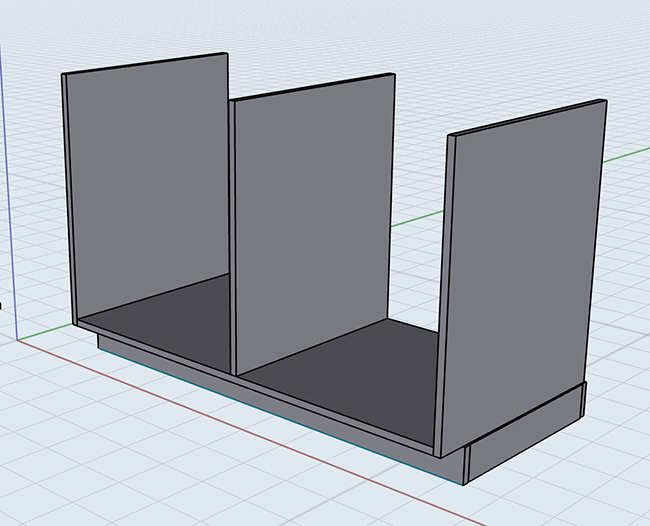 When you get to this point it is time to slide your 1/4 inch ply board in your routed grooves if you are goign to add it. Then measure the inside bottom from the side piece to the middle piece and then the middle to the other side. Get an exact measurement and then cut your 1x4s to that length. Measure both sides incase your center peice is a tad off from center.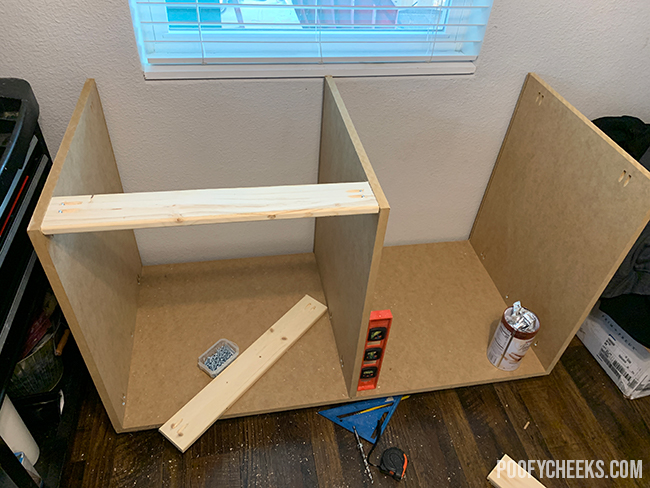 Kreg jig the 1x4s into place where the red arrows are in the image below.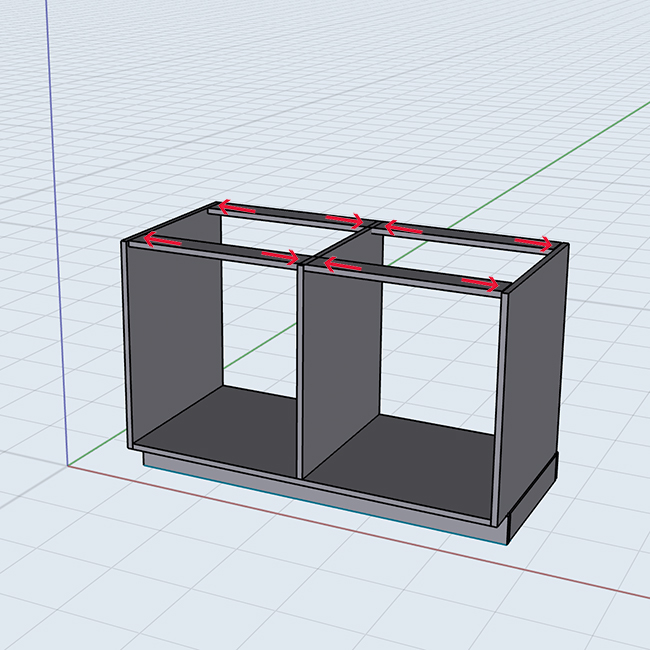 Building Cabinets with a Kreg Jig
Using a kreg jig makes builds like this SO easy. My kreg jig opened my eyes to so many possibilities when building. The first big thing I made with it was our dining room table and I have been going strong ever since.
Stay tuned for Part 2 of cabinet build where I'll show you how to put on the cabinet fronts and desktop.