---
Applying waterslide paper is easier than most might think. I use it to apply designs to my epoxy tumblers. This post addresses questions about waterslide paper and at the end you will find a full video tutorial!
What is Waterslide Paper?
Waterslide paper allows you to print a design with an inkjet printer and transfer it onto a smooth, non-porous surface. You can use waterslide paper decals on wood, metal, plastic, ceramics and more.
Waterslide can easily be applied to epoxy tumblers. Waterslide decals are ideal for applying images that have color gradients and a watercolor look.
The paper comes in clear and white. I prefer this pack of paper with clear waterslide.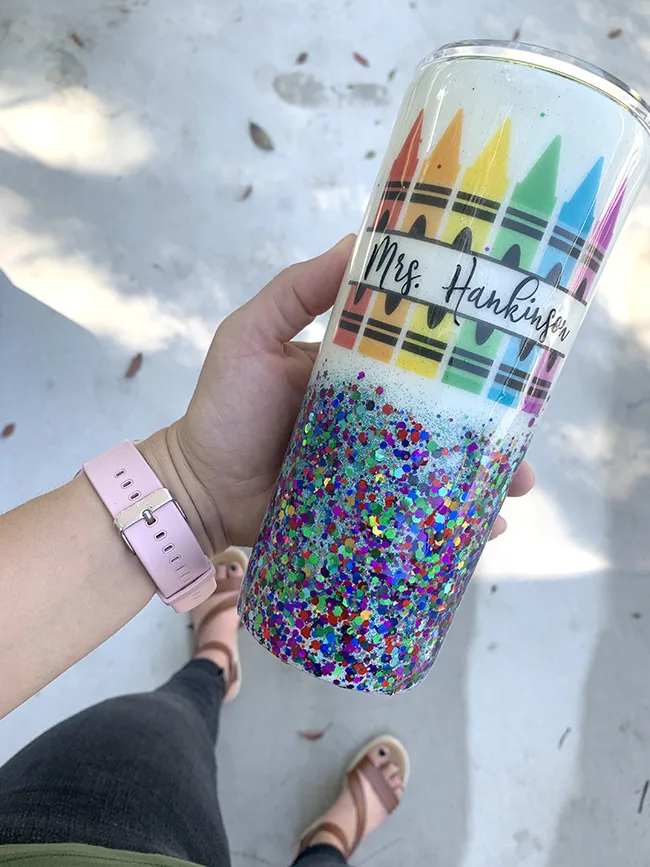 What is the Difference Between White and Clear Waterslide Paper?
Clear waterslide paper is transparent so you don't have to trim off the border. However, it does take on some of the color from the surface you apply it to. For the white glitter tumblers it works perfect and the colors stay fairly vibrant.
White paper needs to be trimmed perfectly or you see the white border around your printed image. The white waterslide won't show the colors from the surface underneath.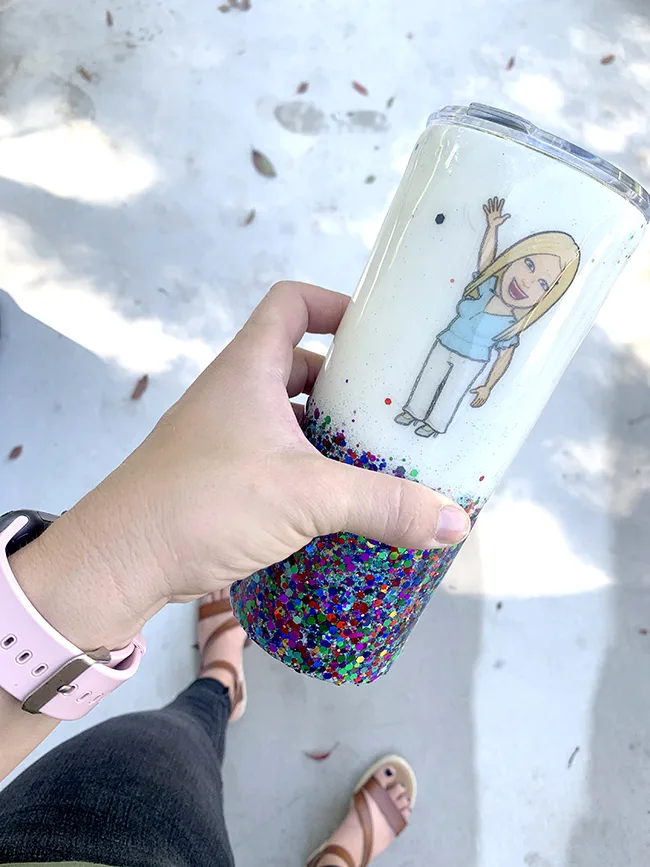 Waterslide Tumbler Supplies
For this cup I used a glitter tumbler with glitter and two coats of epoxy applied so that it was nice and smooth. Read more on making epoxy tumblers here.
I also used:
How to Apply Waterslide Paper
Waterslide is activated by water, but first it needs to be sealed with a clear sealant. I apply three coats of the clear spray paint and talk more about it in the video tutorial below.
After you apply a few coats of the clear spray, you soak the waterslide paper decal in room temperature water for 30 seconds, flip and then try to slide the paper off of the backing. If it doesn't slide, the waterslide paper needs to soak a few seconds longer. Once it starts to slide, slide it onto the surface and seal.
Video Tutorial: How to Apply Waterslide Decals
Still an Epoxy Tumbler Beginner?
For anyone that is just starting out with epoxy tumblers. I suggest starting with a plain painted tumbler. TUTORIAL HERE.