Cheerleading cut file.
Cheer season and football season are starting up so today I'm starting it out by sharing a cheerleading cut file. Many of you asked for cheer, football and band cut files. Over the next few weeks I'll be sharing many more along with some fun fall cut files.
Some of my favorite memories in high school were Friday night football games. I wasn't a cheerleader but my high school boyfriend was football player so I was at every game. I wore his jersey to school on Fridays because that is what girlfriends did. The games were more of a hangout than anything else but fun nonetheless.
I'm from Rochelle, Illinois AKA The Hub City and football is beyond huge in my hometown. Our mascot was a Hub (as in a wheel hub) because we had two interstates and two railroads that cross through. Everyone gives me that sideways 'what in the world' look when I tell them my high school mascot but people there are crazy proud.
This cheer design was inspired by a cheer mom who asked me to make a shirt she could wear for her daughter's cheer competition. I added some text and moved the stars around a bit to fit the wording she wanted. The design was cut onto glitter heat transfer vinyl.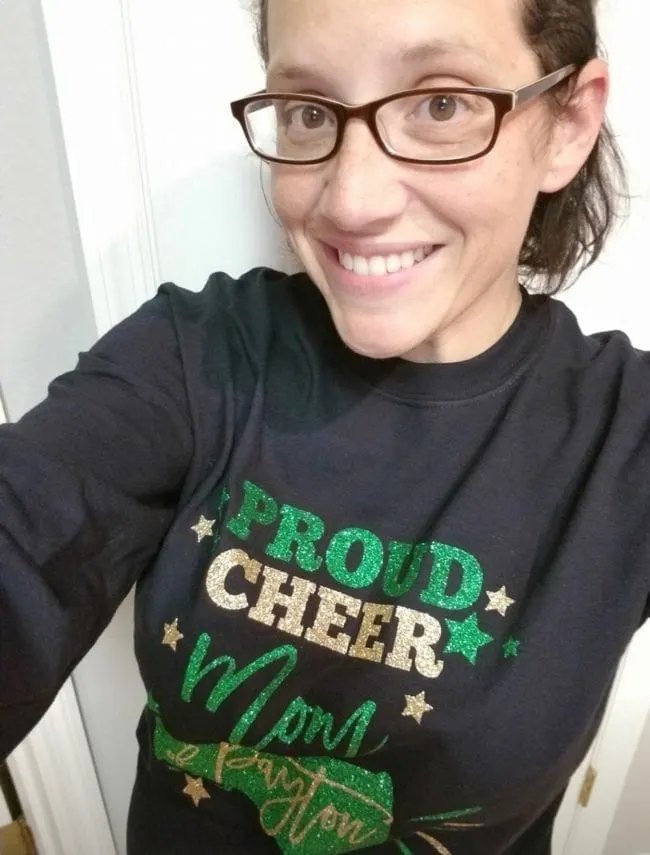 I used fonts Madina Clean and the free font Chunk Five for the cheer shirt.
Cheerleading Cut File FAQs
What can I make with these cut files?
Cut these files onto any medium you prefer and make SO MANY THINGS! Make mugs, cups, shirts, onesies, tote bags or basically whatever your heart desires. I have put together a list of adhesive and iron-on blanks to give you more ideas. My Vinyl Direct has a whole bunch of blanks you will fall in love with.
Where do you get your vinyl?
I buy from a handful of different places to get my hands on new products when they come out. My favorite is Happy Crafters because the girls are always so willing to help and they have quick processing time. I hate waiting around for items to ship ya' know!? My next favorite is Expression Vinyl. Both of these places offer the typical colors and types of vinyls and both have an array of fun prints staying on top of new trends.
Do I have to input my email and name each time I want to download a new freebie from your site?
Yes, this is how we track cut file popularity and continue to put out cut files that appeal to you. Want to see something specific? Email me at [email protected] and tell me what you want to see next! We take your opinions and suggestions seriously.
Can I sell items I create with the free cut files?
Yes, the graduation cut file is for personal and commercial use. You may NOT sell the digital files themselves but you may sell items you create using the cut file designs. Please tag us with your creations on IG (@poofycheeksblog) and we may share on our own feed!
Download the Cheerleading Cut File