Here fishy, fishy. With summer here I wanted to make my daughter and I cute shirts with a tropical fish, jellyfish, a crab or something along those lines.
Delilah picked a fish so we are going with a momma and me 'Here Fishy, Fishy' theme.
Mine says 'Here Fishy, Fishy' and hers has the fishy on it. It's basically us to a 'T' because I am always getting after her for wandering away or trying to do things on her own when she really could use help.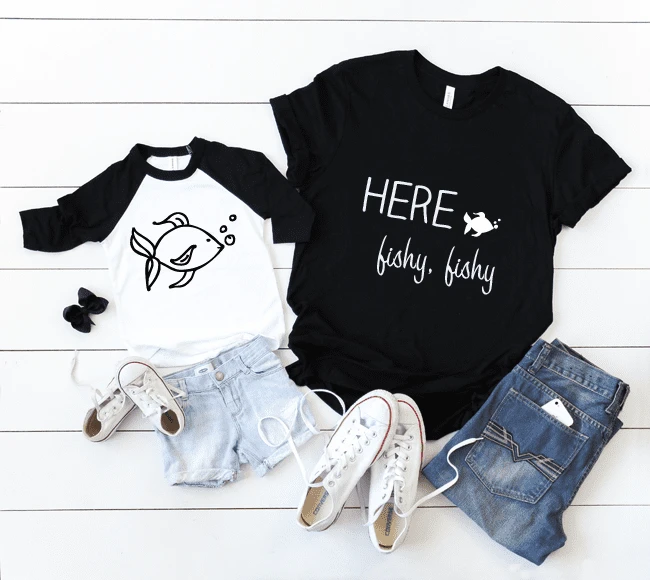 After I made this design it started to remind me of the book The Rainbow Fish. This design would look great with girly heat transfer vinyl colors and two step foil to make a fun metallic fish.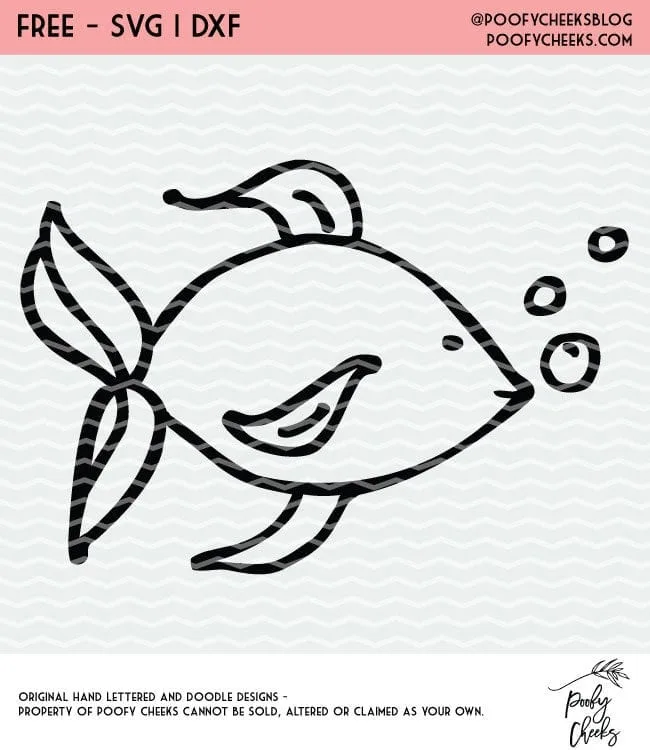 Fish Cut File FAQs
What can I make with these cut files?
Cut these files onto any medium you prefer and make SO MANY THINGS! Make mugs, cups, shirts, onesies, tote bags or basically whatever your heart desires. I have put together a list of adhesive and iron-on blanks to give you more ideas.
Where do you get your vinyl?
I buy from a handful of different places to get my hands on new products when they come out. My favorite is Happy Crafters because the girls are always so willing to help and they have quick processing time. I hate waiting around for items to ship ya' know!? My next favorite is Expression Vinyl. Both of these places offer the typical colors and types of vinyls and both have an array of fun prints staying on top of new trends.
Do I have to input my email and name each time I want to download a new freebie from your site?
Yes, this is how we track cut file popularity and continue to put out cut files that appeal to you. Want to see something specific? Email me at [email protected] and tell me what you want to see next! We take your opinions and suggestions seriously.
Can I sell items I create with the free cut files?
Yes, the graduation cut file is for personal and commercial use. You may NOT sell the digital files themselves but you may sell items you create using the cut file designs. Please tag us with your creations on IG (@poofycheeksblog) and we may share on our own feed!
Download the Fish Cut File