Unicorn Shirt with Heat Transfer Vinyl
Over the past month I have made my daughter Delilah two unicorn shirts using $1 cut files from Happy Crafters and heat transfer vinyl. Delilah loves unicorns thanks to their ever growing popularity. First I made her one unicorn shirt which she proceeded to wear to preschool. That afternoon when I picked her up she told me she wanted me to make matching unicorn shirts for her and her friend. Since Delilah's last day in preschool was a couple of weeks ago and we knew that the pair would be going off to different elementary schools in different towns I made them a set of matching unicorn shirts to wear for their end of year celebration party. I think that was all she talked about for a week.
See the unicorn shirts and the supplies I used below. I linked to the cut files and the vinyl colors I used if you are inspired to make your own unicorn shirts. New to using HTV? Check out my tips and tricks for using iron on heat transfer vinyl.
The mint shirt was from Walmart and the blue shirt with flecks of glitter I picked up at Target. When I saw the glitter shirts I knew it would make the perfect blank for a magical unicorn.
Unicorn Shirt #1 with Heat Transfer Vinyl
Supplies Needed-
**For this shirt I used the heat transfer vinyls I received in the Happy Crafters Monthly Subscription Box from May. A mix of neon coral glitter HTV, silver Holographic HTV, Electric Grape HTV , teal and pink easyweed HTV.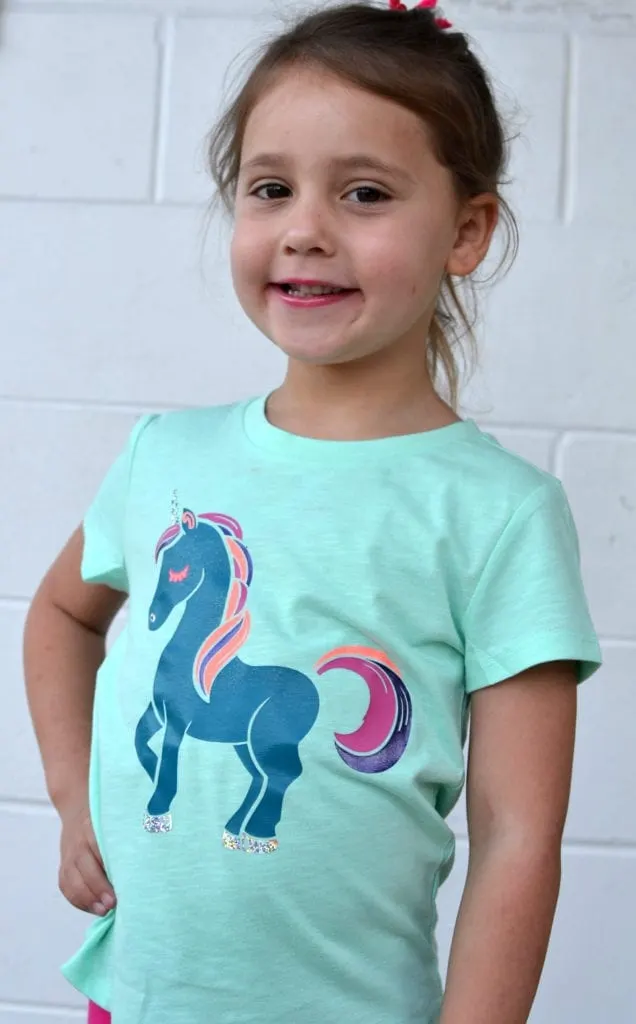 This girl loves to sneak lip gloss and lipsticks. Can you tell?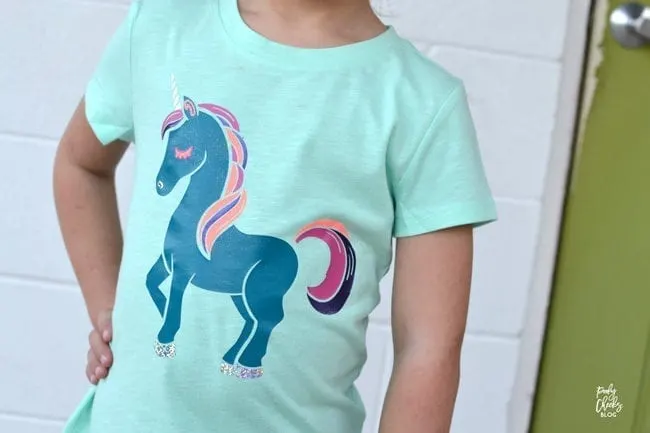 Unicorn Shirt #2 with Heat Transfer Vinyl
Supplies Needed-
**For this shirt I used siser easyweed iron on vinyl in a handful of colors including my favorite rose gold.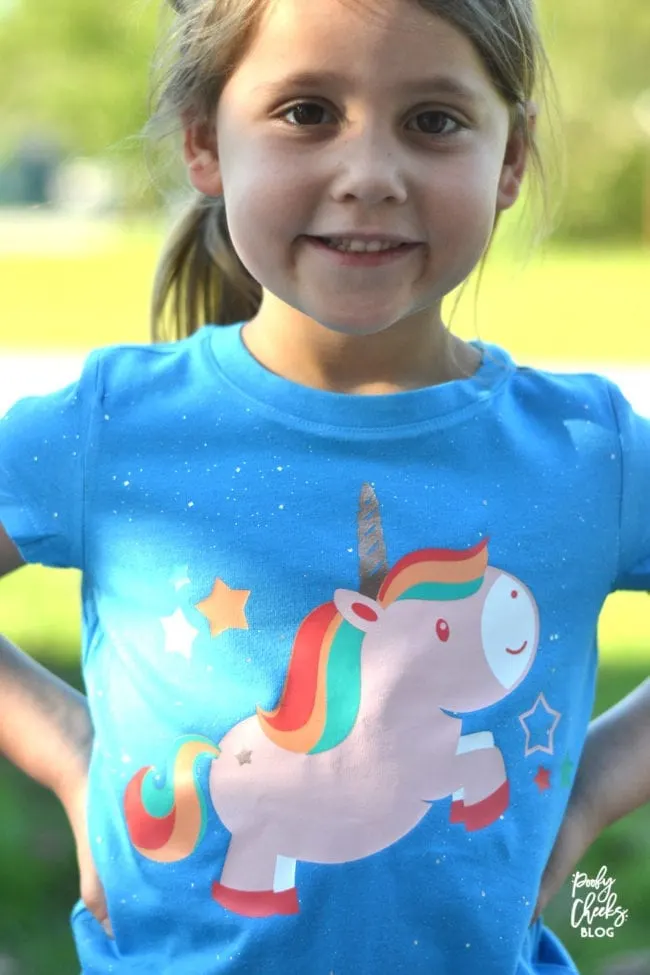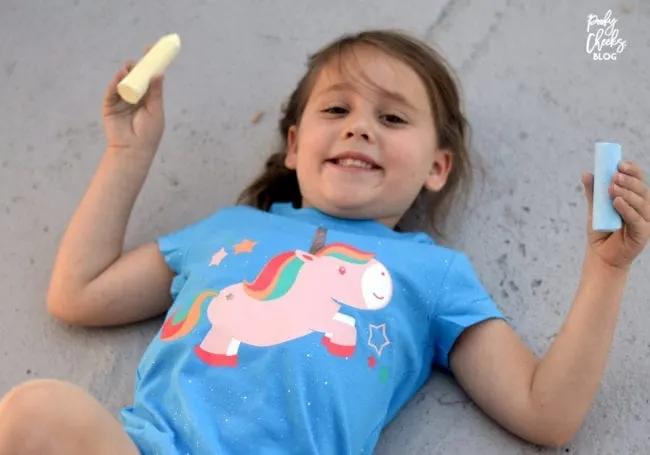 HTV Unicorn Shirt Layers
Here is a little behind the scenes on how I cut and layered the vinyl to make the multi-layer designs.
First I pre-press the shirt for five seconds to get any moisture out. Then I determine the piece that is the biggest so I can arrange all the other smaller pieces around that. In some cases you need to take into account the layer that would be on the bottom if pieces overlap.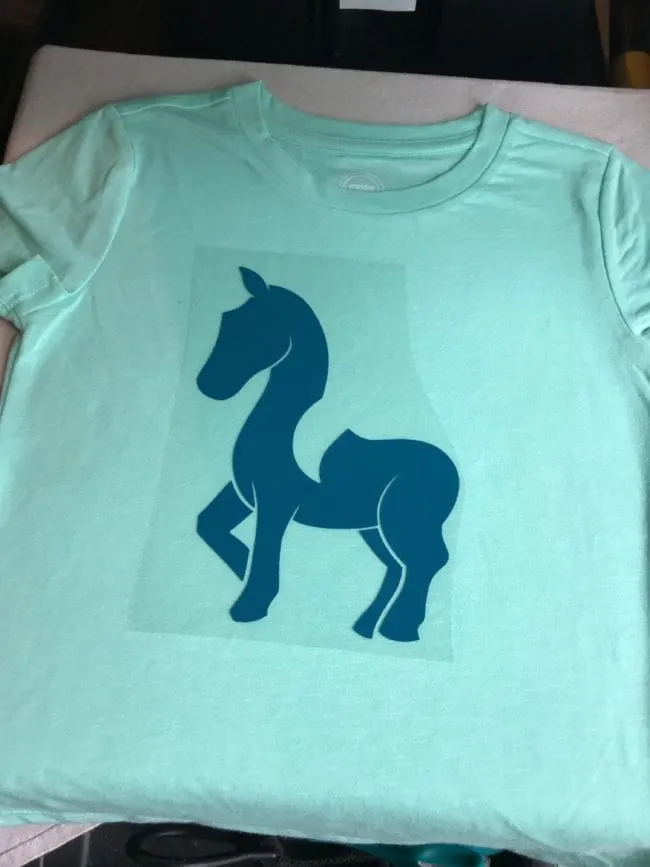 I trimmed pieces to layer on the coral glitter and the sparkle hooves.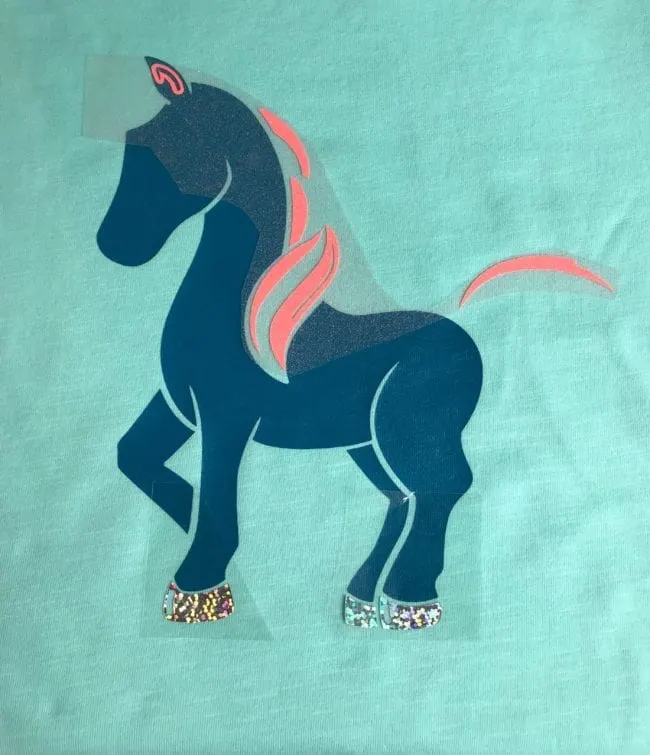 Then I layered the second mane color lining it up with the parts already there.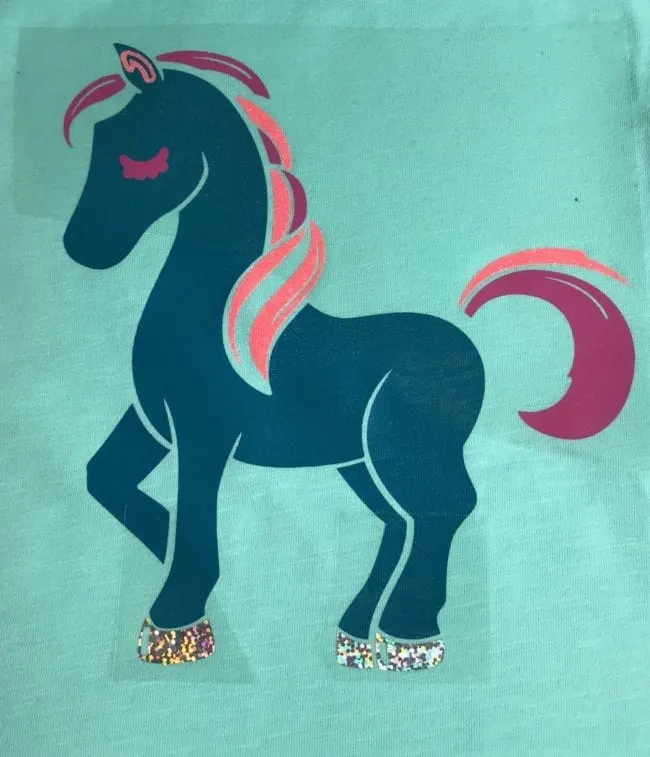 For the final press I trimmed everything down and layered the glitter eyelashes, unicorn horn, nostril and purple part of the mane.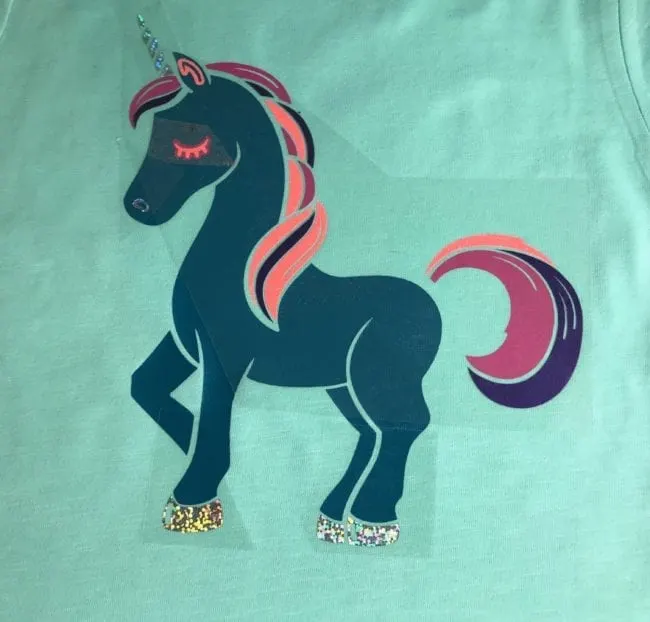 Blue Unicorn Shirt Layering
This is how I layered the second unicorn shirt. I started by again pre pressing the blank shirt.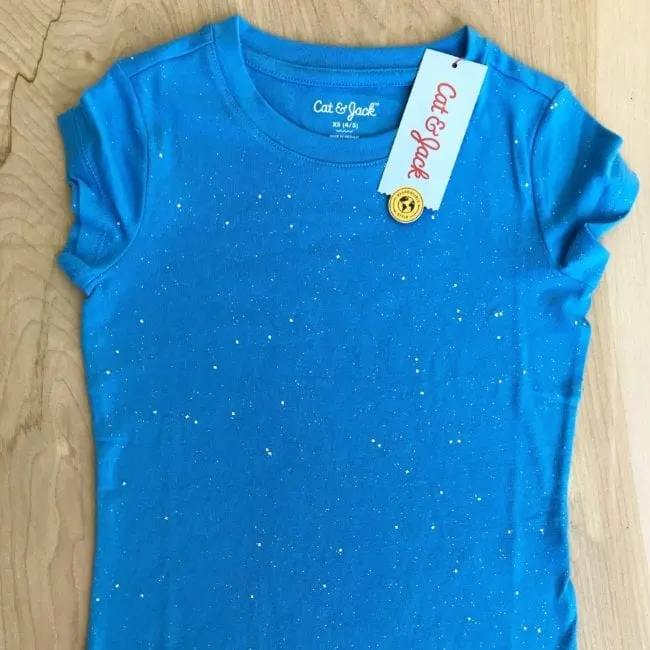 Sometimes I like to layer everything before pressing so I can lay it out in the order I want to press. This is a good trick if you are doing something with many layers and need to visualize it first.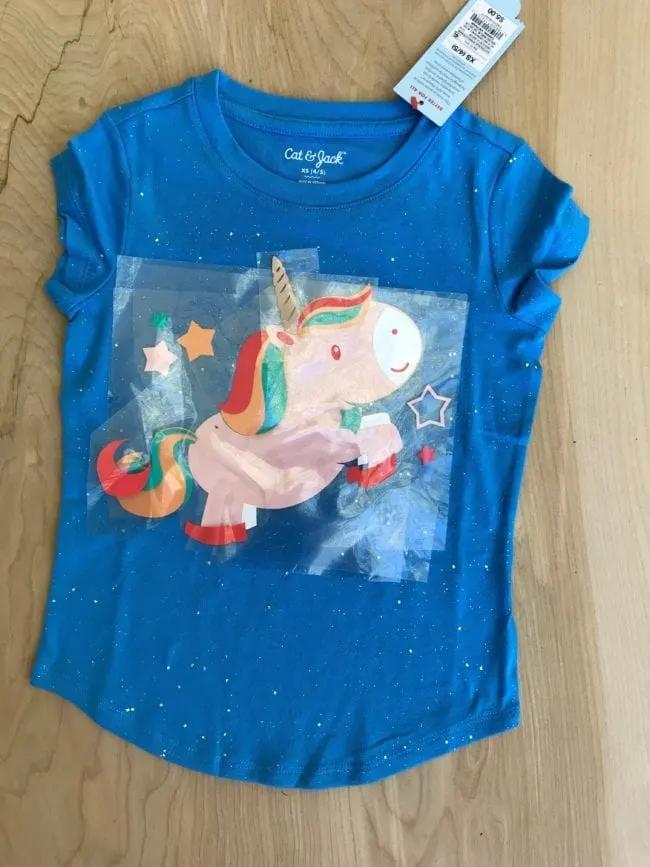 I pressed the largest piece of pink first since it is the biggest and other pieces will layer on top of it. Then the next biggest part was the peach HTV and it needed to go on next because other parts layer on top of that.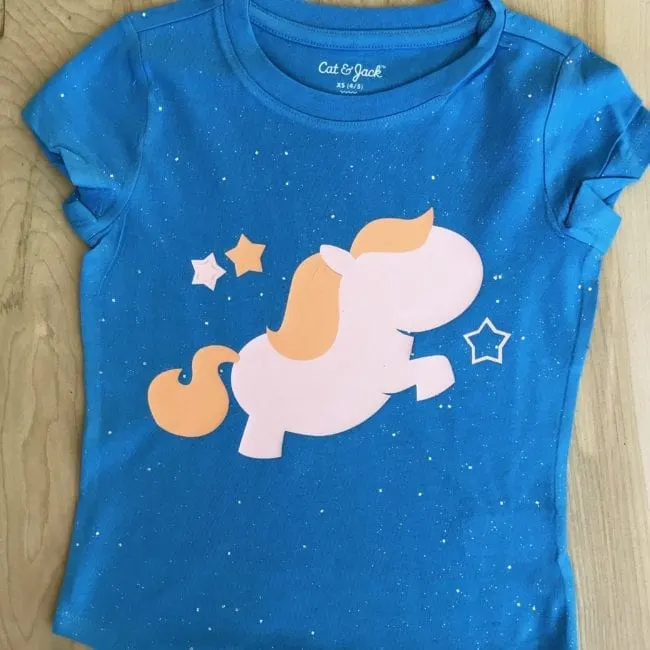 I kept layering until all parts were pressed. It is fun to watch the shapes come together into the completed design for the unicorn shirt.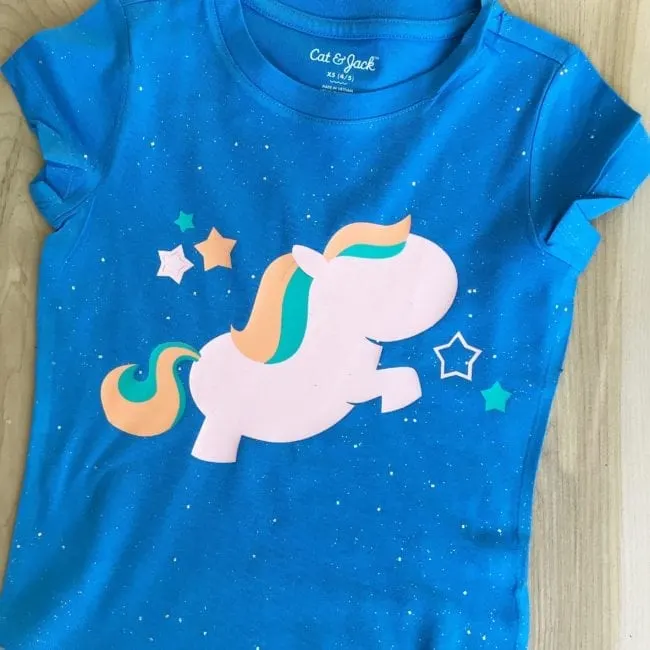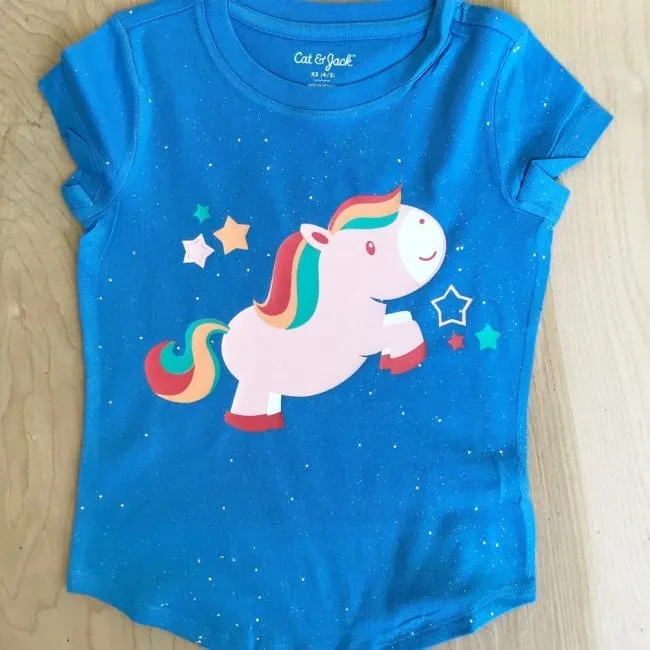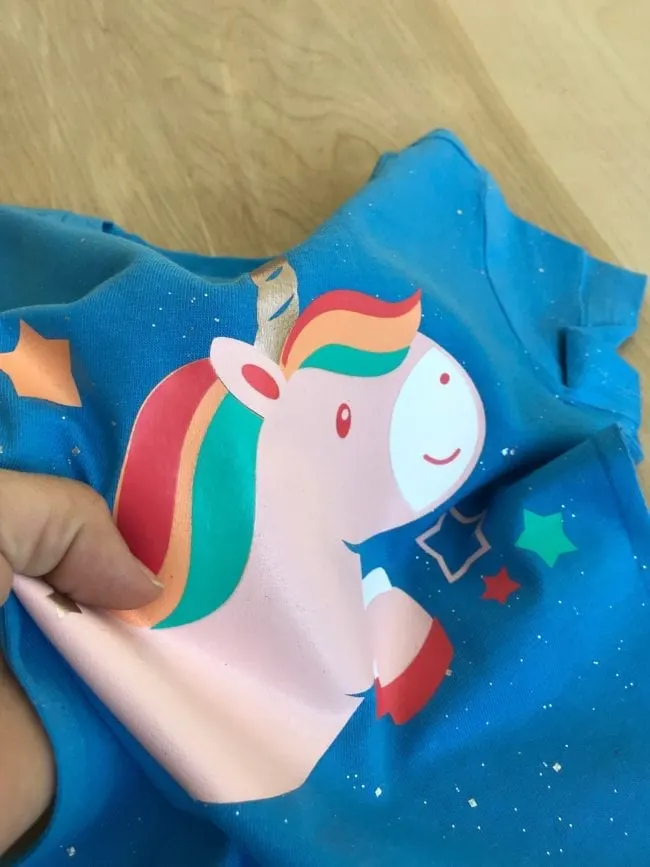 Buy the cut files at Happy Crafters and create your own unicorn shirt!