I made the quiet please cut file with a baby and nursery in mind. It would be perfect in a library or other quiet space as well. Honestly I think my kids were driving me bonkers indoors on a rainy day when I hand lettered this design… if we are being honest – ha. Being a mom of four I have probably said 'quiet please' 500 times a day for the past decade. Although by the 200th time I might not say it so nicely.
I love stenciling signs using adhesive vinyl, reverse weeding (removing the design and leaving the background), a fun cut file and the perfect paint color. You could also cut the design with matte adhesive vinyl and put it on a sign without the mess of paint.
This design is an original. I hand lettered with a sharpie and paper, scanned the design into my computer and digitized it in Adobe Illustrator. Sometimes the files don't always save perfectly and need a little TLC once you open them in Silhouette Studio or Cricut Design Space. If you are having trouble you can always open the PNG file and use the trace feature in either program.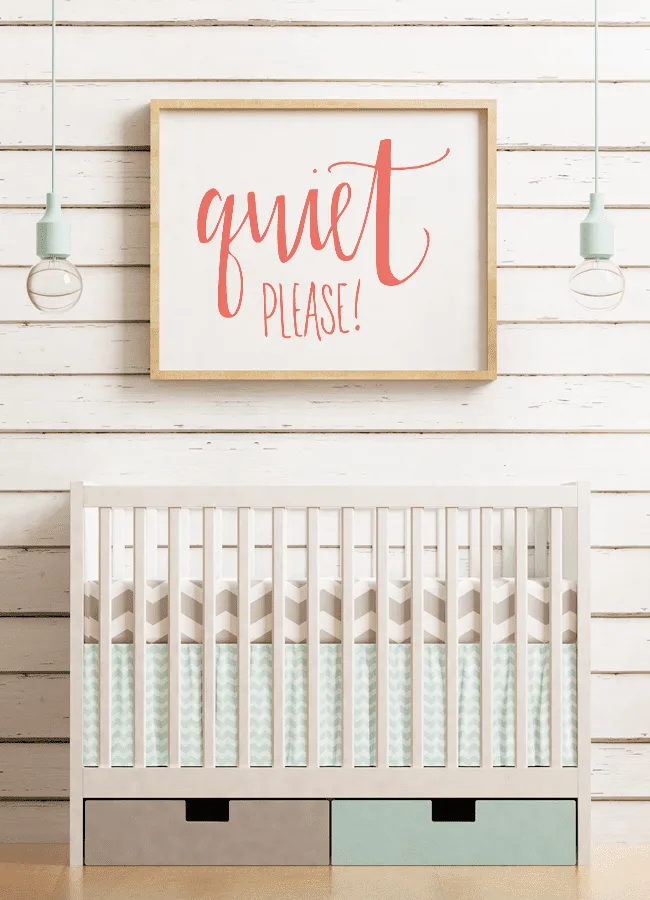 What can I make with these cut files?
Cut these files onto any medium you prefer and make SO MANY THINGS! Make mugs, cups, shirts, onesies, tote bags or basically whatever your heart desires. I have put together a list of adhesive and iron-on blanks to give you more ideas.
Where do you get your vinyl?
I buy from a handful of different places to get my hands on new products when they come out. My favorite is Happy Crafters because the girls are always so willing to help and they have quick processing time. I hate waiting around for items to ship ya' know!? My next favorite is Expression Vinyl. Both of these places offer the typical colors and types of vinyls and both have an array of fun prints staying on top of new trends.
Do I have to input my email and name each time I want to download a new freebie from your site?
Yes, this is how we track cut file popularity and continue to put out cut files that appeal to you. Want to see something specific? Email me at [email protected] and tell me what you want to see next! We take your opinions and suggestions seriously.
Can I sell items I create with the free cut files?
Yes, the cut file is for personal and commercial use. You may NOT sell the digital files themselves but you may sell items you create using the cut file designs. Please tag us with your creations on IG (@poofycheeksblog) and we may share on our own feed!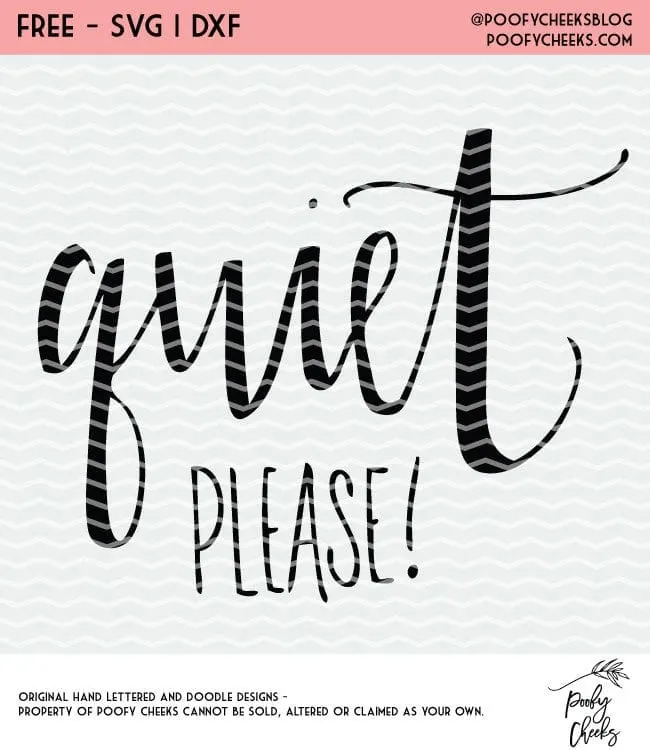 As these files are freebies you can always say thanks by pinning or sharing the cut files. I love when we are able to share our cut files with someone new.
Download the Quiet Please Cut File