Easter is a little over a week away and I decided to bake up my carrot pecan bundt cake a little early so I can share the recipe here on the ole' bloggity blog. It is rich, moist and the cream cheese frosting takes it to another level. I kept it at home for a few days in the refrigerator but my kids heard the words 'carrot' and 'cake' in the same sentence and immediately turned up their little noses. Then I had eaten enough of it for all of us before deciding to take it to work to rid myself of the temptation. I work for a gas company and most of the employees are men. When you bring in food they devour it but they also don't hold back on giving their opinions. I knew I would be coming home with an empty plate but I prepared myself for their criticisms. The guys ate it and loved it. They were all complimenting and saying how delicious it was. In my mind that was a mission accomplished.
If you have never had carrot cake before because you hear the word carrot and cake together then you are missing out. It tastes nothing like carrots I promise. However the carrots and the pineapple make this cake very moist while the blend of sugars caramelize giving this cake a dark color and rich flavor. Topped with the cream cheese frosting it becomes cream, moist and delicious.
Eye Catching Bundt Cake Tips
This post contains affiliate links. These links don't change the cost of the product however we do receive a small percentage which we use to keep the blog running and buzzing with new content.
You could easily bake this cake in a 9×13 pan but I think bundt pans add a bit of flare and elegance to a cake. Another tip to making an elegant bundt cake is to apply the frosting in a decorative way rather than slathering it on with a knife. The way I apply the frosting is with a piping bag. I use a large glass and put the piping bag inside and fold the excess of the bag over the rim of the glass. I use a spatula to get all the icing inside the bag (the part of the bag in the cup) and then I unfold the edge and twist until the icing is pushed down to the tip. After that I take a pair of scissors and cut a small slit from the tip of the bag and start going back and forth across the cake until all of the frosting is gone. Add on a some more pecans and the cake is not only delicious but also very easy on the eyes.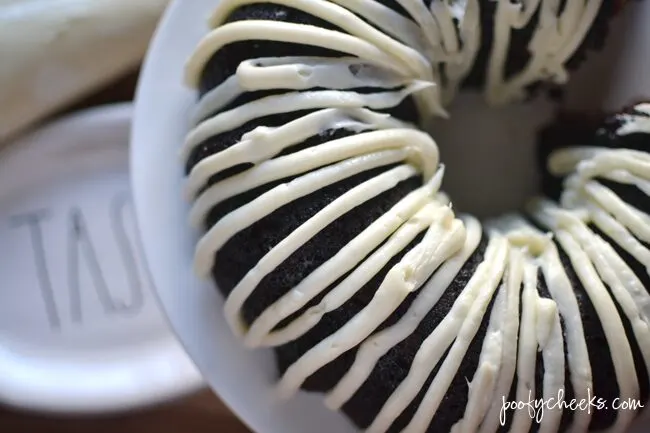 Carrot Pecan Bundt Cake Recipe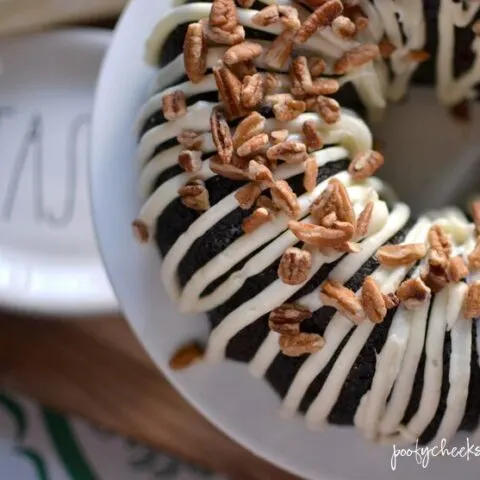 Carrot Pecan Bundt Cake
Ingredients
Cake Ingredients
2 cups all-purpose flour
1 teaspoon salt
2 teaspoons baking soda
1.5 teaspoons ground cinnamon
3 eggs
1 cup granulated sugar
1 cup brown sugar, lightly packed
1 cup vegetable oil
2 tsp vanilla extract
8 ounce can crushed pineapple, drained
2 cups carrots, grated
1 cup chopped pecans
Cream Cheese Ingredients
8 tablespoons butter, room temperature
8 oz cream cheese, room temperature
1 1/2 cups powdered sugar
1/2 teaspoon vanilla extract
Instructions
Preheat oven to 350 degrees and spray bundt can with non-stick spray.
In a medium bowl mix together flour, baking soda, salt and ground cinnamon.
Use a mixer to beat eggs, sugars and vanilla together until smooth. Add dry ingredients from medium bowl in three parts until the batter is once again smooth. Once the mixture is combined scrape the sides and stir in carrots, pineapple and pecans.
Pour the batter into the bundt pan and bake for 40-45 minutes or until a toothpick inserted comes out clean. Cool cake in the pan for 10-15 minutes and then turn out on your cake plate.
While the cake is cooling make the frosting. Combine butter and cream cheese in a medium bowl and use a mixer on medium speed until there are no lumps. Add powdered sugar and vanilla. Mix until smooth. Once the cake is cool spread (or use a piping bag) to add frosting. Sprinkle with more chopped pecans.
Nutrition Information:
Serving Size:

1 grams
Amount Per Serving:
Unsaturated Fat:

0g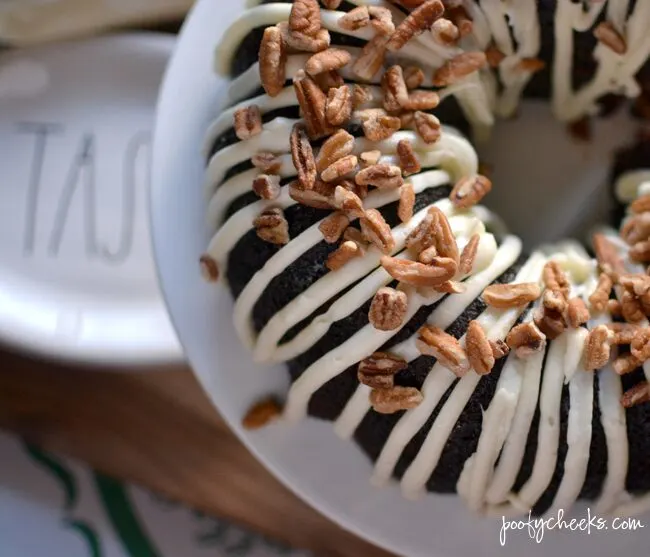 Today at work we had a Ladies in Energy luncheon with a catered lunch. I opted for the carrot cake instead of the red velvet. It was good but mildly disappointing after eating my own carrot pecan cake earlier this week. Is that mean of me to say? I am only being honest. This bad boy wins the prize for the best carrot cake I have had the pleasure of eating. I went back for a second slice of cake as I am declaring today my cheat day (I'm trying to get my mom-bod in shape for the big 3-0 that happens this July) and the red velvet was much better.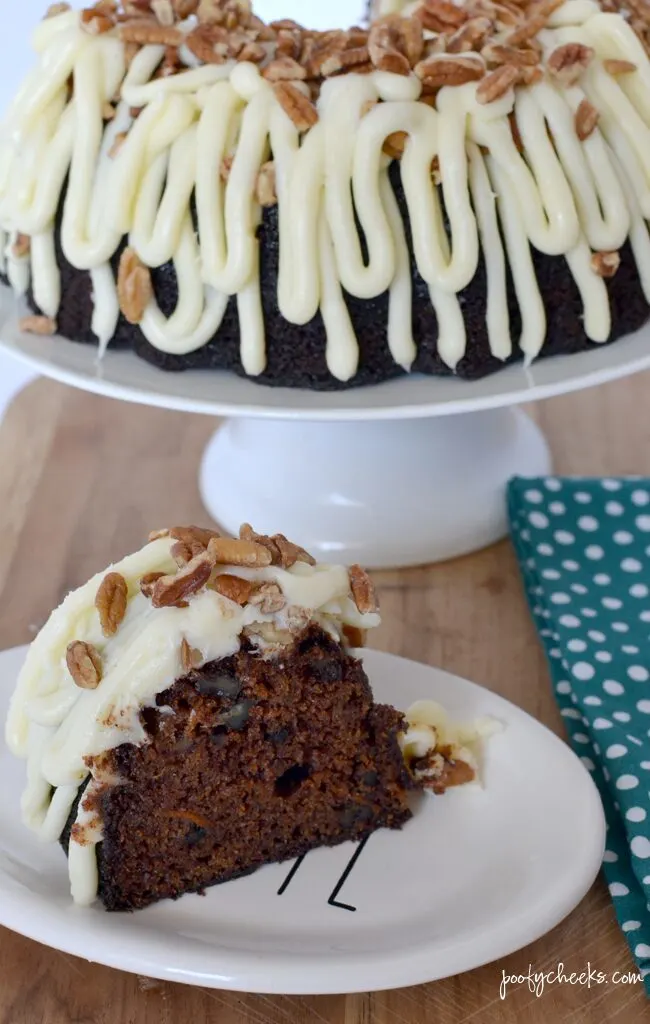 This cake would go perfectly on the Easter dessert table. Just sayin'.
While my three older kids only wanted to lick the frosting my two year old little man thought it was delicious. What can be found on your Easter dinner table this year? We are going the brunch route with ham, waffles, quiche, broccoli bacon salad, pineapple walnut salad and I'm hoping Debra's strawberry pretzel salad!