Small toys are taking over my life, my living room and I see them in my sleep. I have a small toy storage solution we are going to personalize with vinyl.
Raise your hands if your kids are into small toys, blind bags and little mini figures. My hand is raised high and waiving. I am like the elementary school kid about to fall out of their seat because ew-ew I know the answer.
These little toys are taking over our house. Like literally! Every where I turn there is a twozie, a shopkin, minecraft something or lego mini figures spread out across the floor. For Christmas Santa Claus brought each of my kids a 35 cavity plastic storage container and they are perfect for all their little collectable toys. I spent part of my New Year three day weekend sorting toys and filling the small toy storage containers up.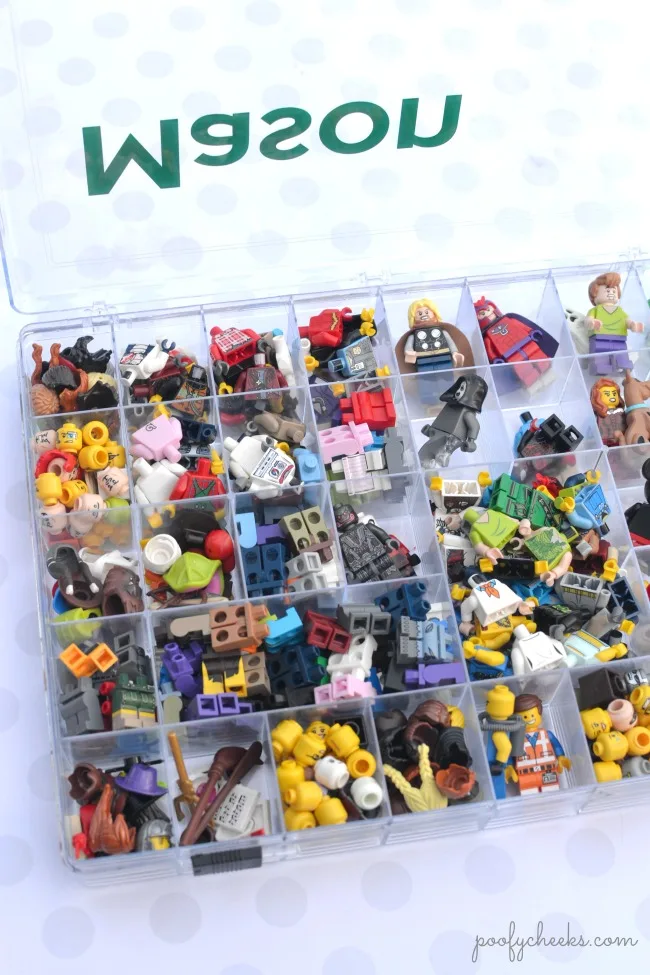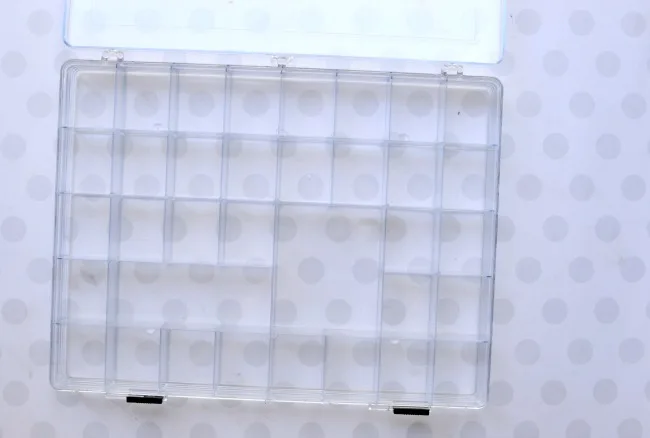 The storage container cavities are perfect for the trolls, ponys, shopkins and twozies. I was able to put them all in her container and then she picked gold glitter for her name so now it is extra special to her. She has been carrying it all over the house.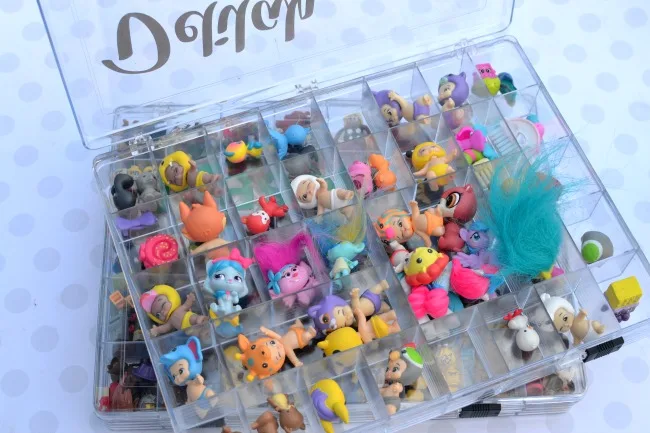 I personalized each of the containers with the kids' names because Mason and Wyatt have similar items so I didn't want them to fight over whose was whose.
I pulled out my Silhouette Cameo, cutting mat, vinyl transfer tape and adhesive vinyl. In under 10 minutes I had all of their names cut and applied to their respective containers.
If you have a cutting machine I have some cutting machine posts you would probably find useful-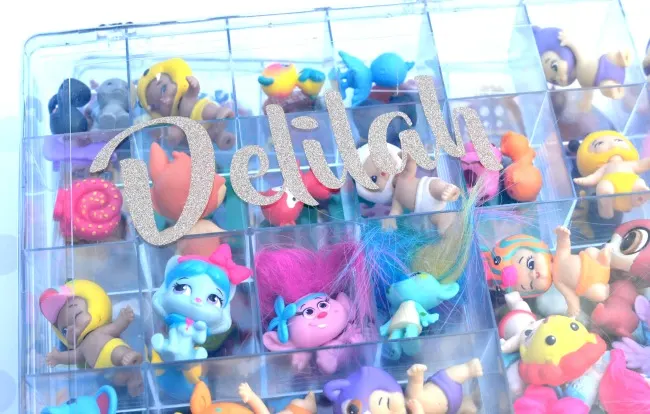 If you have Lego kids look at how many lego mini figures I was able to fit into Mason's small toy storage container. I can fit 2-3 finished figures in each cavity and then I piled some cavities up with parts and pieces. How great would this be for a road trip!? I can see it keeping my boys busy for a longgg time.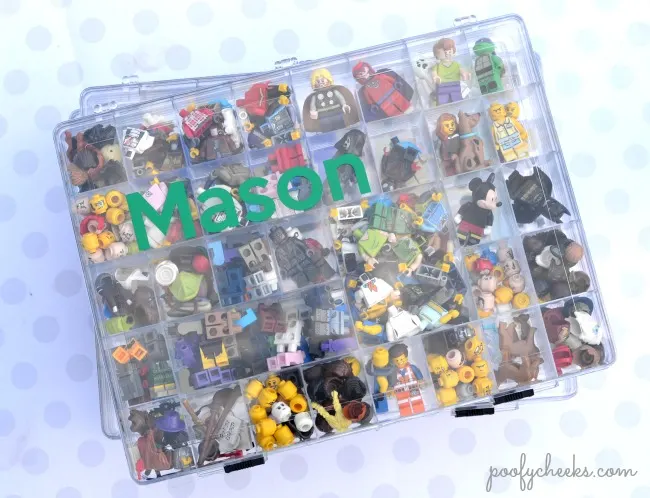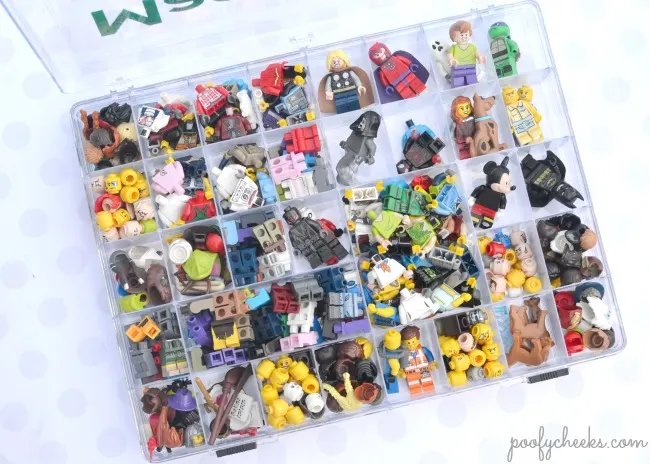 Minecraft blind boxes and other random small things? They all fit too!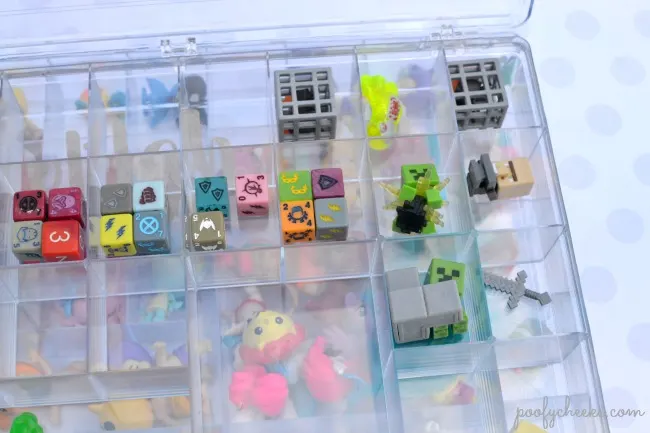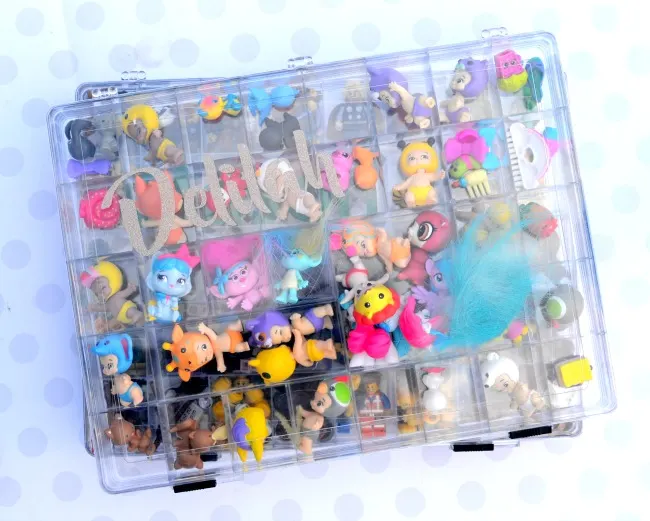 I thought I would share this because with mini toys and blind bags becoming more and more popular I know I was hell bent on finding something to keep them organized. The small toy storage containers aren't very tall so they slide right under the bookshelf we have keeping them out of sight when the kids aren't using them.