Hey there vinyl using friends! Today I am sharing how I not only keep my vinyl organized but where I keep my heat press and how I easily move it around. When I first started using my heat press I had an old table in our garage but in Florida it gets HOT and working in front of a 320 degree press during the Florida summer was miserable and working out there in the winter was often cold! Since heat presses are heavy I was lugging it back and fourth from the garage to my kitchen counter and nearly breaking my back every time. My 15×15 inch heat press weighs close to 75 pounds.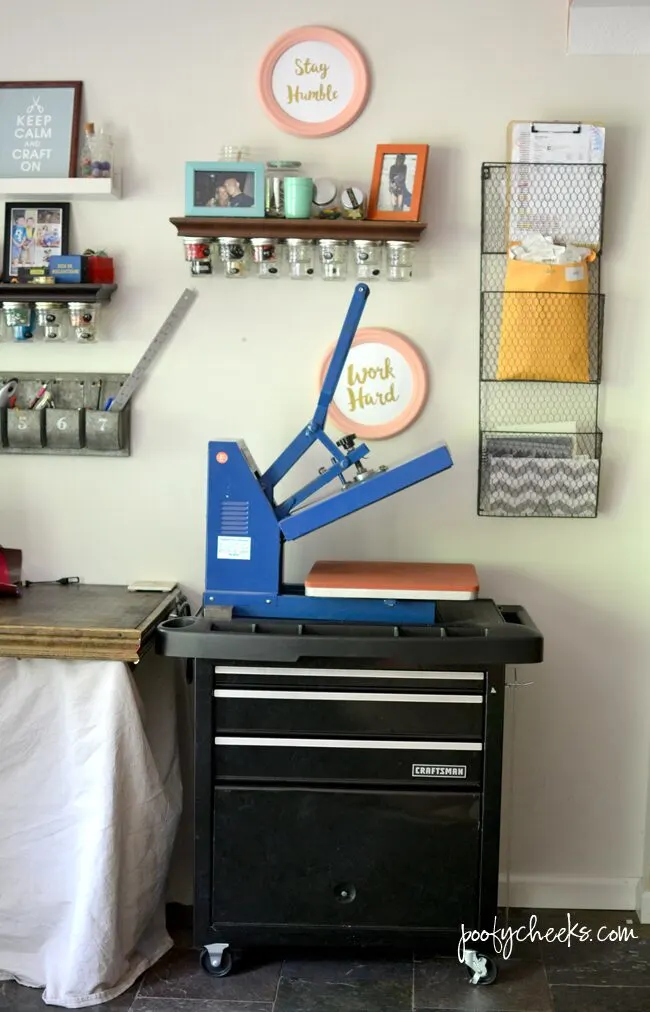 Last Christmas my parents bought me a heavy duty rolling cabinet for my press so I can easily roll it to an outlet while I am using it but can store it away when I'm not using it. The drawers are 20 inches deep which is perfect for storing rolls of vinyl or single flat sheets. I have a drawer for rolls, drawer for scraps, drawer for weeded designs I use often for quickly filling orders and I use the spot on the bottom for my glitter vinyl. I keep the cabinet next to my desk so when I'm doing inventory I can quickly check the drawers for the vinyl colors I need but unfortunately we don't have many outlets in this area of our basement so when I need to use the press I wheel it over to an outlet.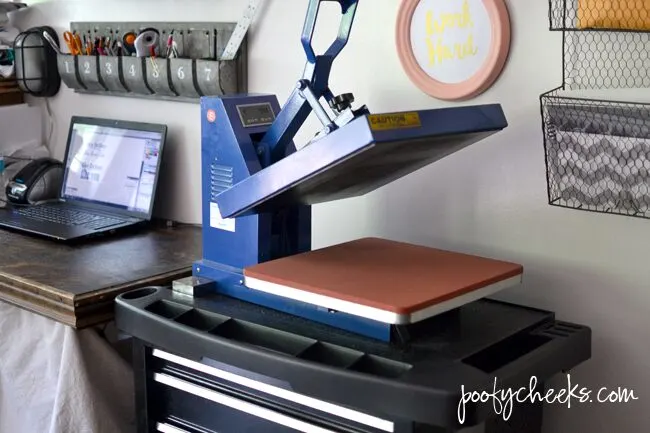 I have seen lots of storage ideas for vinyl but with a heat press and vinyl business I find this is the best solution for me. There are rolling cabinets in many styles and price points and I found quite a few similar to mine for you to check out –
#1. Seville Classic 6 Drawer Rolling Cabinet
#2. 5 Drawer HOMCOM Rolling Cabinet
#3. Excel 36 inch Steel Tool Cart
#4. Craftsman 4 Drawer Cabinet
Here are some more pictures of my setup to show how I organize everything. My cart has holes on the side for hooks and I hang my acrylic ruler and rotary cutter on the side which is what I use to cut my vinyl by the roll in straight cuts. If you don't already have vinyl cutting supplies this Fiskars set is the way to go because it comes with a mat, rotary cutter and ruler!!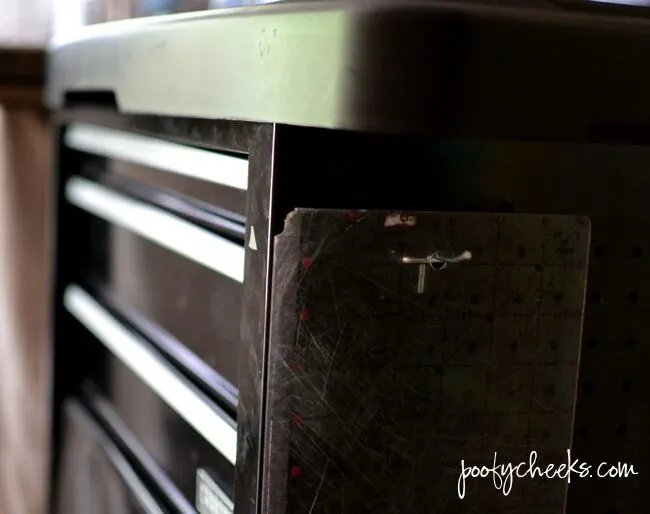 I stock the drawers of my rolling storage cabinet with lots of vinyl (Happy Crafters being one of my favorites!) and you can see my post for the cheapest Silhouette and Cricut supplies. I have used all of the vendors I talk about and know they are the cheapest while also being good quality! The cheaper you can get supplies the more profit you're able to make!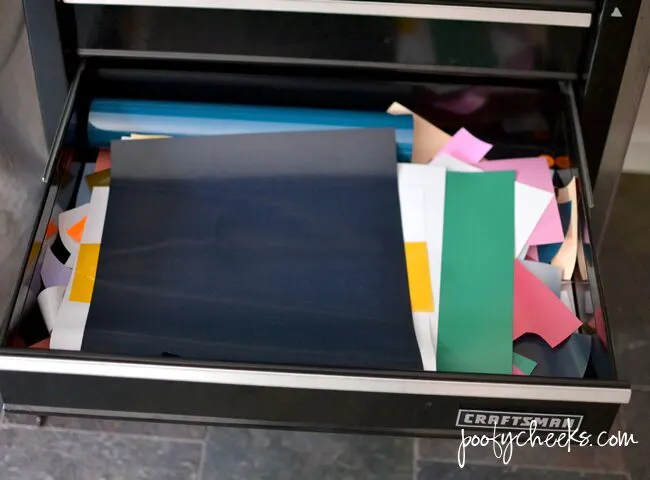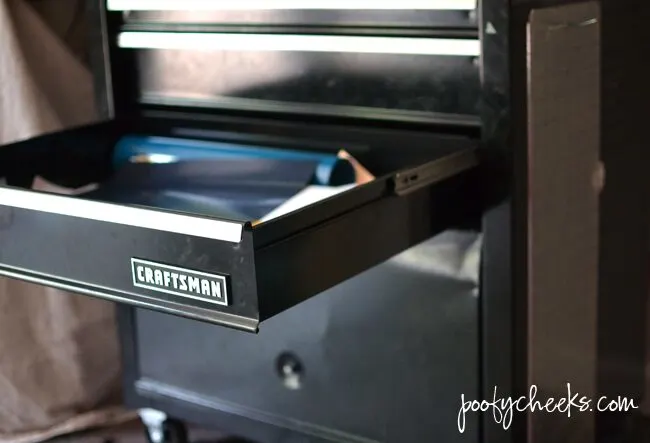 I need to work out a better way to organize my glitter vinyl since I usually toss them in and close the cabinet but it works for now!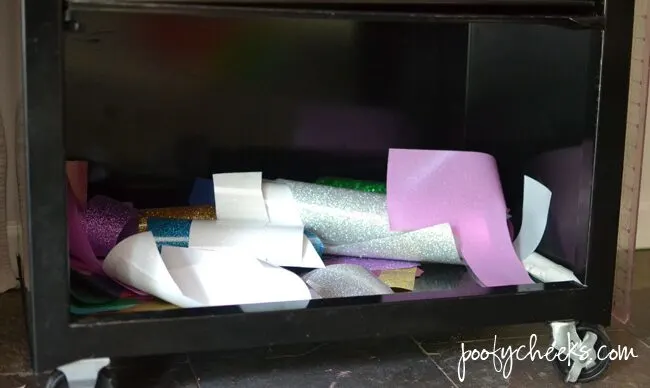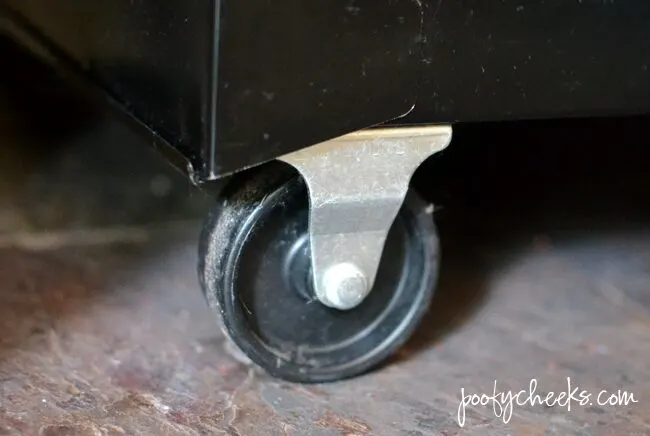 How are you all storing your supplies? I would love to hear some new ideas for vinyl and vinyl supply storage! Even if you don't have a heat press yet this would be a great way for vinyl storage, blank storage and then you could place your Silhouette or Cricut on the top of the cabinet.

This post contains affiliate links. If you purchase from these links I will receive a small commission which helps keep this blog running but does not make the price of items any different for you.
Enjoy,
I party
HERE