Every Christmas I can't help but think of small gifts to package in jars and gift to my family and friends. Sometimes I make homemade Kahlua, sugared pecans or fill jars with gift cards.
This year I am giving a coffee lover gift in a jar to my coffee loving family and friends. I thought of K-Cups® in a jar after hearing my brother and sister talk about their coffee drinking habits lately. My brother and sister are both younger than me and in college.
They are constantly drinking coffee and most of the time it is Dunkin' Donuts®. This past week they both had finals so there was even more coffee drinking happening than normal. To help them replenish their coffee supply (since I know they are living on a college student income) I packaged up some Dunkin' Donuts® K-Cup® Pods in jars with twine, paper filler, a printable tag and other fun embellishments.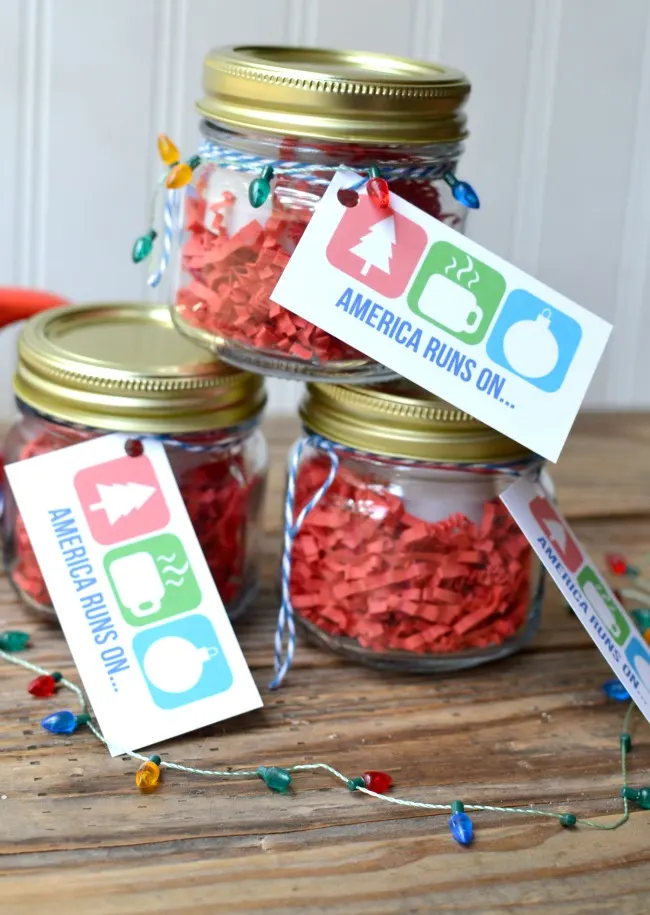 I made the printable tags with a Christmas theme. Simply print the PDF file onto cardstock, cut the tags out and use a hole punch so they can be tied onto jars with twine or ribbon.
I purchased the Dunkin' Donut® coffee, cardstock and jars on my last trip to Walmart. Not only did these turn out festive but they were also cheap without looking cheap because I made 16 of them using one box.
There are a few ways you could incorporate Dunkin' Donuts® coffee into gifts for the coffee lovers on your gift list. Pair coffee with a coffee mug or fill a large mason jar with multiple flavors for someone receiving a coffee maker this year!
Coffee Lover Gift Printable
Get the FREE America Runs On… Printable HERE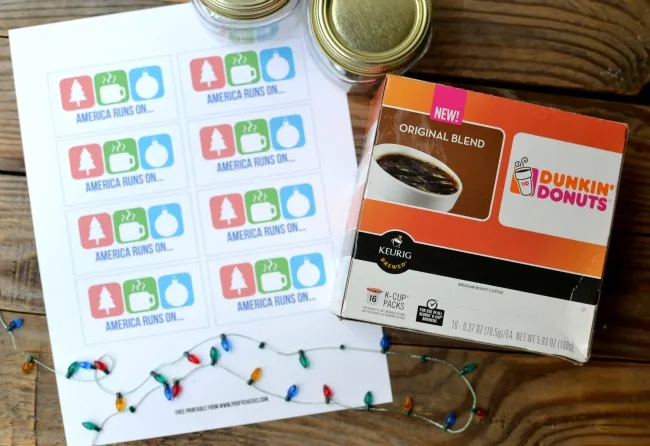 I made sure to purchase the Original Blend K-Cups® from Walmart instead of flavored blend so that it would pair with everybody's favorite coffee creamer. I know these gifts will be used quickly (maybe even on Christmas Day) since my kids will have everyone up early to unwrap their gifts from Santa.