Newly painted, organized and decorated basement craft room. Behr Spun Wool with pastel accents #BehrDIYexpert
The pumpkin is gone! I didn't think I would ever be as excited to see a paint color change as I am right now. We live in a two story home with an exposed walk-out basement and my office 'slash' craft space is right as you walk down the stairs. It has the most light of any area downstairs, but still doesn't get tons of light. Plus it felt dark and dingy with a dark burnt orange paint color.
Every time I would try to take pictures for my shop or blog, they would have a red cast to them and I couldn't always edit it out. Over the past month I have worked to paint, organize and decorate my work space. It is brighter, lighter and a whole lot more inspiring. This newly neutral room with the pops of color and pastel décor have been making my little ole' creative heart explode.
I hope you are ready for an overload of pictures because I couldn't help myself from sharing lots of them! If you are interested in the paint colors I used Behr Spun Wool for the walls. It is a tan which is nearly white. At first I thought it was too white but once I added the other décor to the walls I fell in love. Keeping the walls and textiles very neutral makes the colors from the wall décor and supplies stand out making them feel fun and colorful instead of random and messy.
Basement Craft Room Pictures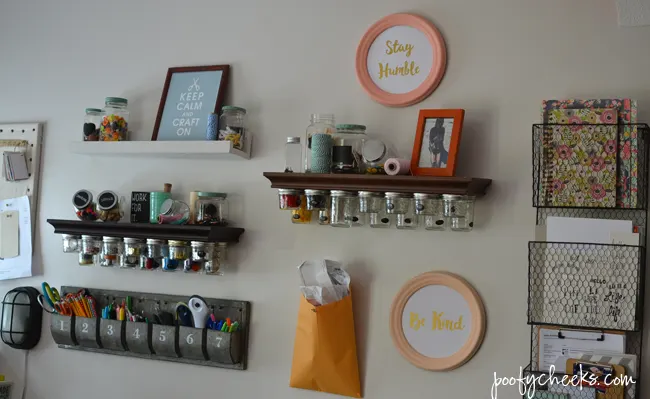 I have had the sawhorse desk, my dad helped me build, for years but the open look didn't do much for hiding my clutter. I purchased a canvas drop cloth, cut and sewed it to make it into a curtain to go around the desk. Now I can shove my sewing machine, Silhouette and supply containers underneath the desk. I also sanded the top of the desk down, stained it again and applied a coat of polycrylic to protect it against my craft messes.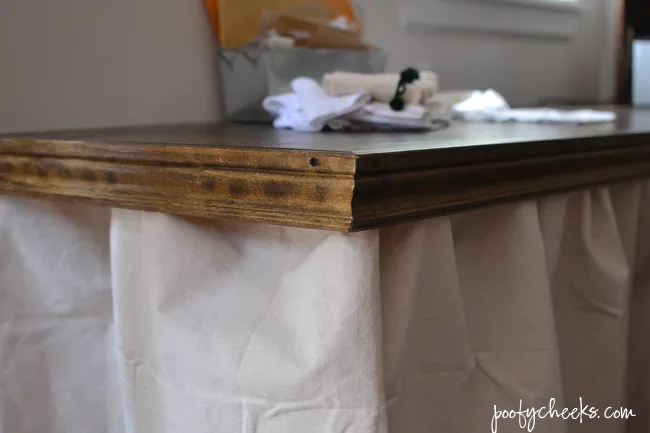 Some of the DIY projects I did for this room include making a fabric covered cork board and making a shelf from a crate. The crate offers the perfect sized spot for my printer but also keeps desk space freed up for storage jars to sit above it.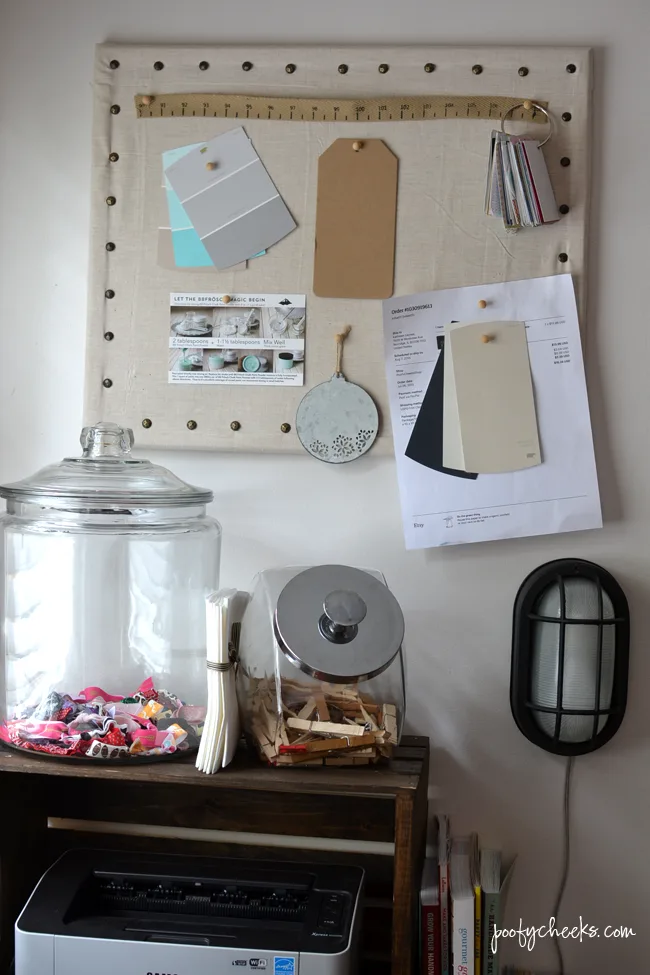 My favorite DIY project in the room was rewiring an outdoor light to be an indoor light offering the perfect amount of light in the evenings and adding to the vintage industrial look.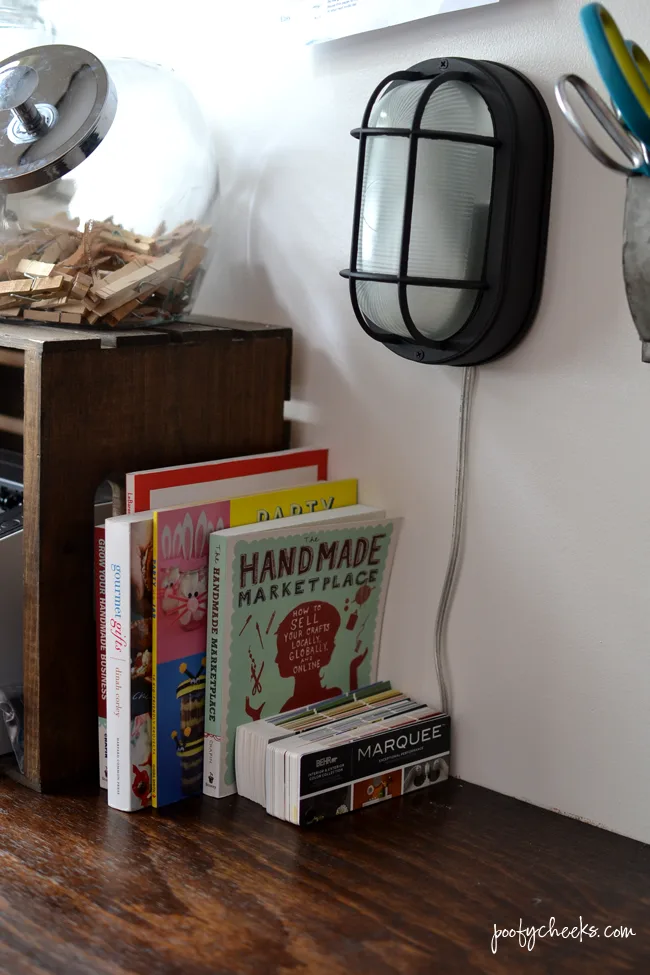 My DIY mason jar shelves made it back into the room because they are one of my all time favorite projects! They have become a signature item in my creative spaces. The metal cubby organizer below the shelf came from Home Goods.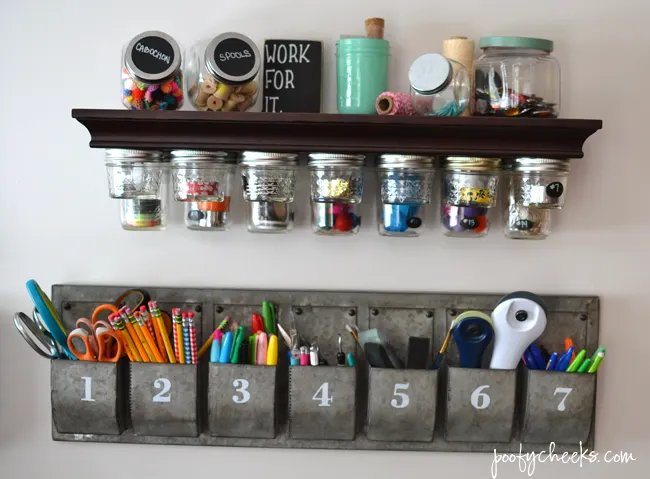 I will be talking more about the curtain rods in a future blog post but can I say budget friendly? They don't get much more budget friendly than these guys!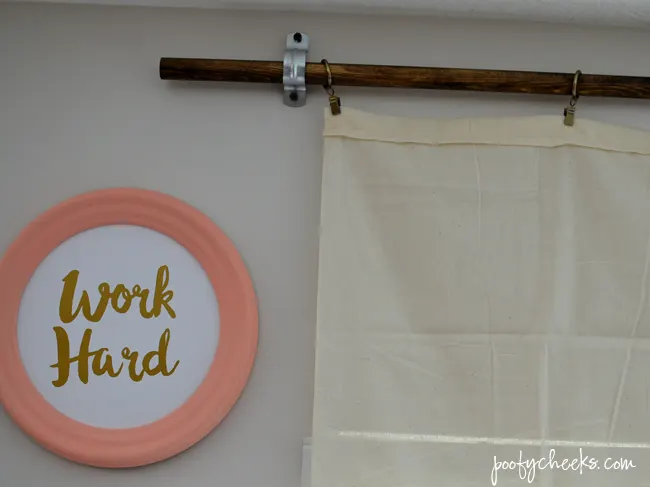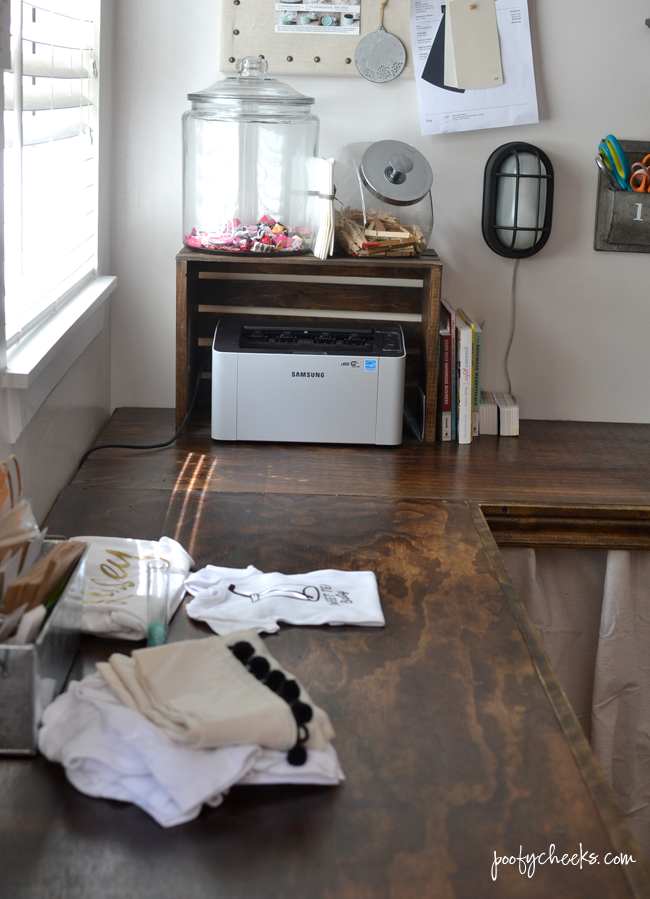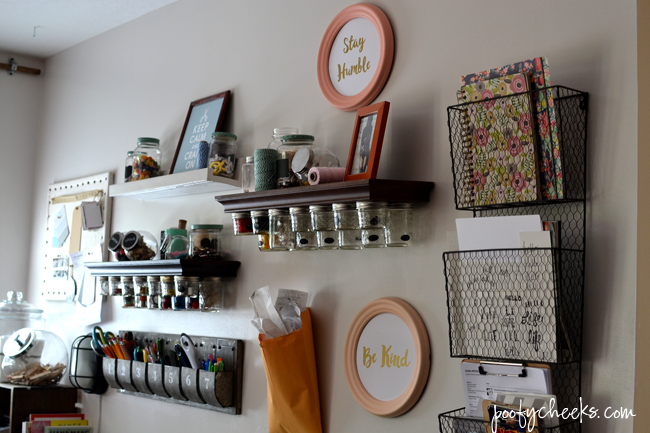 See all that light? I'm in creative heaven.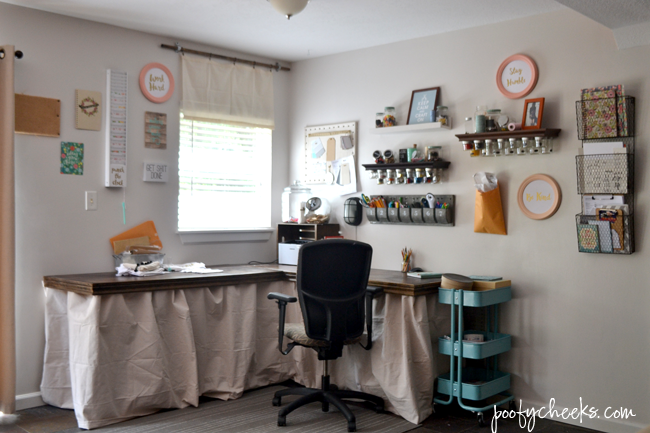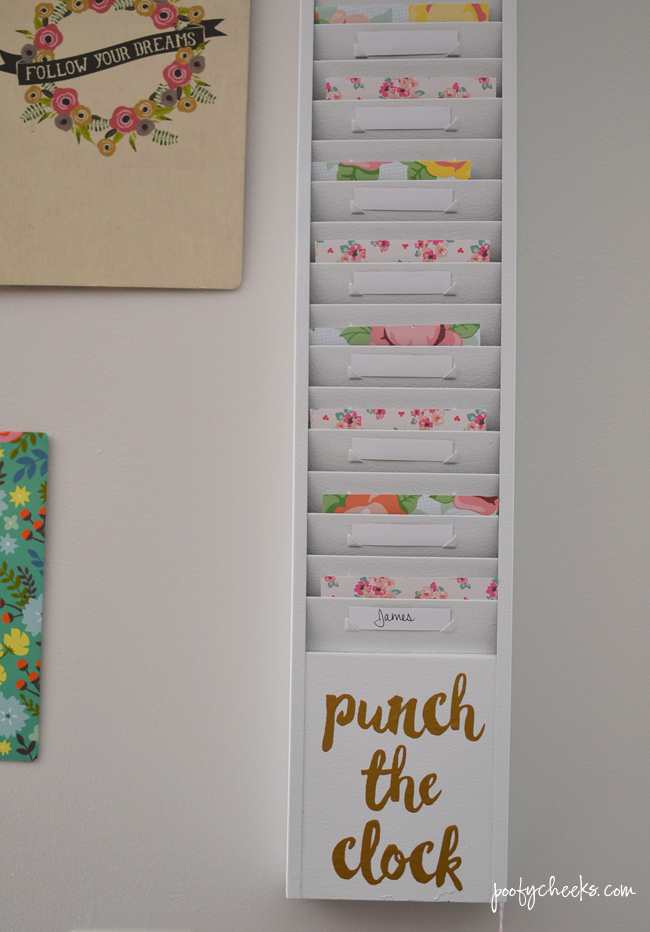 The paint color on the wall is BEHR Spun Wool N-220-1. I also used BEHR paints on the circle frames in Sensual Peach P200-2 and Pink Mimosa P180-3. I love the combo!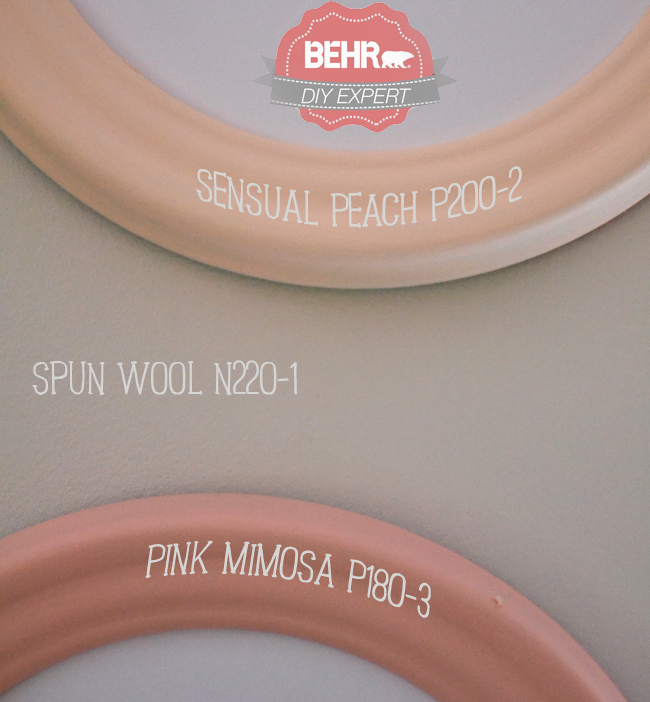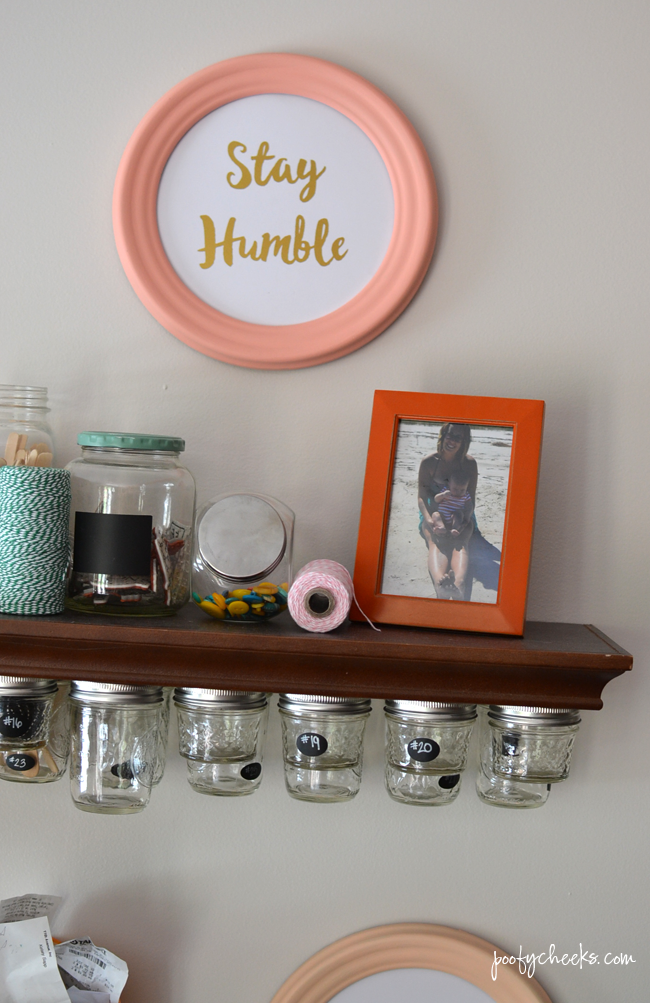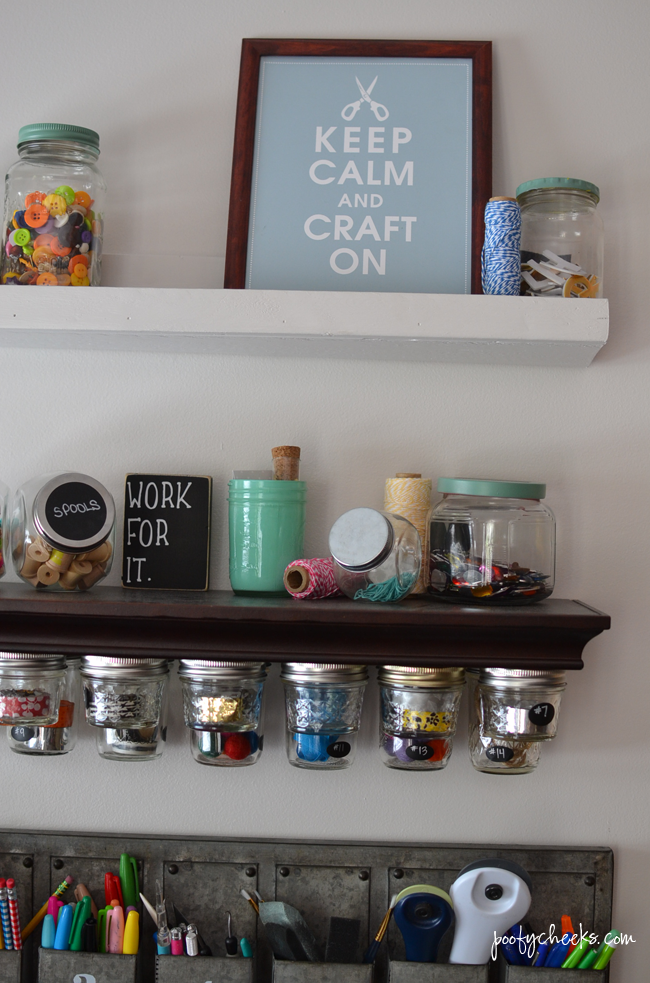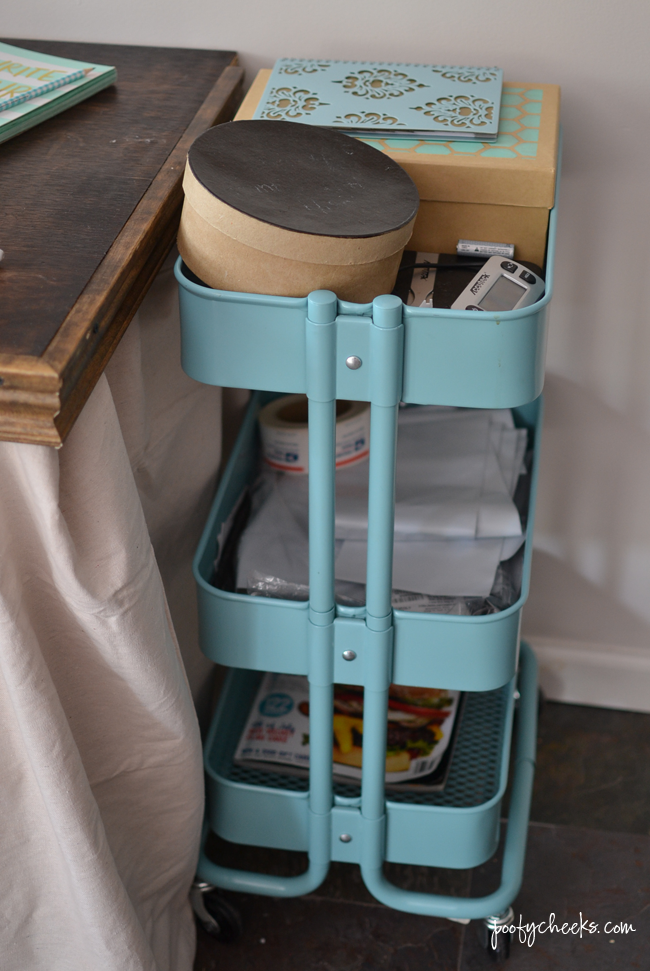 Here are some before and after pictures to show the difference some paint, new décor items and organization solutions can make!
Basement Craft Room Before and After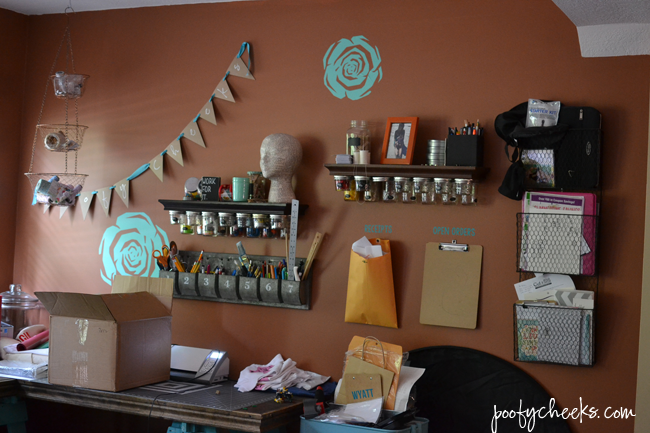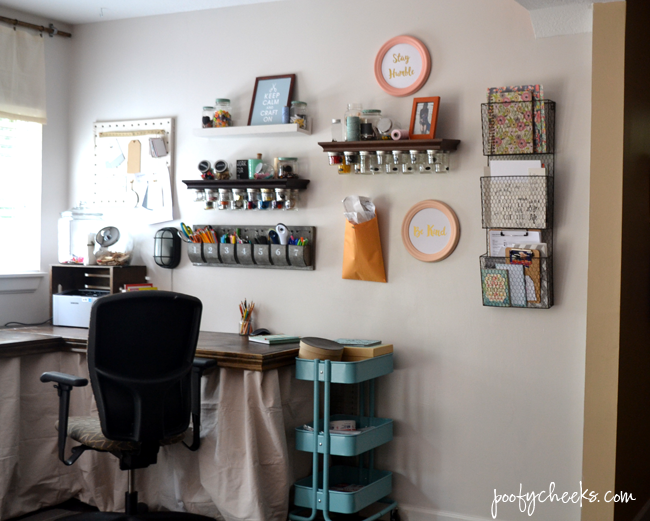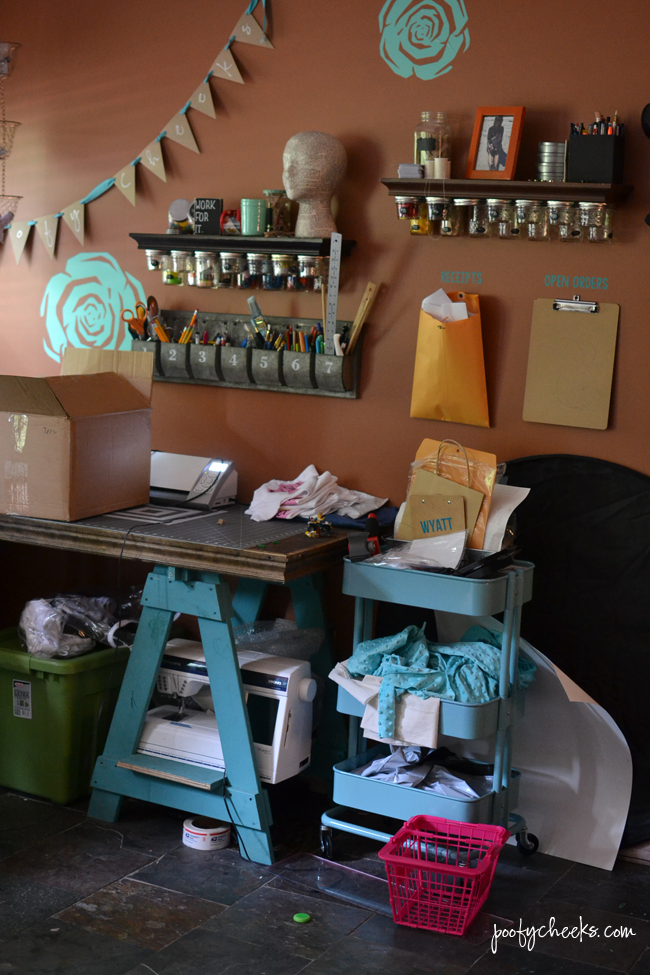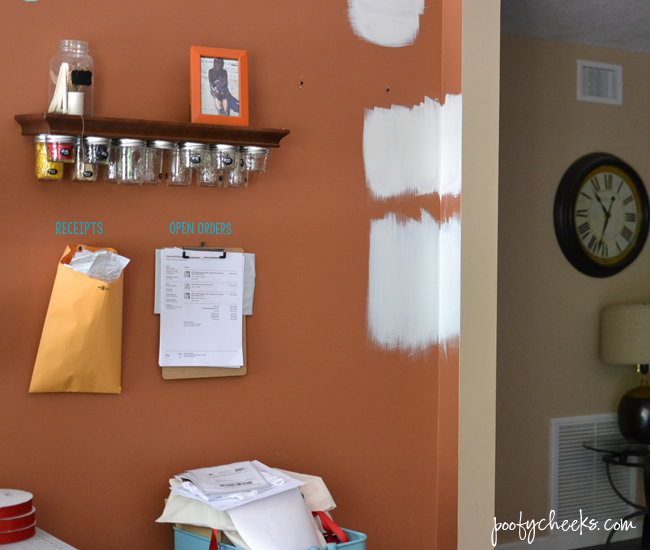 My silly kiddos had to get in on the fun. Their play area is next to my office so I can keep a close eye on them. They float around like little fireflies (okay, sometimes I would compare them more to gnats) trying to get in on all my projects.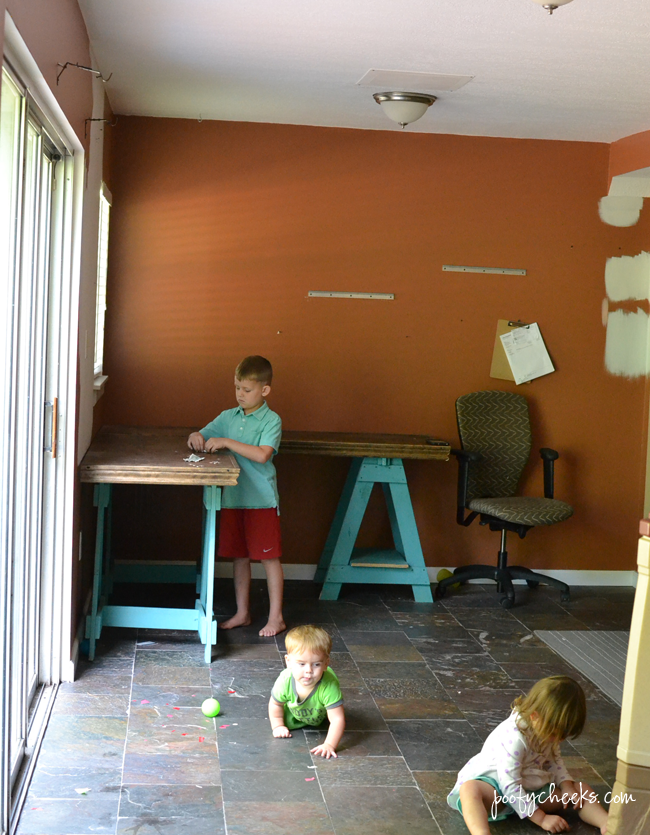 The next two pictures of before and after get me every time. I have scrolled up, down, up and down numerous times because I am still in awe at the transformation.
The last thing I want to get for my space is the aqua IKEA desk chair that matches my IKEA cart. After I get my hands on one I think I can consider this room complete!