---
Summer means birthdays in our house. Two of my boys, my husband and I celebrate our birthdays. Our family is practically in celebration mode all summer long! I created a Birthday S'mores Bar for an at home birthday celebration on my birthday this year.
I turned the big 28 on Wednesday and thanks to my friends and family it was one of the best birthdays I have had in years. We played a charades game through a charades phone app and laughed the entire night. The kids ran around pulling out every toy in the house.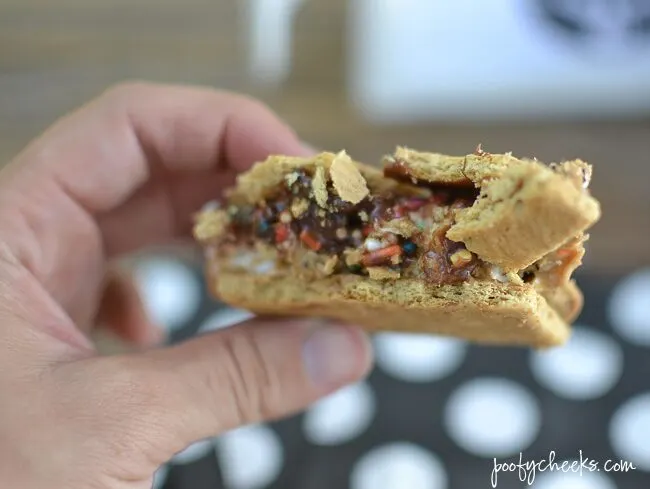 We don't have a fire pit or a charcoal grill so we made terracotta pot fires to heat the marshmallows. I shoved aluminum foil around the inside of each pot and added a few charcoal bricks. I sprayed a bit of lighter fluid over the charcoals and lit them with a long lighter. I put chalkboard labels onto the pots and wrote 'hot' to match the printables I created.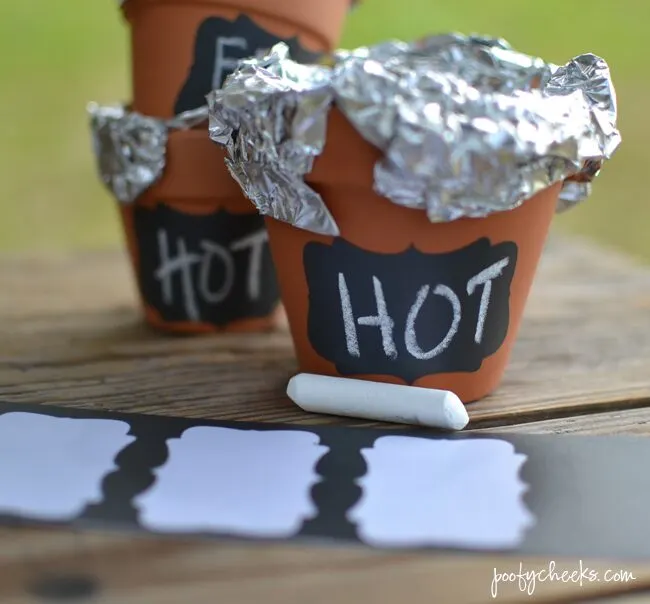 I set up a table with saw horses and a salvaged pallet top then decorated it with an old frame that had black poster board with chalk writing. I secured wrapping paper around the edges of the 'table' with tape and then set out all the necessary S'mores ingredients. You can't have S'mores without Hershey's chocolate bars, Jet-Puffed Marshmallows and Honey Maid graham crackers!
I picked up all of the party supplies and S'mores ingredients at our local Walmart. At Walmart they also had the square graham crackers which made things nice and easy. We had the gathering later in the evening so everyone had eaten dinner before arriving. I like to keep things budget friendly and I couldn't see spending a bunch of money serving a meal so a S'more bar was the perfect solution!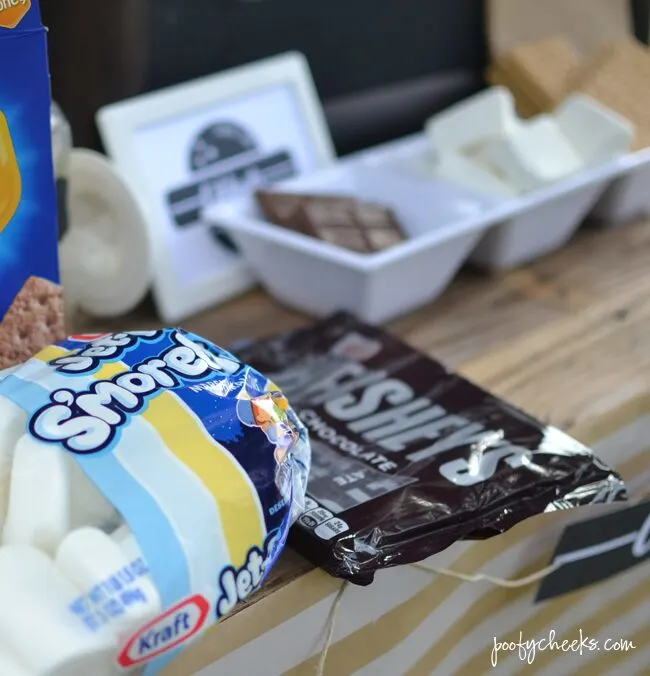 When I made free printables to incorporate a celebration and campfire S'more feel. To get the free printables scroll to the bottom of the post!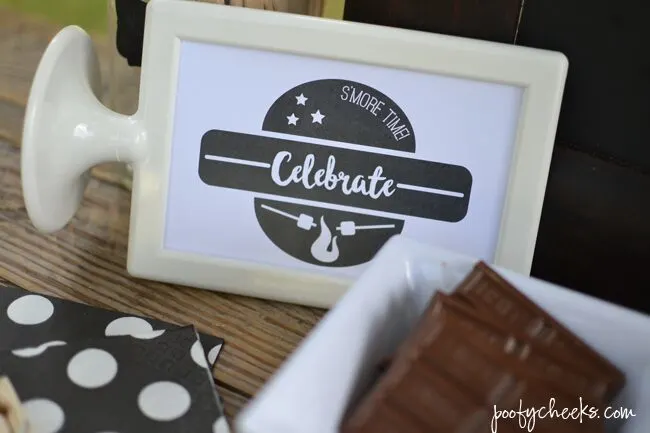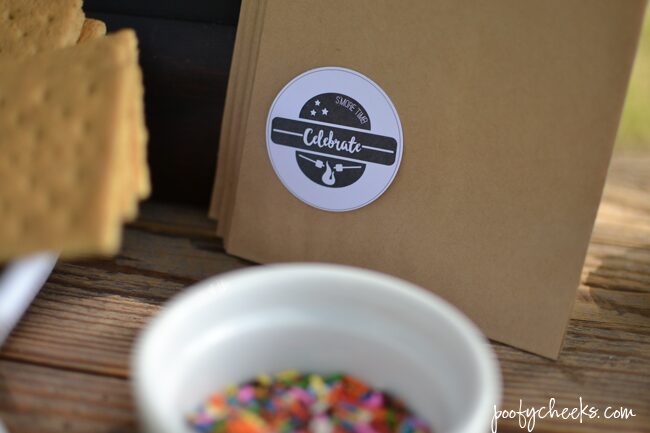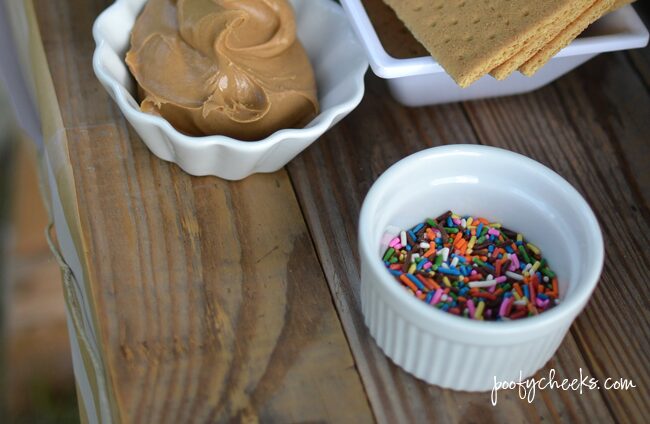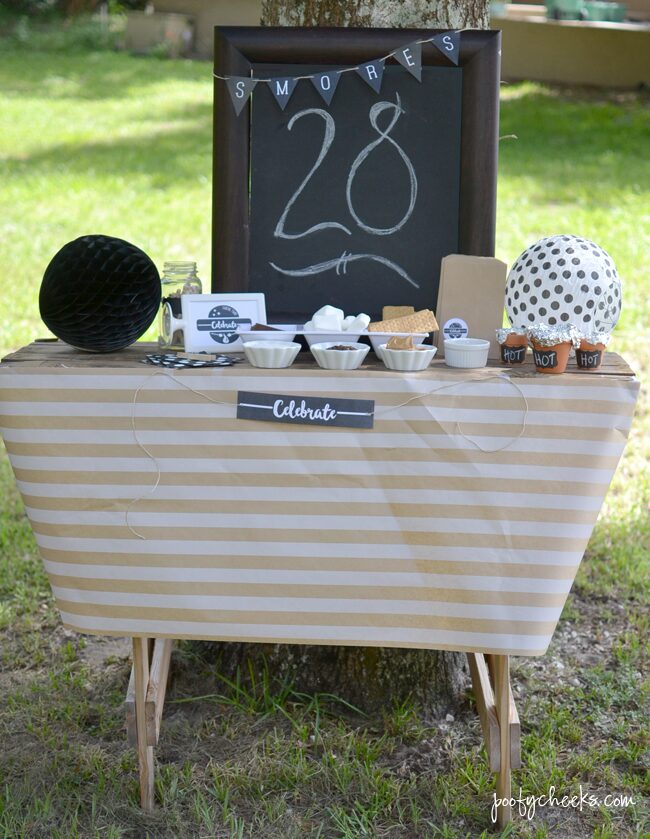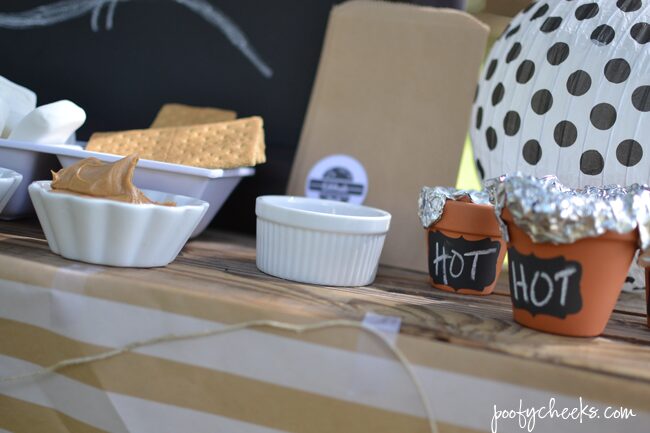 Growing up we camped a lot and my mom always bought chocolate frosting to add to our S'mores so I knew I wanted to have it as part of our S'mores bar! I filled ramikins with Jet-Puffed Marshmallow Crème and Hershey's Chocolate Spread.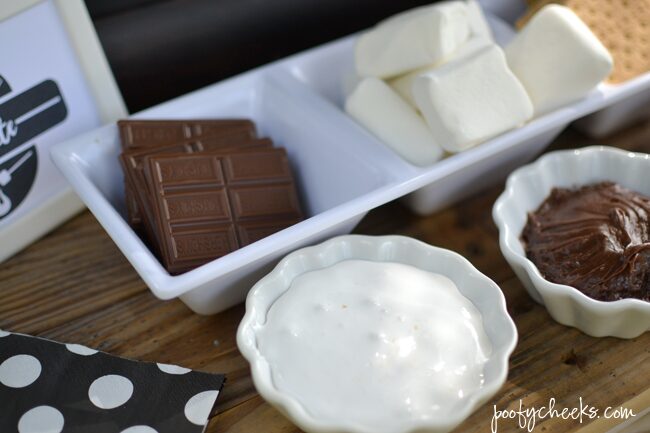 To wash down the S'mores I had sprinkle rimmed milk shooters ready on a little table next to the S'mores bar.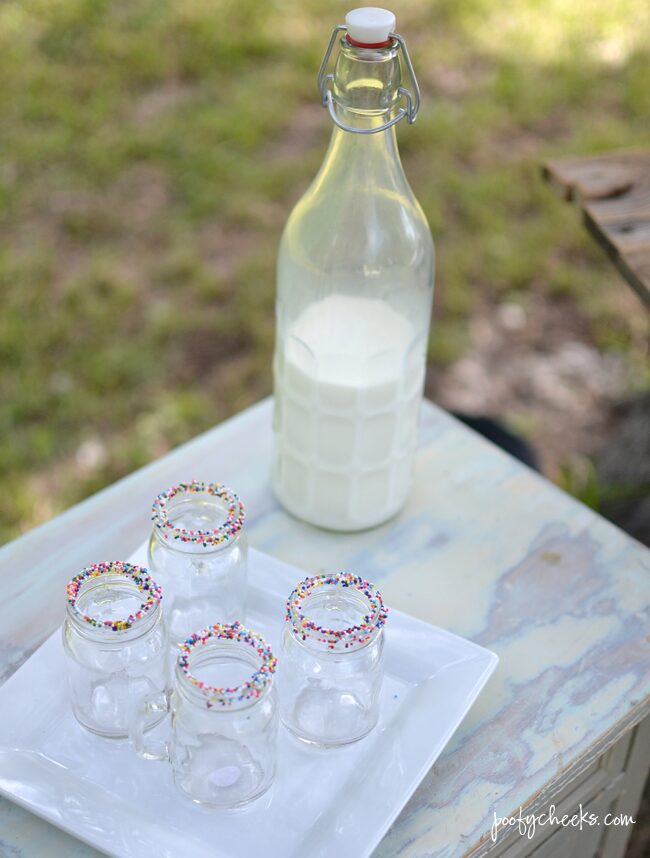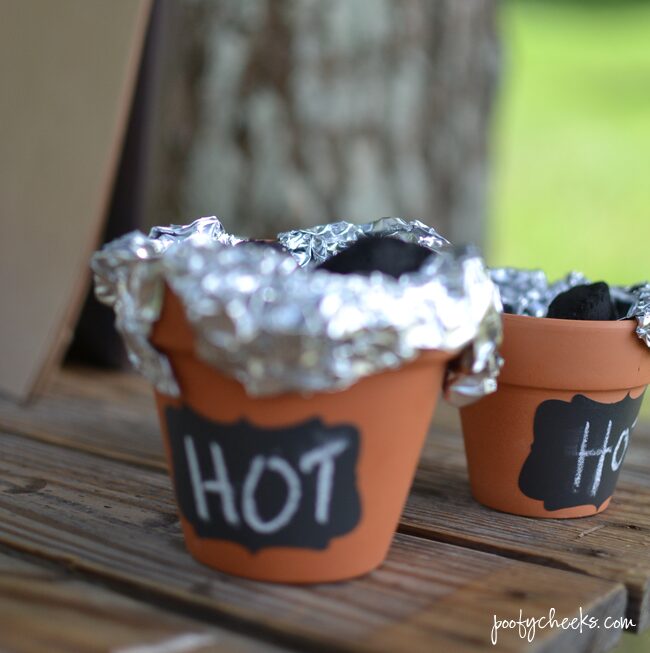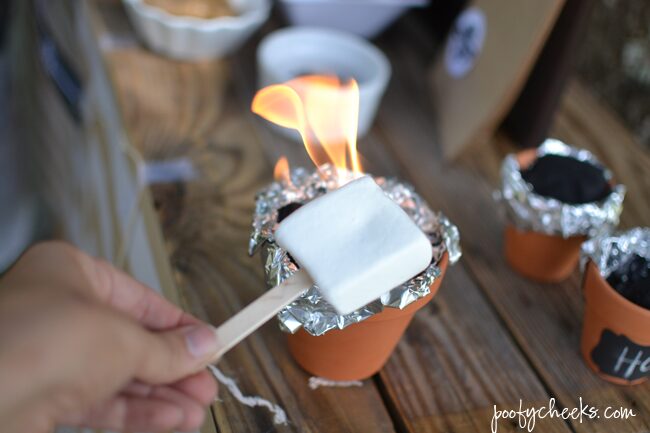 Call me crazy but my favorite marshmallow is one that is very well done. I'm talking burnt like a crisp. Mmmm! I cooked my marshmallow just the way I like them and then made a birthday S'more.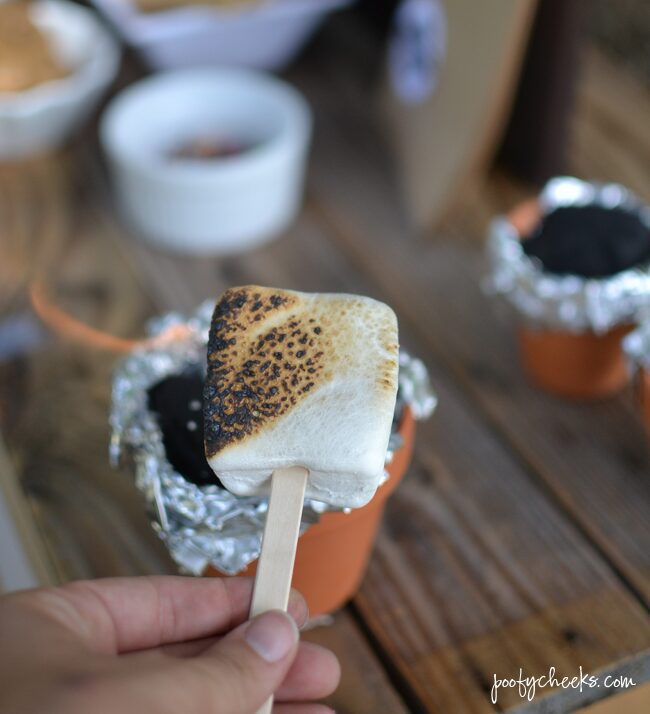 Birthday S'more Recipe
Ingredients:
Hershey's Milk Chocolate Bars
Hershey's Chocolate Spread
Jet-Puffed Marshmallow – warmed over a flame
Honey Maid Graham Cracker Squares
Sprinkles (optional)
Directions:
Spread chocolate spread onto one graham cracker square and add sprinkles (especially if it is YOUR celebration).
On another graham cracker square layer a few pieces from a Hershey's chocolate bar and a toasted marshmallow.
Turn the square with spread over and smash the two halves together to make the ultimate Birthday S'more!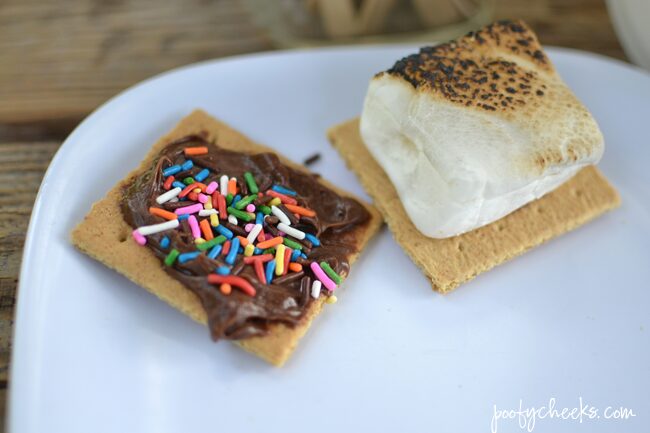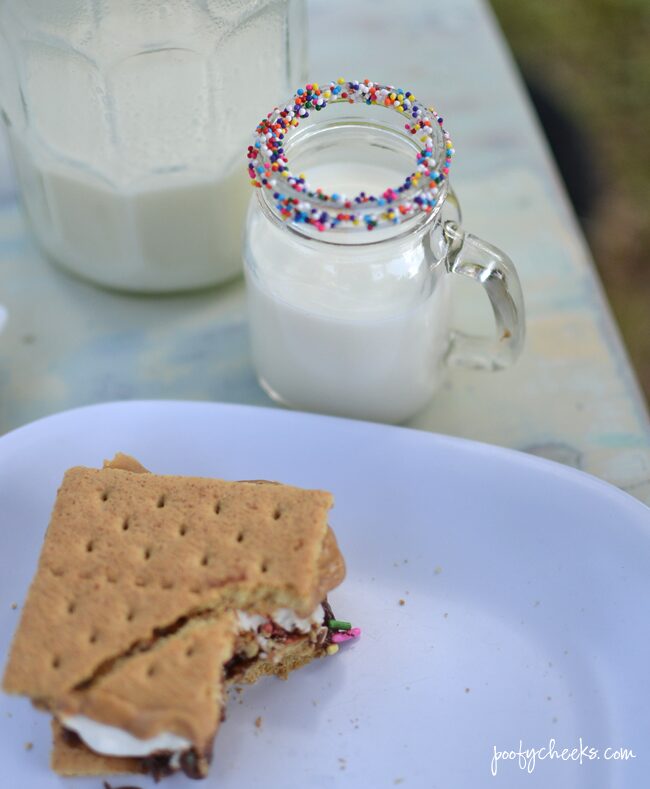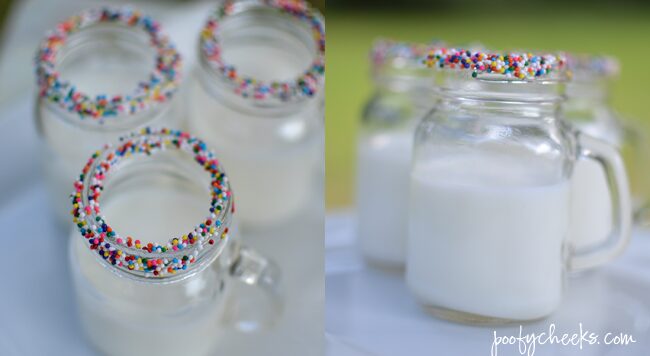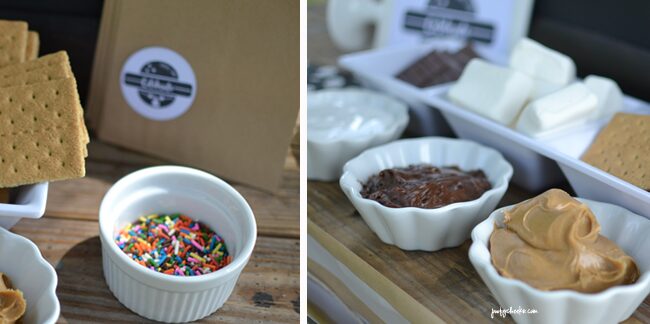 Birthday S'Mores Bar Printables
FREE PRINTABLES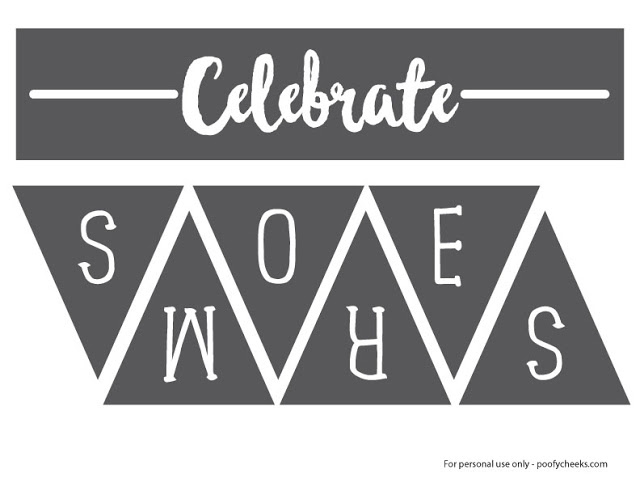 –Banner Printables
–4×6 and circle Printables
Have you celebrated with S'mores this summer? Why not make S'mores tonight!?