---
Patriotic Red, White and Blue Fourth of July Cookies Recipe
Hey y'all! I have been on a short little blogging break since school let out for summer but I am so happy to be back in action and teaming up with a bunch of my blogging friends for the second annual Red White and Blue Blog Hop.
I am sharing a recipe for Fourth of July cookies this year. These cookies are so easy, so fun and oh so yummy! If you are looking for something magical then you should make these babies – they disappear before your eyes!
Last year I shared Red White and Blue Ice-Pops during the First Annual Red White and Blue Blog Hop. If you are looking for even more patriotic inspiration head over and take a look through all of those ideas too!
Making Fourth of July Cookies
Back to these cookies! They are a soft, buttery sugar cookie.
Preheat oven to 350 degrees and then in a large mixing bowl cream together softened butter and sugar.
Add in egg and mix until incorporated. Stir in the baking powder, salt, vanilla and 2 cups of flour. The mixture will seem to be very dry at first so you may need to use your hand to really mix it in. If it is too sticky add another 1/4 cup of flour. You should be able to roll it into a bowl without it sticking to your hands.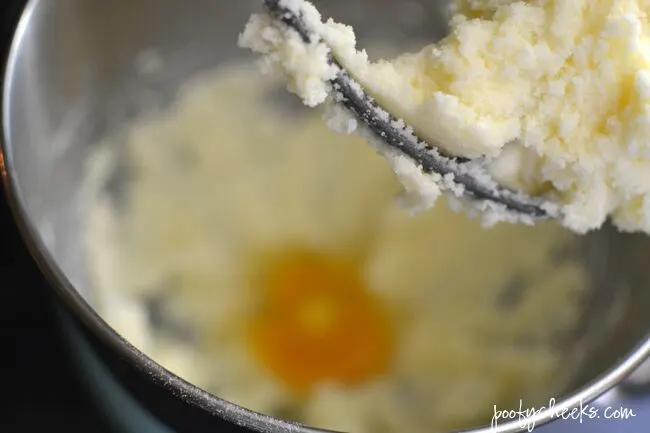 Separate the dough into three separate bowls. Add blue food coloring to one bowl and red to another. Stir until food coloring is fully incorporated. To get really vibrant colors (especially red rather than pink) I use Wilton food coloring.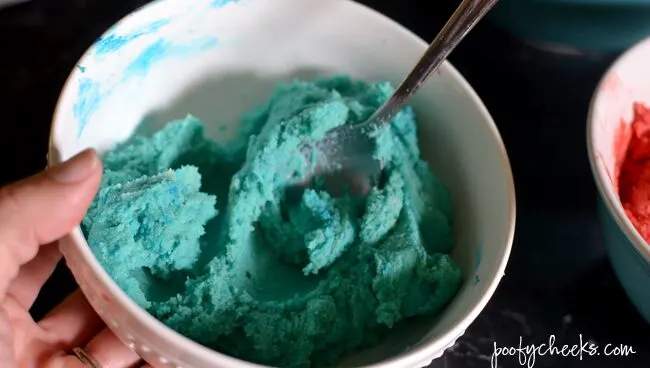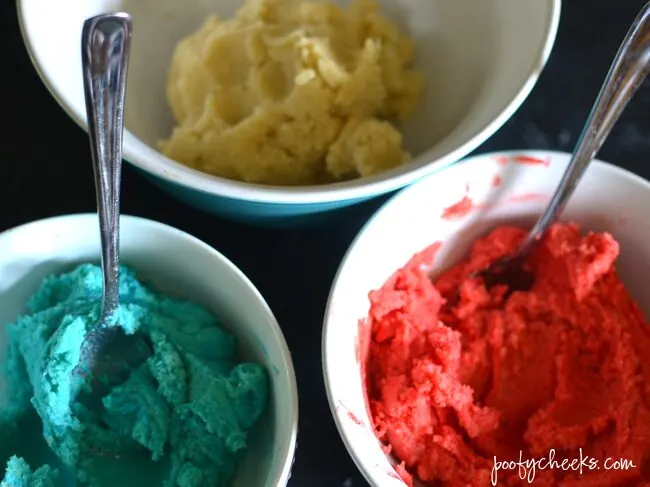 Take a pinch of dough from each of the three bowls and roll dough into one inch circles, roll into sugar and place on parchment paper lined cookie sheet.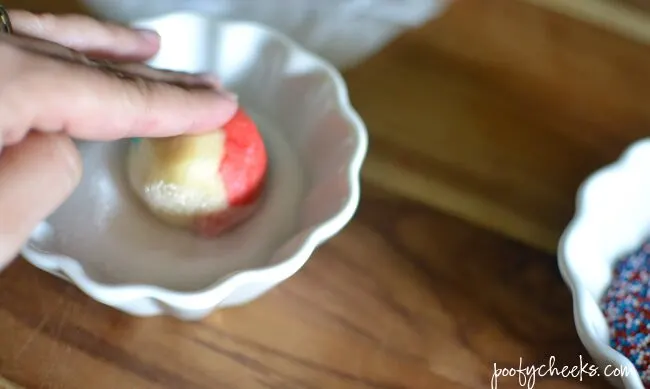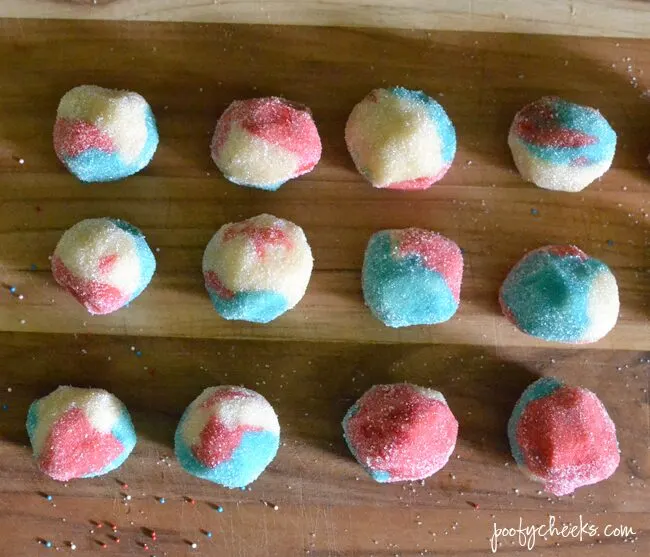 If you would like to add sprinkles to your cookies press them down into a cup of sprinkles on one side so just the tops will have them. Gently push cookies down with your middle three fingers and bake for 9 minutes. They will flatten out while baking and the colors will take on a tie dye look. Remove from the oven and let them set on the cookie sheet for one minute before placing them on a wire rack to cool completely.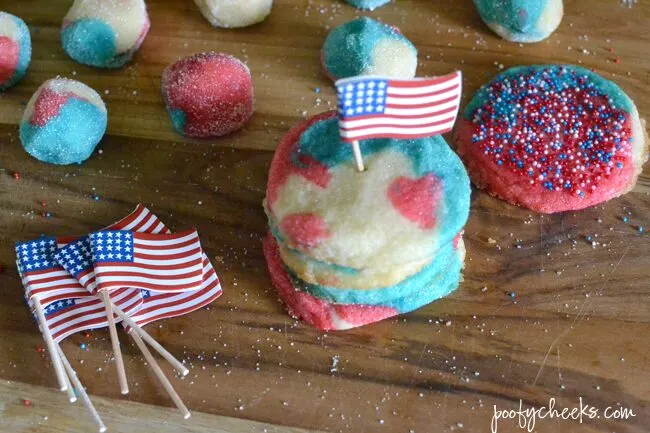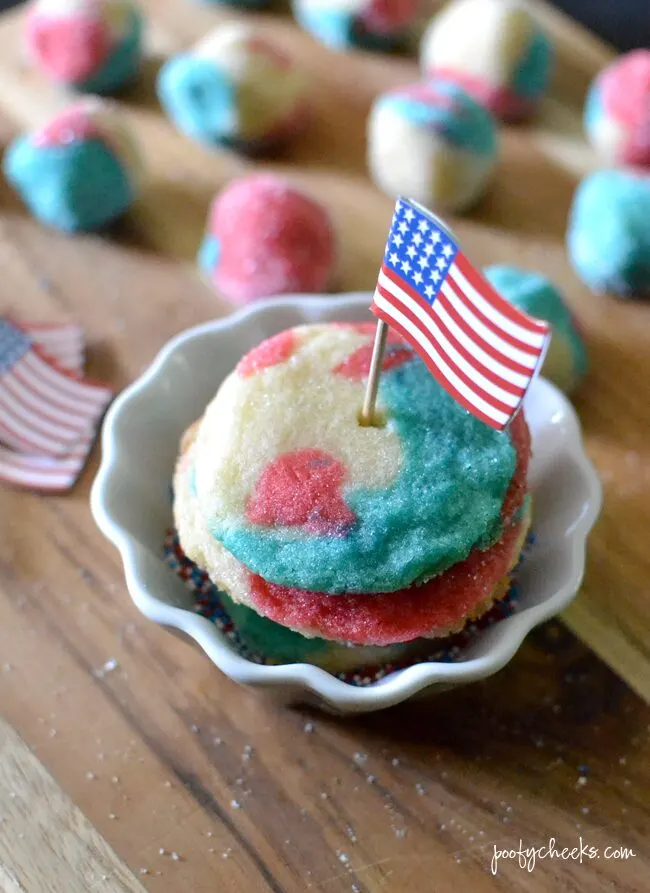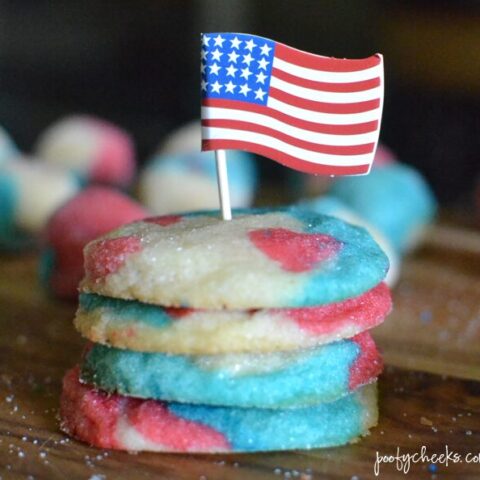 RED WHITE & BLUE COOKIE RECIPE
Ingredients
1 cup (2 sticks) of butter – softened
1 1/2 cups of sugar
1 egg
1/2 tsp . baking powder
1/2 tsp . salt
1 tsp . vanilla
2 – 2 1/4 cups of flour
-more sugar to roll cookies in
-red and blue food coloring
-sprinkles, (optional)
-parchment paper
Instructions
Preheat oven to 350 degrees – yields 2-3 dozen cookies
In a large bowl cream together butter and sugar
Add in egg and mix until incorporated
Stir in baking powder, salt, vanilla and 2 cups of flour. The mixture will seem to be very dry at first – you may need to use your hand to really mix it in and if it is too sticky add another 1/4 cup of flour
Separate dough into three separate bowls. Add blue food coloring to one bowl and red to another. Stir until food coloring is fully incorporated.
Take a pinch of dough from each of the three bowls and roll dough into one inch circles, roll into sugar and place on parchment paper lined cookie sheet
If you would like to add sprinkles to your cookies press them down into a cup of sprinkles so just the tops will have them
Gently push cookies down with your middle three fingers and bake for 9 minutes
Remove from the oven and let them set on the cookie sheet for one minute before placing them on a wire rack to cool completely
Nutrition Information:
Yield:

24
Serving Size:

1 Cookie
Amount Per Serving:
Calories:

152
Total Fat:

1g
Saturated Fat:

1g
Trans Fat:

0g
Unsaturated Fat:

1g
Cholesterol:

9mg
Sodium:

76mg
Carbohydrates:

32g
Fiber:

1g
Sugar:

13g
Protein:

3g