Hello and welcome friends! I have a project I have been working on here and there since November and it is finally finished. At times this project has been an eyesore and I've felt as if it has been looming on my to-do list for far too long. The past few weeks I spent time finally finishing redoing and decorating the faux mantel that I bought nearly six months ago.
In the middle of the redo process I asked my husband how much he thought I could sell the mantel for and he replied asking why I would do that. I had painted the whole mantel with an ivory chalk paint and I liked it better than when I first bought it but I didn't LOVE it. I used a thicker chalk paint than normal which dried into a crackle effect in some spots making it look more French shabby chic than I liked. At that point I hadn't decided what to do in the opening area and was still on the fence about how to style and decorate the mantel.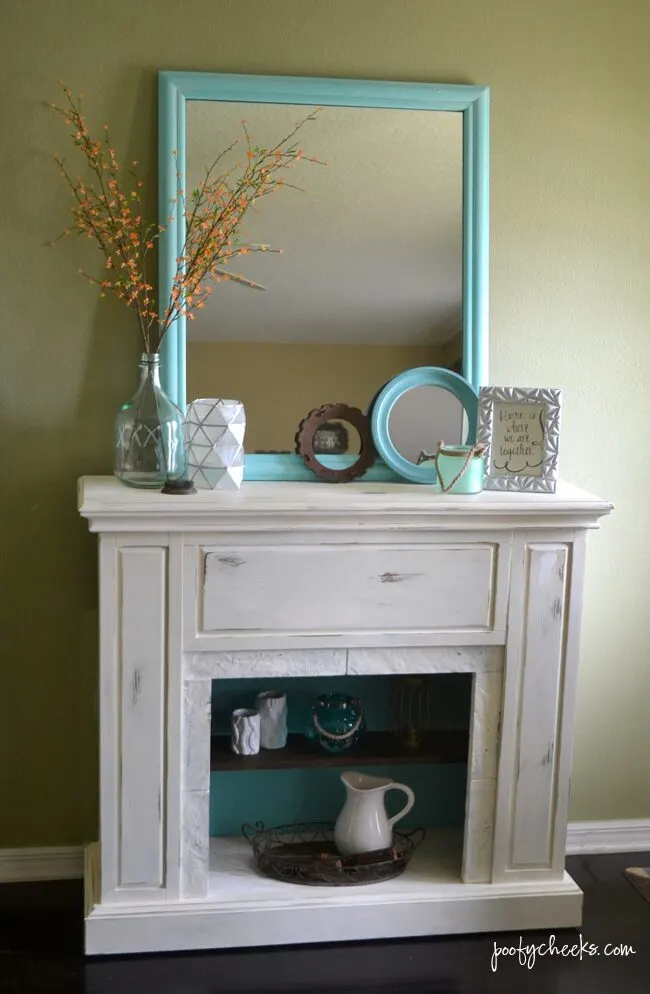 Now that she is done I really love the way the faux mantel turned out. I decided to go with a shelf and backing in the mantel opening because it seemed like a waste of space to board it up. (I thought of boarding it up and decorating it with birch slices.) Right now I have some decorative items on the shelves but with small hands I won't be keeping the breakable items there for long. I have been searching for some baskets or containers that won't take away from the overall look but will offer hidden storage for small toys or kid books.
Welcome on in and B.Y.O.C. (bring your own coffee) as we invite you to take a look through the redo process. Emmett is guarding the door and all the toys (oh and my lone shoe) back behind him. Off subject but I can NOT believe this little pumpkin is going to one in less than a month! Where does the time go!?
I really didn't like the reddish tint but I wanted to see if the two-tone mantel would grow on me. It didn't and I began to dislike it more and more as time went on so finally a few weeks ago I picked up another tub of chalk paint and got to work.
Once I decided what to do inside the mantel I went to work making a shelf. I picked up a pine board and stained it then painted a thin sheet of pine board and screwed it in for the shelf backing.
This is when the mantel came to life and I fell head over heels. I used Behr Marquee Key Largo mixed with BBFrosch Chalk powder to paint the backing board.
I shopped my home, garage sales, clearance isles and our recycling bucket to find things to decorate the mantel with.
Here is a list of all the supplies I used to redo the mantel from the before to the after-
Behr Marquee interior flat paint – (color was Key Largo)
BB Frosch chalk powder
Ivory Chalk paint
Clear wax
Paint brush
fine grit sand paper
Pine board (for the shelf)
Stain (for the shelf)
Leftover piece of pine to hold the shelf (I cut it down so I had two 12 inch pieces)
Level
Tape measure
Pencil
Drill, drill bit and screws
Sheet of pine (for the backing)
**I should mention I had the hardware store guys cut the wood for me.
A quick overview of how I took the mantel from the before to the after –
I used a foam brosh and paint brush to paint the entire mantel in ivory chalk paint and sealed with clear wax. Then I used sand paper to rough it up and give it some character.
To make the shelf I used my tape measure to measure everything marking with a pencil. I used my level, drill and drill bit to predrill holes where I screwed in the small pine pieces used to hold the shelf up. Then I stained the shelf and screwed it down onto the small pine pieces I had attached.
For the backing I mixed together Behr paint in Key Largo with BBFrosch chalk powder and gave it two coats. I used my drill and screws to attach it to the back of the mantel.
This frame was silver and $3 on clearance at TJ Maxx. I brushed some of the ivory chalk paint lightly accenting the texture and made a 5×7 hand lettered printable to put in it.
The glass wine jug was from my recycling bin and one of my favorite parts is the height and pop of color the orange flowers add. I used to be so against fake flowers because some just look so cheap and fake but are gorgeous.
I bought the big mirror from a garage sale (more about that redo soon), I already had the rusty gear and small mirror and the little lantern came from the Target dollar spot.
When you walk into our house the mantel is one of the first things to greet you. There is the entryway bench to your right and the mantel directly to your right. I am still working on decorating the area behind the door. I had a gallery wall there before and am still deciding if I want to add a few things or take everything down.
What are your thoughts on the mantel? Love it or sell it?