Holy smokes where does the time go? Summer break starts in about two weeks here and I am stressing big time. Since I work from home full time I usually get the most done first thing in the morning after my two older boys head off to school.
With the two littles, I am making lots of breaks to change diapers, get juice or snacks. When I add the two older boys into the mix I fear I might be pulling my hair out. The past week I have been thinking of something – anything to keep my kiddos busy through summer! Today I am sharing how to make glossy marker art with a few supplies you probably already have on hand!
My two oldest boys will be in First and Second grades next year so we have a long list of sight words to practice and keeping the letter sounds fresh in their minds helps a lot! I turned this craft into a learning activity with the boys and they didn't even know it. For our glossy marker art we used the boys' names but I asked them what sounds each letter in their name made and then asked them to think of a different word that started with the respective letter.
For this craft you will need the following supplies:
Liquid School Glue
Markers
Watercolor paper (or a thick cardstock)
Pencil (optional)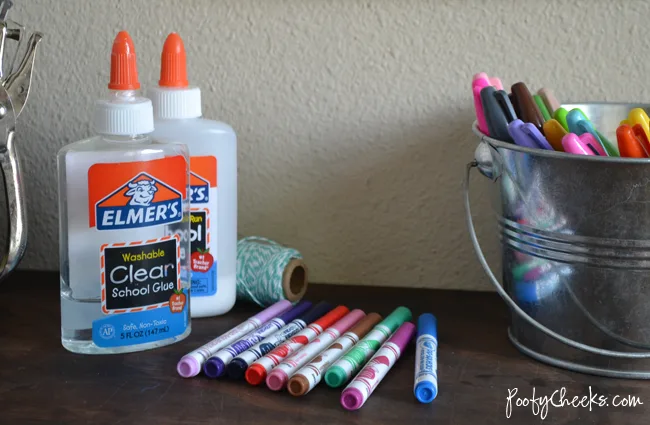 Glossy Marker Art Directions:
Use glue to draw a picture, name, letter or whatever your heart desires on a thick paper such as watercolor paper. Keep the glue lines rather thick because it will shrink down as it dries.
Set the paper aside to dry for a few hours or overnight.
Once the glue is dry start coloring over it with markers to create your one-of-a-kind glossy marker art!
I gave each boy a piece of watercolor paper and had them draw their name with glue. If they need to draw with a pencil and then trace with glue that is fine too! If you have younger kids or don't trust your littles then you can do the glue part.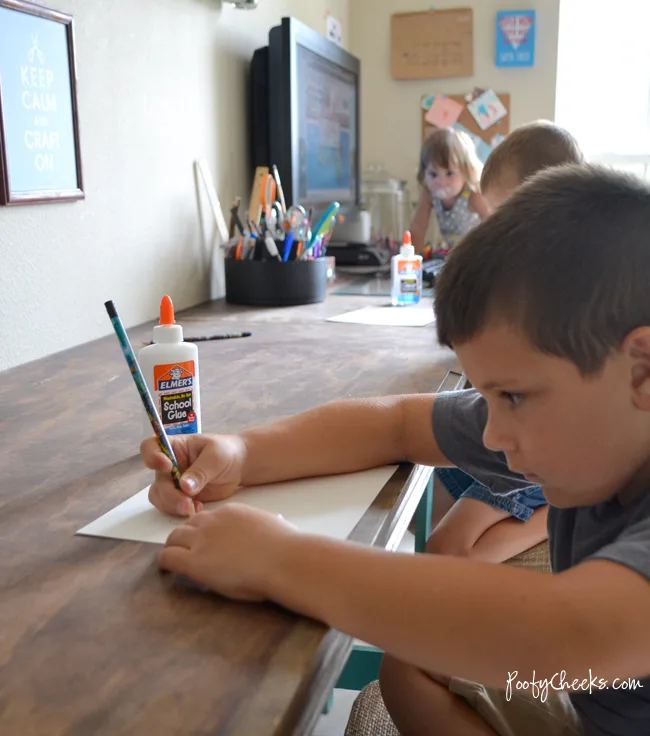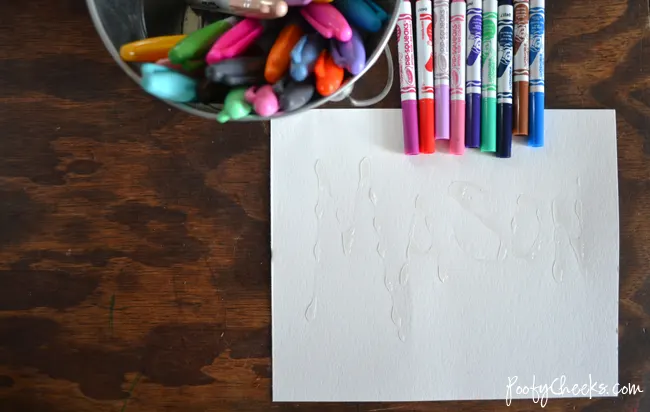 Sometimes as you draw over the glue it makes a squeaking sounds which my boys thought was so fun – oh the things that amuse them!
It would be great to have a few glue drawings made up for the kids to color on a rainy day. We live in Florida and this time of year we get rain nearly every afternoon – this momma has to keep something on hand for sanities sake!
Who would have though their old school supplies and a piece of watercolor paper would make something so cool? I used to love making these when I was younger and to be honest I wanted to make one when I saw the boys making theirs! I could see our last name done in glossy marker art and framed to make a cheap piece of interesting décor!
What are you doing to keep the kiddos busy this summer!?