Last week I asked my sister-in-law, April, if she wanted to come over and help me do some Disney projects. April is so creative and she is also a Disney World expert. Whenever I have Disney questions I always ask her first.
Her and my niece Reagan go to Disney for the day ALL.THE.TIME (the perks of only living an hour away) and have been doing that for as long as I can remember. We were chatting on facebook and she told me there was a shirt she had been wanting to make that said Take me to Neverland, so before she came over I put together a design and then we cut it with my Silhouette Cameo.
To make the shirt she used a shirt she already had and we cut the design using green glitter heat transfer vinyl. We wanted you to be able to make your own shirt too so I am sharing the FREE Silhouette cut file.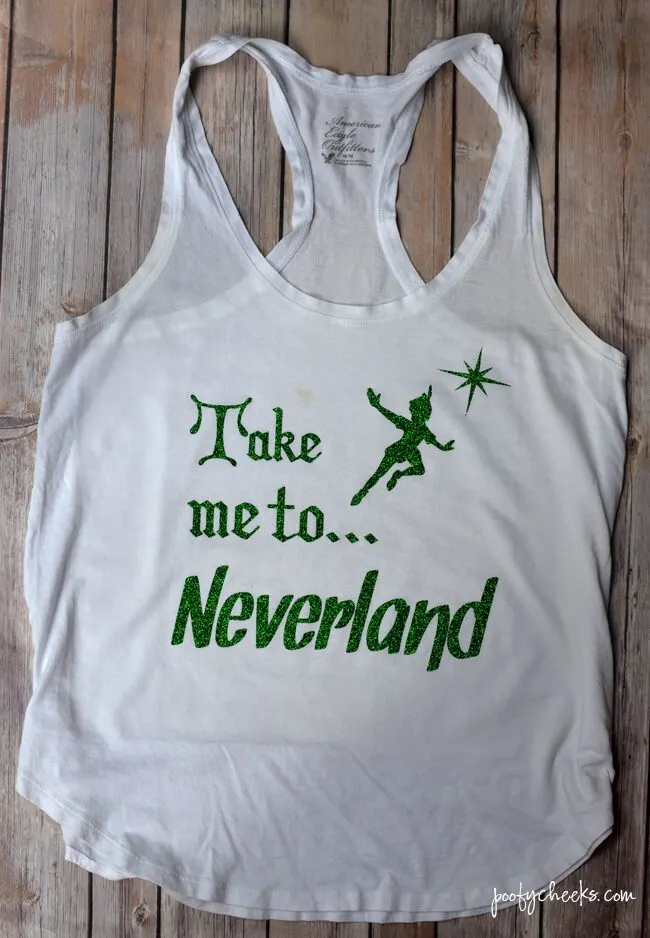 Heat Transfer Vinyl Shirt Supplies:
Heat Transfer Vinyl
Take me to Neverland Cut File
Iron and Ironing Board
Vinyl weeding hook or exacto knife

Step 1:
Save the cut file to your computer and then open in Silhouette Studio.
Step 2:
Size the design to the size you want. Our design was scaled down to 9.5 inches wide. Then with the design selected go to Object>>Mirror>>Flip Horizontally

Step 3:
Place your heat transfer vinyl shiny side down on your mat and then cut the file. For my silhouette I have my blade on 2, speed on 8 and thickness on 14.


Step 4:
Once you are finished cutting the design use a weeding tool or exacto knife to weed out the design.


Step 5:
Flip your sheet over and double check that everything looks right and you didn't forget to take out the center of one of the letters. I have had that happen before and it is always so maddening.


Step 6:
With your iron on the highest heat setting and steam off iron over the entire shirt. Then place your design where you want it and evenly iron over the entire area pressing and holding over each area for about 30 seconds. While it is still hot peel the clear backing off slowly at a 45 degree angle. If you get to a part that doesn't seem to be applied correctly put the backing down and iron again.
This is what your shirt should look like when finished – Now you are ready for Neverland (or Disney!!)
What is your favorite Disney character?