We live about an hour from Disney World so you may find it funny that we have booked five nights at a Disney Resort and are counting down the days until our five night Disney World vacation. I have booked our dining reservations, picked out fast pass rides and have been buying things to prepare us for the trip. There is something so magical about Disney World that regardless of how close we may live our entire family gets really excited. Where else can you go and have entertainment, rides, good food and literally the most magical time?
We planned our vacation a while ago but now that the dates are getting closer our two oldest boys are repeatedly asking us (I'm talking three times in one day) how many more days until Disney. I knew we needed a countdown but I have been super busy with work lately so I didn't have time to make an over the top uber creative countdown. I took the easy way out and made a quick printable, slapped it in a 5×7 frame and now I write the number of days until our vacation with a dry erase marker each day.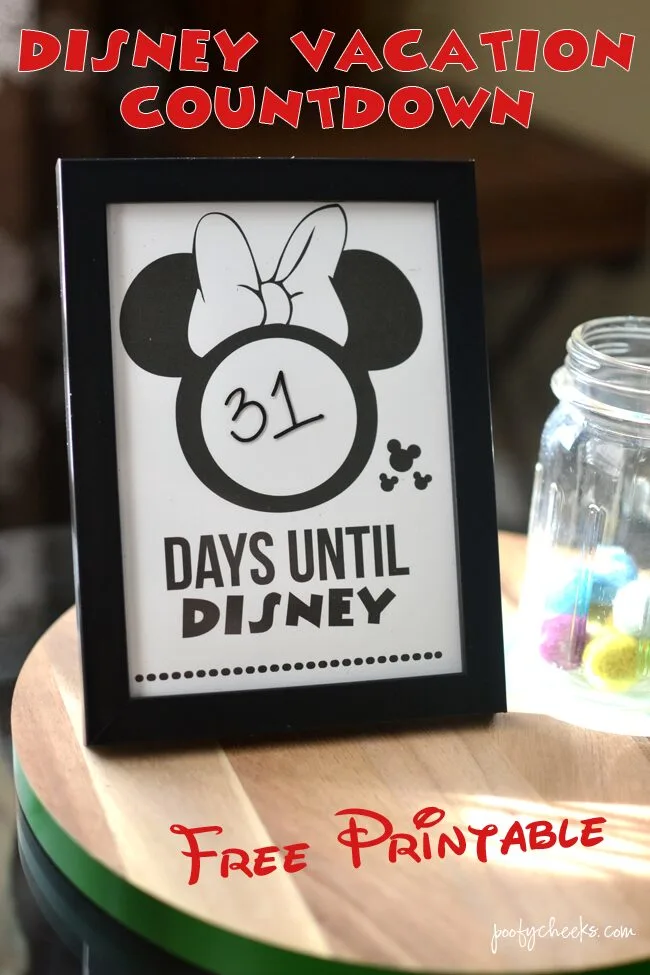 Every night before bed Mason (my five year old) asks if we can talk about Disney. He wants to hear what fast passes we have planned, what dining reservations I have made over and over. I am so glad he is this excited but jeeze!

The one fast pass I wanted to get the most was to Meet Anna and Elsa because if you can't tell by the Elsa Easter Eggs, Elsa Easter Basket and Olaf Valentine cards Delilah is FROZEN obsessed! Unfortunately the Anna and Elsa fast pass is the hardest to get in all of Walt Disney World and keep checking but it doesn't look like we will be able to snag one. Looks like we are going to be waiting a while to see them because I can't take Delilah for her first trip since she was a baby and NOT meet the infamous duo.
Are you heading to Disney Land or Disney World soon? Grab the printable HERE or by clicking on the picture below to print your own 5×7 image and use it in a frame with a dry erase marker. Please remember the printable is for personal use only.
I hope you all don't mind but I will be sharing quite a few more Disney inspired things leading up to our vacation next month. Stay tuned!
Enjoy,
I party
HERE
Check out the Poofy Cheeks Blog Pinterest Board for other craft and recipe ideas!
Follow Poofy Cheeks's board Poofy Cheeks Blog on Pinterest.