Hey y'all! I am starting something new this year. I am publishing my monthly traffic and blog income reports for you all to see. I feel like a beautiful older woman that
never
shares her age but is about to share it with the world – you might be shocked!
'I'm coming out… I want the world to know…'
Okay but seriously I'm a bit nervous about this because it is like sharing part of my paycheck with everyone since blogging is where half of my personal income comes from. I'm doing this for a handful of reasons.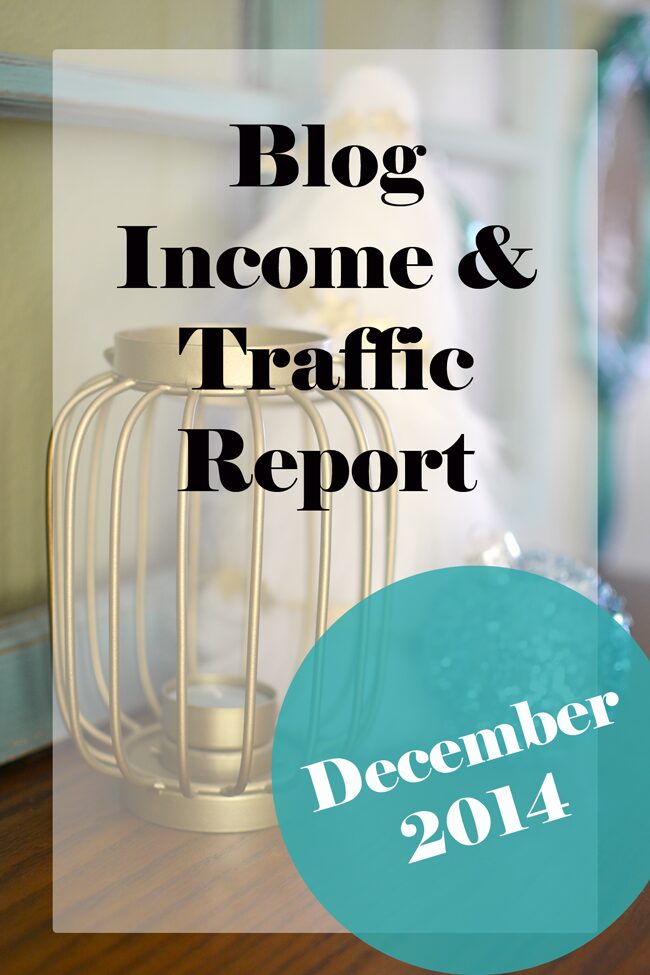 Reason #1 – I want to give other bloggers access to information that may help them grow. I have seen this done on a few other blogs and it helped me tremendously. I saw things they were doing that I had never heard of or thought much about. I want to share what does and doesn't work but with that being said blogging is a crazy thing – what works for one might not work for another. A lot of times things like traffic and sponsored opportunities are based on tons of different factors (photos, content, relevancy, how often you post, blog design and on and on…) However knowing is half the battle so if you know about different options you can use that and grow. Since my blog help posts get lots of traffic and comments with other bloggers looking to find growth I wanted to share this information with them.
Reason #2 – My own accountability! I haven't always been the best at bookkeeping so this will force me to sit down on a regular basis and list income and expenses not only to share but for my own reporting purposes.
Reason #3 – I want to show that blogging takes a lot of time and it isn't something you start for the purpose of making money. I started this blog over five years ago and I did it for myself. I blogged about my kids, my life and crafts and recipes in between. When I quit my job a couple of years ago I did have to start monetizing it a bit and doing sponsored posts but I never let that take over. If I was making absolutely nothing off of my blog I would still be blogging. It has become a part of who I am. Sometimes I can spend hours just taking photos, editing photos and writing a post. Take into consideration a room redo that can take days or weeks to get everything just right, or a recipe that you need to buy the ingredients for and spend the time cooking. Blogging isn't about tossing something up on the web, slapping your watermark on the pictures and calling it a day.
Reason #4 – Over the past two years my blog has grown to places I never knew I could take it to thanks to blog visitors and my awesome followers (seriously I am so thankful for you!). I have been given amazing opportunities because of you guys and I want to be transparent with every aspect of my blog. I get this feeling that some people think bloggers are making lots of money but unless you are a huge super blogger that really isn't the case. Bloggers as a community are putting in so much time and passion to create content that I think deep down we all want you to know we aren't rolling in the dough over here. Like I said – if you divide the time we put into blogging by the money we ARE making it is often close to making peanuts.
Enough with the reasons – I am doing it so here we go. I am going to share this info monthly but I am also making a lot of monetization changes to my blog this month (new year – new goals) so I thought it would be a good idea to share a little of my income history and last months numbers with you too. This way you (and I) can see the changes going forward and how they are affecting the numbers.
Press rewind for a minute – I have had ads on my blog since sometime in 2012 but in the beginning I went with a company and had NO idea what I was doing. I was bringing in around $7 a month and was excited about that. While I was using them the most I brought in was $40 in a single month when one of my posts was getting a lot of traffic. I was on cloud 9 – so excited to tell my husband about the $40 I made!! The amount I was making was so little though that I didn't get paid for three months and didn't even realize it. When I DID remember and contacted them it took them FOREVER to pay me, there was a lot of back and fourth with me sending them screenshots because they were shorting me on money I had made (which I thought was bad business). I didn't want a company that cared nothing about me and were arguing about the money they clearly owed me making money off of me so I ended that relationship. I say they were making money off of me because the way some of the ad companies work is that they keep a percentage in exchange for finding the advertisers (that is my blogging for dummies explanation – we will save the details of how ads work for another day).
When I stopped working with the above mentioned company I took matters into my own hands and started using Google AdSense as my primary way of displaying ads. I had actually integrated an ad with AdSense while being with the previously mentioned ad network as of June 2013. I think it was one ad at the footer of my posts and maybe another far done on my sidebar. Again the AdSense ad was bringing in about $10 per month and since they have a payout threshold of $100 (they don't pay out unless you have made $100 or more) it took months to get my first payment from them. When I did get that first check in the mail it was a complete 'I DID IT' moment. October 2013 is when I 'fired' the other ad company and started using only Google AdSense ads. Remember I said I had only made a max of $40 in a single month with the other company? Here is how I did with Google AdSense…
October 2013 – $99.14
November 2013 – $128.75
December 2013 – $146.38
January 2014 – $71.45
February 2014 – $86.78
March 2014 – $109.76
April 2014 – $97.36
May 2014 – $131.33
June 2014 – $148.42
July 2014 – $135.52
August 2014 – $156.63
September 2014 – $167.96
October 2014 – $188.46
November 2014 – $216.68
As you can see the numbers more than doubled when I started using Google AdSense! I was blown over by this. I was getting a Google AdSense payment almost EVERY month. January and February of 2014 had a dip in numbers but I was still experimenting with ad placement and looking at this months numbers versus last month I see a noticeable dip again. I think some of this has to do with a few popular Christmas posts that had a lot of traffic in November and December of 2013 and again this past November and December 2014.
Enough mumbo jumbo – Here is my income from December 2014. Since my ETSY shop is booming in November and December I have very little time to blog and make it a point not to take on any sponsored posts. I only published six posts for the entire month due to how busy the shop was.
DECEMBER 2014 BLOG INCOME – $370.61
Google AdSense – $270.61
Contributor Posts – $100.00
DECEMBER 2014 BLOG EXPENSES – $40.00
Virtual Assistant Fee – $40
BLOG PROFIT – $330.61

**Contributor Posts- This is income I make from contributing posts to other blogs.
**Virtual Assistant Fee – This month I paid for a virtual assistant to help put together some roundup posts. I had a lot of it already done for her – she just had to write the actual post and hunt down a few more ideas to include.
Here is a screenshot of my google analytics from December 2014 showing traffic. As you can see my traffic slowly went down throughout the month. This is due to the few Christmas posts I mentioned that get high traffic.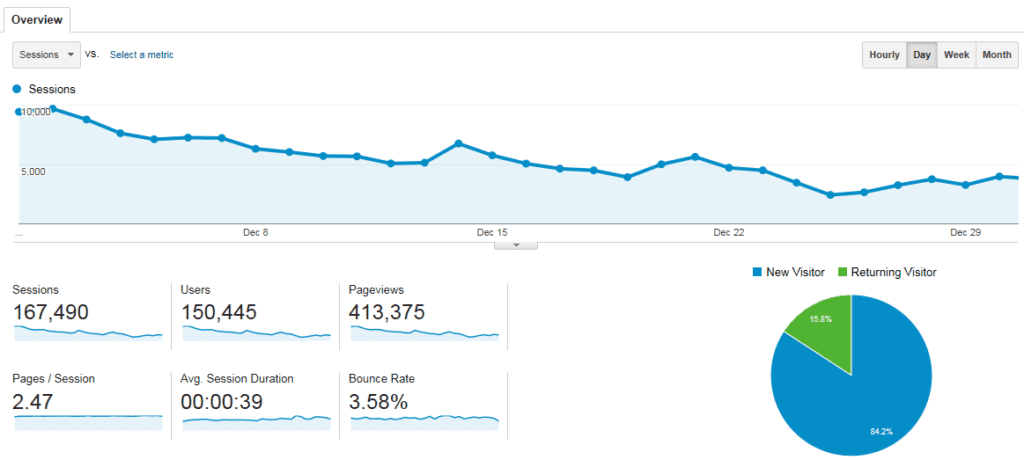 Here are two of the funniest things people searched and ended up on Poofy Cheeks –
'mom sucked up vacuum'
'very round 19 week pregnant belly'
Now I mentioned changes so I will tell you more about those the first week of February when put together the January income report.
Please feel free to ask questions in the comments!
Enjoy,

I party HERE
Check out the Poofy Cheeks Blog Pinterest Board for other craft and recipe ideas!
Follow Poofy Cheeks's board Poofy Cheeks Blog on Pinterest.