I grew up in rural Illinois and we always had campfires which were accompanied by s'mores. Since moving to Florida nearly eight years ago I quickly learned that there is a small window of opportunity to have campfires. The summer months are too darn hot for campfires and we are often under burn bans if the ground is too dry. I came up with an alternative to the classic s'more by making it with peanut butter cookies ((no campfire needed))!
I don't know about you but I am always game for a chocolaty treat – add peanut butter and I stop everything!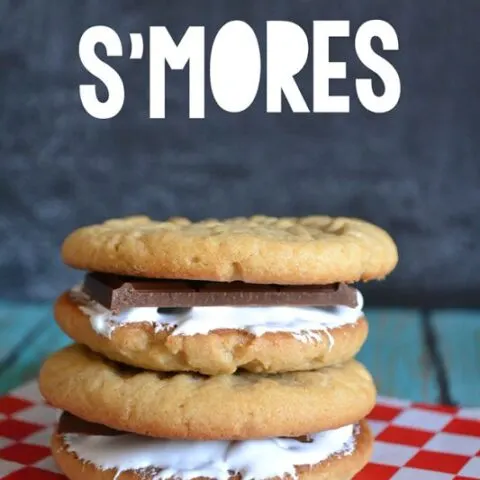 Peanut Butter Cookie S'mores
yields 4 dozen cookies (2 dozen S'mores)
Ingredients
1 cup butter, softened
1 cup peanut butter
1 cup granulated sugar
1 cup packed brown sugar
1 teaspoon baking soda
1 teaspoon baking powder
2 eggs
1 teaspoon vanilla
2 1/2 cups all-purpose flour
8 chocolate bars – each broke into four pieces
Marshmallow Crème
Instructions
In a large mixing bowl beat butter and peanut butter with a mixer on medium speed until combined. Add the granulated sugar, brown sugar, baking soda and baking powder and beat until combined. Mix in the eggs and vanilla and then beat in as much of the flour as you can with a mixer. Stir in any remaining flour.
Using your hands shape dough into 1-inch balls and place 2 inches apart on a greased cookie sheet. Use the tines of a fork to lightly push down and make criss-cross lines in the cookies. Bake at 375 degrees for 7-8 minutes. Remove from oven and cool slightly on a wire rack.
Once the cookies are cool enough to handle spread marshmallow crème on one cookie, top with a piece of chocolate bar and then another cookie to create a peanut butter cookie s'more!
Nutrition Information:
Serving Size:

1 grams
Amount Per Serving:
Unsaturated Fat:

0g
So tell me – is your mouth watering yet?
Enjoy,
I party
HERE
Check out the Poofy Cheeks Blog Pinterest Board for other craft and recipe ideas!
Follow Poofy Cheeks's board Poofy Cheeks Blog on Pinterest.