If you are craving a super soft sugar cookie I am sharing my favorite recipe today. This sugar cookie dough whips up in about ten minutes and they make the perfect treat when you don't want to spend time waiting for dough to refrigerate or rolling it out and cutting shapes. Unless we are doing Christmas shaped cookies this is my go-to recipe!
Since both of my boys needed a treat to take to their class for Valentine's Day and I was slacking I decided to make a few batches of these and sprinkle some festive sprinkles on top!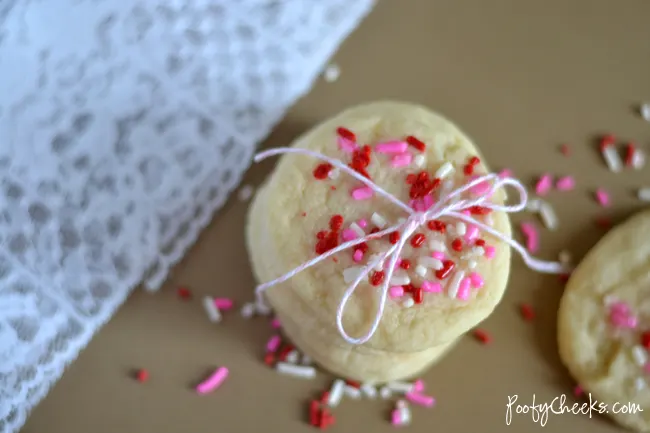 No Refrigerate Soft Sugar Cookies
No-Refrigerate Soft Sugar Cookies
Ingredients
1 cup butter, softened
1/2 cup granulated sugar
1 egg
1/2 tsp baking powder
1/2 tsp salt
1 tsp vanilla extract
2 cups flour
spinkles, optional
Instructions
Preheat oven to 350 degrees – yields 2-3 dozen cookies
In a large bowl, use mixer to cream together butter and sugar
Add in egg and mix until incorporated
Stir in baking powder, salt, vanilla and 2 cups of flour. The mixture will seem to be very dry at first – you may need to use your hand to really mix it in and if it is too sticky add another 1/4 cup of flour
Roll dough into one inch circles, roll into sugar and place on parchment paper lined cookie sheet
If you would like to add sprinkles to your cookies press them down into a cup of sprinkles so just the tops will have them.
Gently pat the cookies down and bake for 9 minutes.
Remove from the oven and let them sit on the cookie sheet for one minute before placing them on a wire rack to cool completely.
Nutrition Information:
Serving Size:

1 grams
Amount Per Serving:
Unsaturated Fat:

0g
The first time I gave these cookies to my husband he said they were really good but he knew they weren't homemade. I was shocked. Since when had I ever served him a cookie that wasn't homemade!? (Okay, okay, so there was that time I made cookies using a cake mix but STILL!)