Hiya Poofy Cheeks friends! 🙂 I'm Skye – you might know me as Rindercella though. I run an online virtual assistant business and do a little light blogging over at neathering our fest. I'm excited to be part of Kelsey's Great Christmas Cookie Exchange this year but I'm MORE excited to get to meet her sweet baby girl! These are seriously the simplest little cookies – ever!! They make such a great little gift to wrap up and give to coworkers, your babysitter or your mailman. And they take about 10 minutes to make. Easy peasy!
Pretzel Pecan Turtles – (
Printable Version
)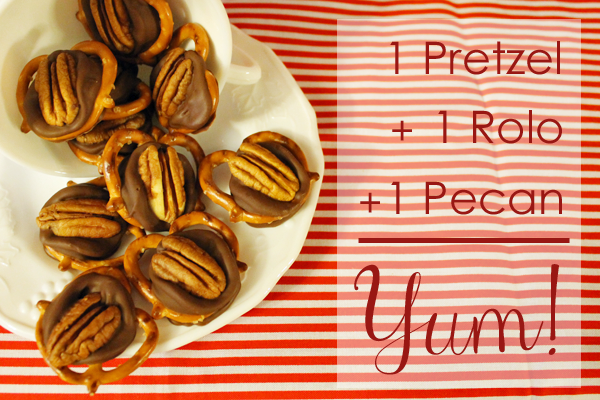 Preheat your oven to its lowest setting. Mine goes down to 170 but anywhere between 170 and 200 is good. Line your cookie sheet with parchment paper or a silicone baking mat. This is important because it helps the cookies come off the baking sheet easily in a few minutes. (Literally – just a few minutes is all it takes!) Put a single layer of pretzels on the cookie sheet, spaced about a 1/2 inch or so apart. On each pretzel, put one unwrapped Rolo candy. Put these in your oven for about 5-7 minutes, until the Rolos start to melt and tip over a bit. While the Rolos and pretzels are in the oven, count out your pecan halves and make sure you have the right amount ready for as soon as the pretzels come out of the oven. You will need one pecan halve per Rolo/pretzel combination. Once the Rolos are melted enough, pull them out of the oven and immediately press the pecans down into the Rolos – smushing it together with the pretzel.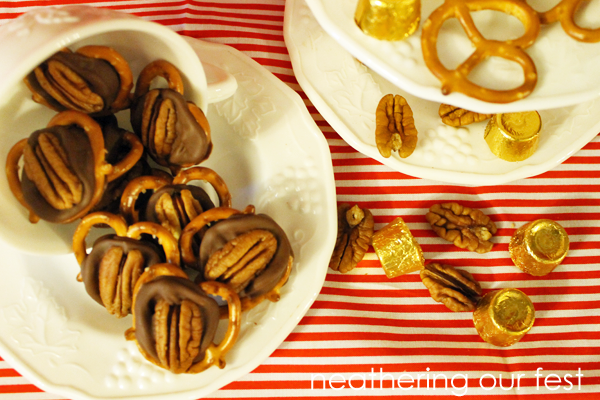 If, like me, you can't wait to eat these, just stick them in the freezer for a couple of minutes to set the chocolate! These are really such a great little treat – sweet, salty, crunchy, and chewy! I dare you to have just one!