Today I am showing a craft by Lisa of
Letyon Smiles
. I came across her blog because we are both members of the 'Busy Moms of Etsy Team.'
Her ETSY shop
is ADORABLE! The perfect shop for those of you who have an expectant mother or newborn on your list of people to by Christmas gifts for.
—————————————————
She posted a how-to for 'Shabby Christmas Letters – On the Cheap,' which I thought were right up my alley. I love mod podge, cheap crafts, and I love Christmas! Here is her how-to on the letters.
I started out buying chipboard letters at our local Arts & Crafts store. I also bought different Christmas scrapbook paper (each piece big enough to trace a letter on), and a tiny tube of silver glitter, and that was it (just because I'm a sucker for all things shiny at Christmas). You'll also need modge podge, or something similar, which I already had.
I started tracing each letter on the paper and cutting them out. I then used modge podge to glue the cutouts to the letters. Be careful here to use a VERY thin layer of glue, or the paper will bubble. Mine bubbled a bit, but I have them up high and no one will ever notice. 🙂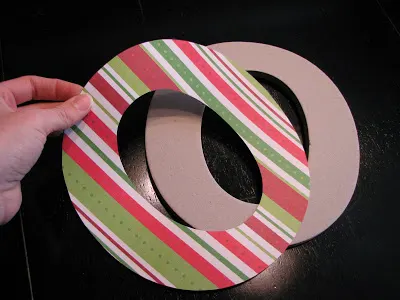 The modge podge dries very quickly, so as soon as it was dry, I used scrapbook ink (I used brown) to distress all of the edges. You can do this as heavy as you like – I went heavy since I wanted to be see it from far away.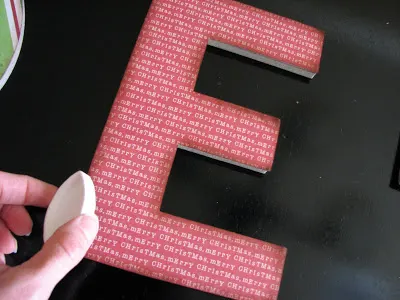 Once the ink dried (again, super quick), I modge podged over the top of the letters to seal it and give it a nice finish. Yeah, I know. Bubbles. Pretend you don't see them. 🙂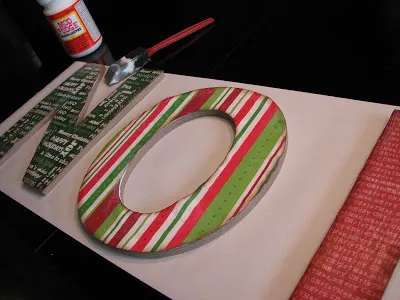 Last, I painted a little more modge podge on each of the letter edges and dipped them in the glitter. You really can't see much of this where they are displayed, but it gives them a finished look and a little extra sparkle. 🙂
Total cost –
Letters – $4 for 4
Scrapbook paper – $2.50 for 4 sheets
Glitter – $1.50
$8 total
And the finished product – I love it!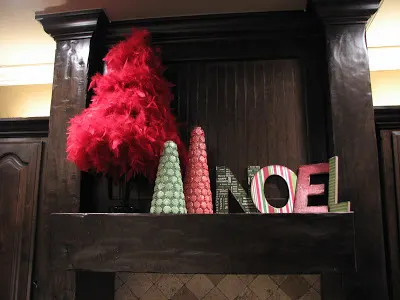 Now for $8 I'm making myself some letters! You should too! If nothing else check out Lisa's ETSY shop or her blog!
Enjoy,

I party HERE