A lot of my content is based around Silhouette and Cameo cutting machines, but I also work with laser machines daily. I received the M1 xTOOL, so I'm about to unbox it and give you the details on this 5 watt diode laser machine.
While I was sent this machine from xTOOL, all of the information and opinions are 100% mine. No holding back on my personal opinions in this post. I'm sharing an entire list of pros and cons at the end.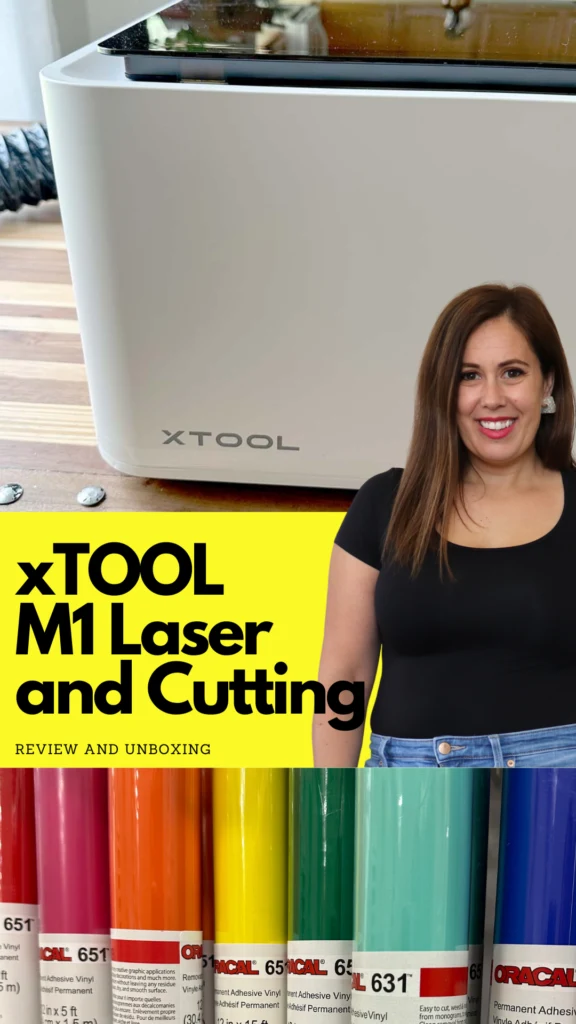 One of the things about this machine that I really want you to know is that it's not just a laser cutting machine. It also has a blade so it can cut vinyl and other materials that you would cut with your Cricut or Silhouette cutting machine making it a hybrid laser and blade cutting machine.
"it's not just a laser cutting machine"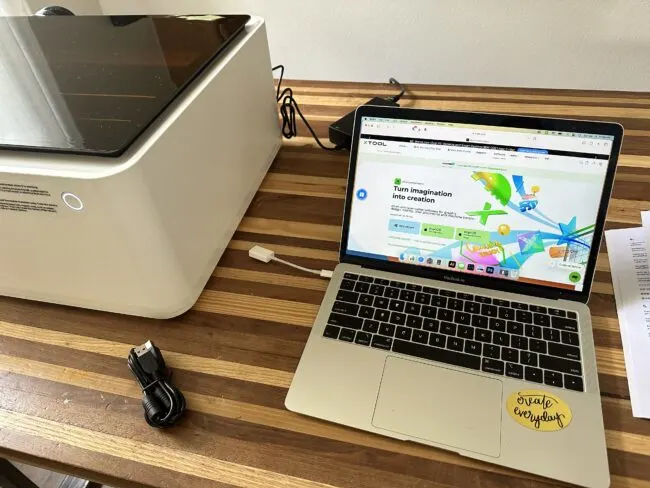 I've used a CO2 laser machine for a little over a year. One of the things we do the most with our current laser machine is engrave and cut leather and 3mm acrylic. I can't wait to see what the M1 xTOOL does because having a second machine could be so helpful.
Unboxing the M1 xTOOL
Inside the shipping box we have the product box. Lots of awesome project ideas are shown on the lid of the product box. It's packed very well with styrofoam and box pieces so that it is suspended to minimize any possible damage during shipping.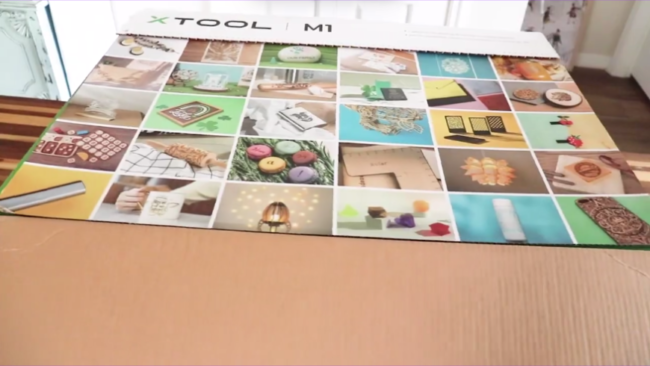 Another genius part of their packaging is that they put all of the accessories and instruction manuals inside the machine itself. The package included some test materials; a metal dog tag, a piece of wood, paper, vinyl and what looks to be faux leather.
I like the smaller desktop size of this laser machine because not all projects have to be big. Most of the things we have made are smaller items like ornaments, wallets, coasters and keychains. The size of the M1 is great for all of those smaller sized items.
Also, due to the size of this machine (22x18x9 inches) it can fit in smaller spaces than a lot of the bigger, bulky laser machines. Please keep in mind that you will need to account for space to have the exhaust hose in the back and space to open the lid when trying to decide where to keep your machine.
Inside the xTOOL M1 5W Basic
The machine comes with the following;
5 Watt M1 Laser and Blade Cutting Machine (22x18x9)
Blue Light Filtering Lid for Eye Protection
Built-in Fan with Exhaust Hose and Clamp
Basic Material Package (dog tag, vinyl, faux leather, paper and wood samples)
Light grip cutting mat
Strong grip cutting mat
5 cutting blades
(10) Triangular Prisms
xTOOL M1 Diode Laser Wattage
If you're comparing different laser wattage, the M1 we are unboxing is the 5W Basic, a 5 watt laser. When talking about lasers for at-home use versus industrial use, you're going to want something between 5 and 50 watts. Because this machine is a lower watt laser, there will be times when you have to make multiple passes to cut through certain materials.
If you are unfamiliar with laser machines and that all sounds foreign to you, let me explain. To cut out a circle the laser will go around in a circle and depending on the material it may have to retrace multiple times to actually cut through.
For blade cutting machine users, this should be something you are familiar with. Thicker materials require multiple passes.
I'll be doing a follow-up with some of the cut settings I have figured out for this machine. For instance, the black acrylic I use only needs 3 passes but the xTOOL suggested 4 passes.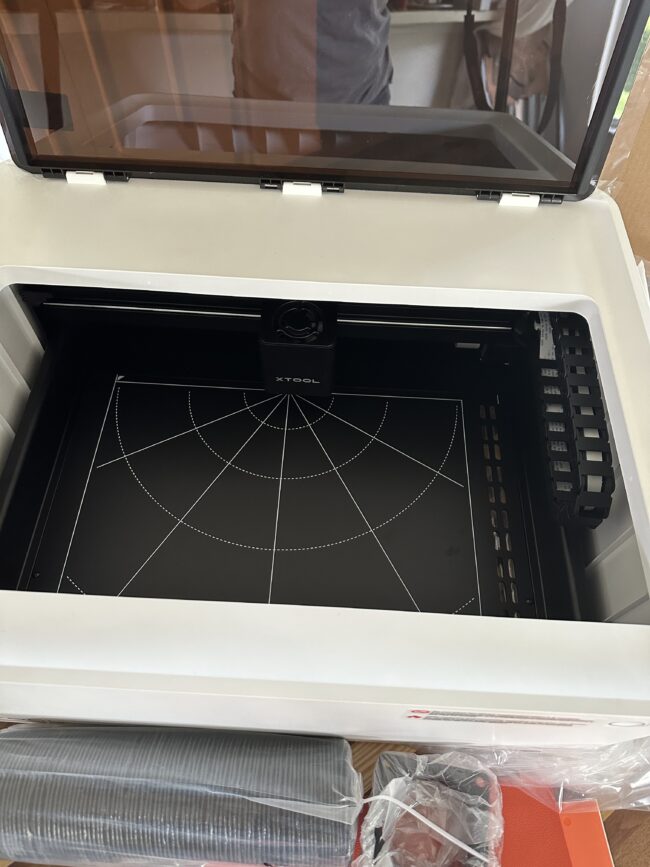 Venting the M1 xTOOL
Watch the YouTube unboxing video I did to see exactly how to vent your machine and attach the hose.
Pros and Cons of the xTOOL M1 5w Basic
Here is my personal list of pros and cons after setting up and using the machine for a few weeks.
I do want to give a disclaimer that I was using a CO2 laser prior to getting the M1 which is a diode laser machine. Diode laser machine are known to be more compact and not as strong as CO2 lasers. 3mm acrylic that takes one pass to cut in my CO2 laser were taking around 3 passes to cut in the xTOOL M1. I am personally not sure how much of a difference having the 10 watt versus the 5 watt would make.
My con 'New machine with very few tutorials, yet' was referring to the amount of tutorials I found when trying to setup and learn how to use the machine. While the xTOOL site has easy to navigate tutorials, there aren't many creators who have created tutorials on them. I know as they become more popular this will change.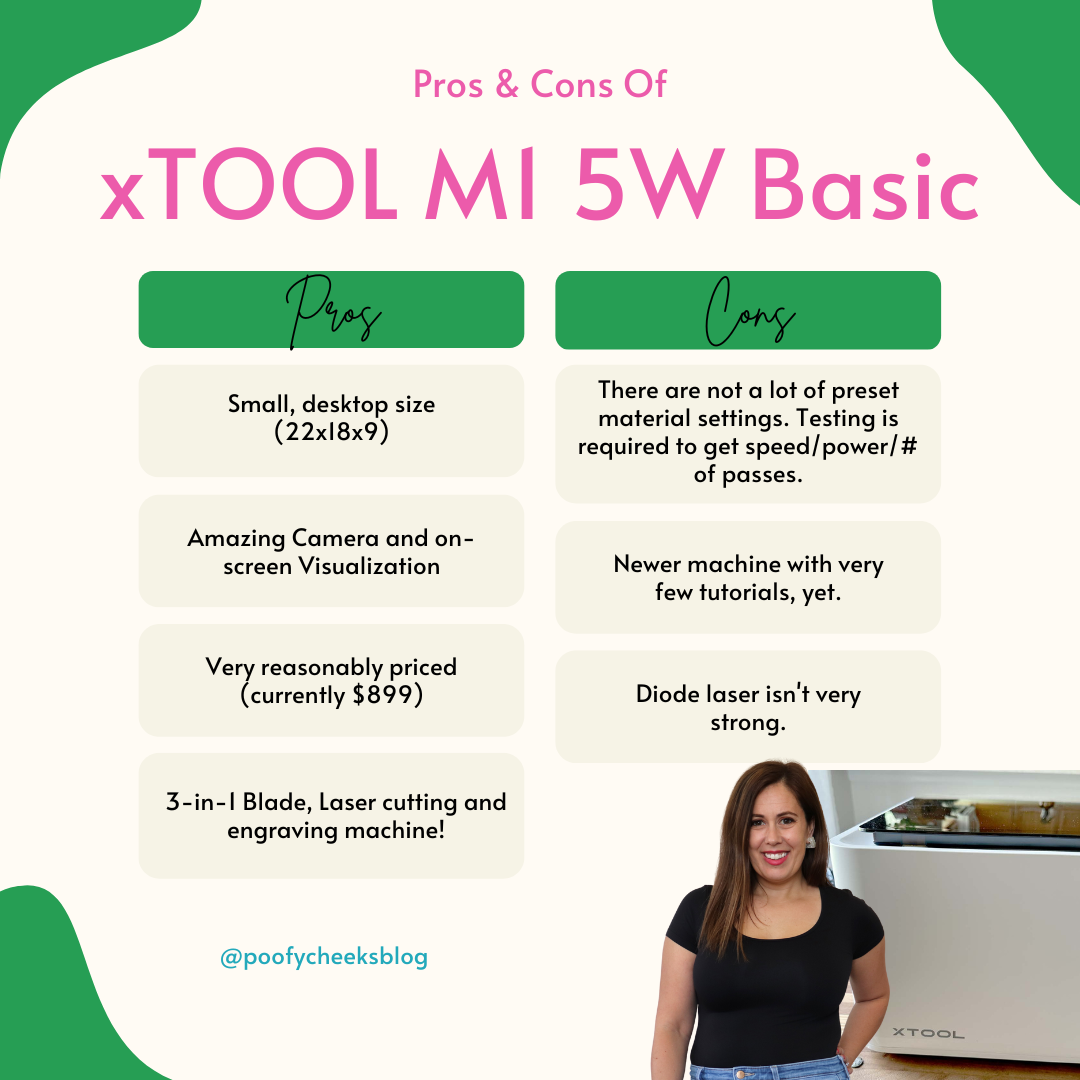 While I still have more testing to do, I have read diode lasers are able to give more detail. I'll keep you posted as I continue to compare and test the machines capabilities.