Last December my husband Mike and I had FINALLY saved up enough money to buy a Glowforge. It was a purchase we knew we wanted to make but saving up and then pulling the trigger on the purchase took time.
Throughout the past 12 months we put our 'Forge' to work. Creating cut files for Silhouette and Cricut gave me the knowledge and experience I needed to create laser SVG files almost immediately.
This year I want to incorporate some Glowforge tutorials and designs into the mix because I love working with all of the different materials we have been using. (A lot of leather, acrylic and wood.) With that being said … here is my first Laser SVG… New Years Eve Stir Sticks to help ring in the new year.
Drop a stir stick in your Sparkling Raspberry Mocktail and you are ready to ring in 2023 like the glitter Queen you are.
Acrylic Stir Stick Supplies
For these stir sticks you will need the following supplies:
Acrylic Descriptions
Cast Acrylic Solid Color: I used three different types of acrylic for my stir sticks and all of them are a bit different. The black cast 1/8″ acrylic is my go-to and cuts using the medium acrylic proofgrade setting in Glowforge. I typically order my 1/8″ solid color acrylic from ModfyBuild on ETSY because it is afforable, arrives masked on both sides and ships fast.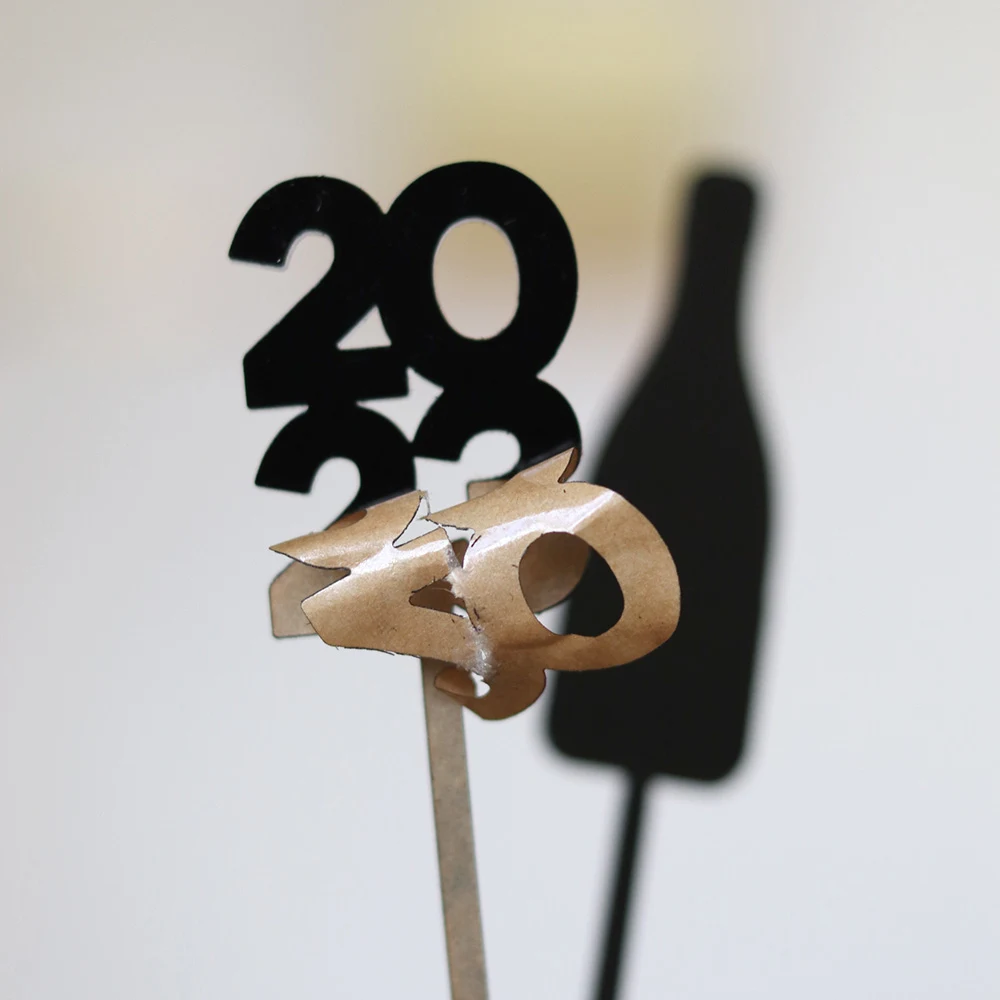 Mirror Acrylic: The mirror acrylic is fun to use and most sheets come with a clear protective film on the mirror side but nothing on the back. I like to add my own layer of transfer tape to protect against 'burn' marks if the back shows.
The fun part about mirror acrylic is that when you put the back side facing up and engrave into it the design shows on the other side. See the gold mirror champagne bottle design? the lines and 'cheers' were engraved onto the back but show up looking great from the front. Don't forget to mirror your designs when engraving into the back fo the mirror acrylic.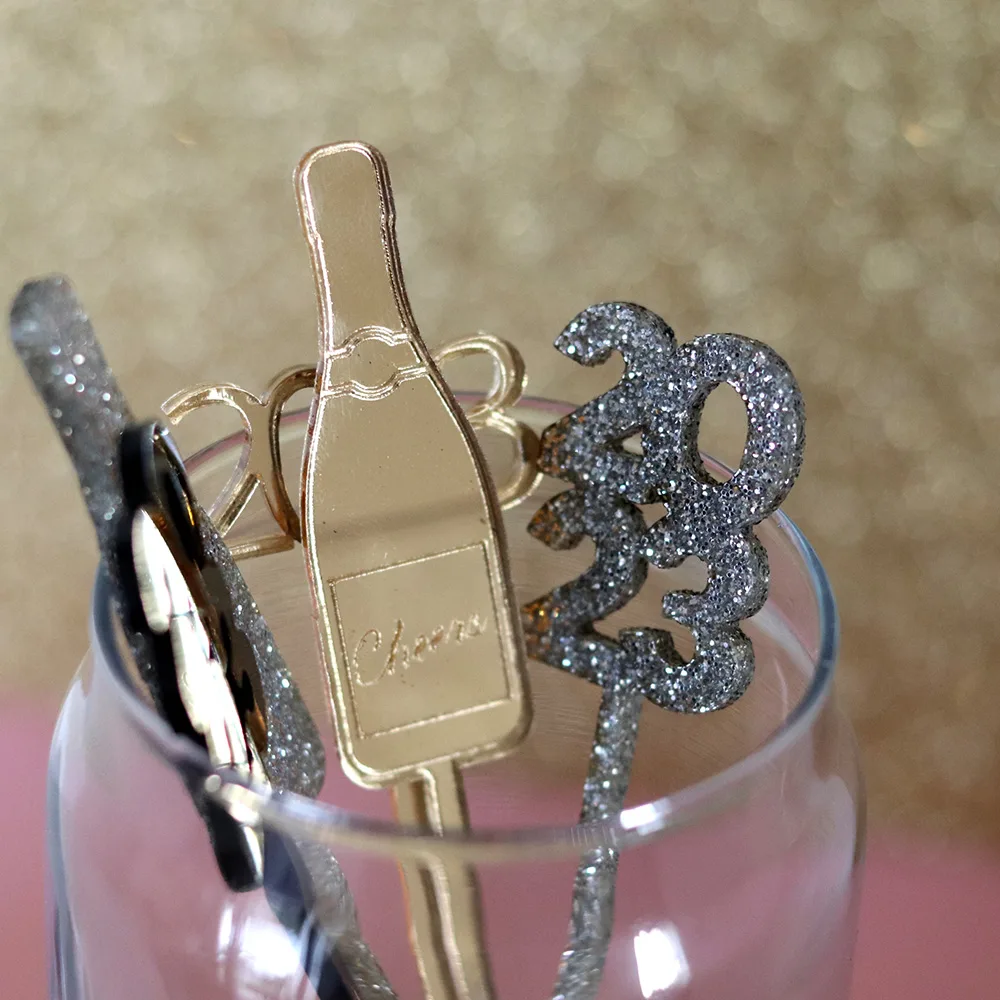 Glitter Acrylic: I have only used glitter acrylic a few times but I learned they take a bit more power to cut. I leave my settings on the Glowforge medium acrylic setting but do 2 passes instead of 1.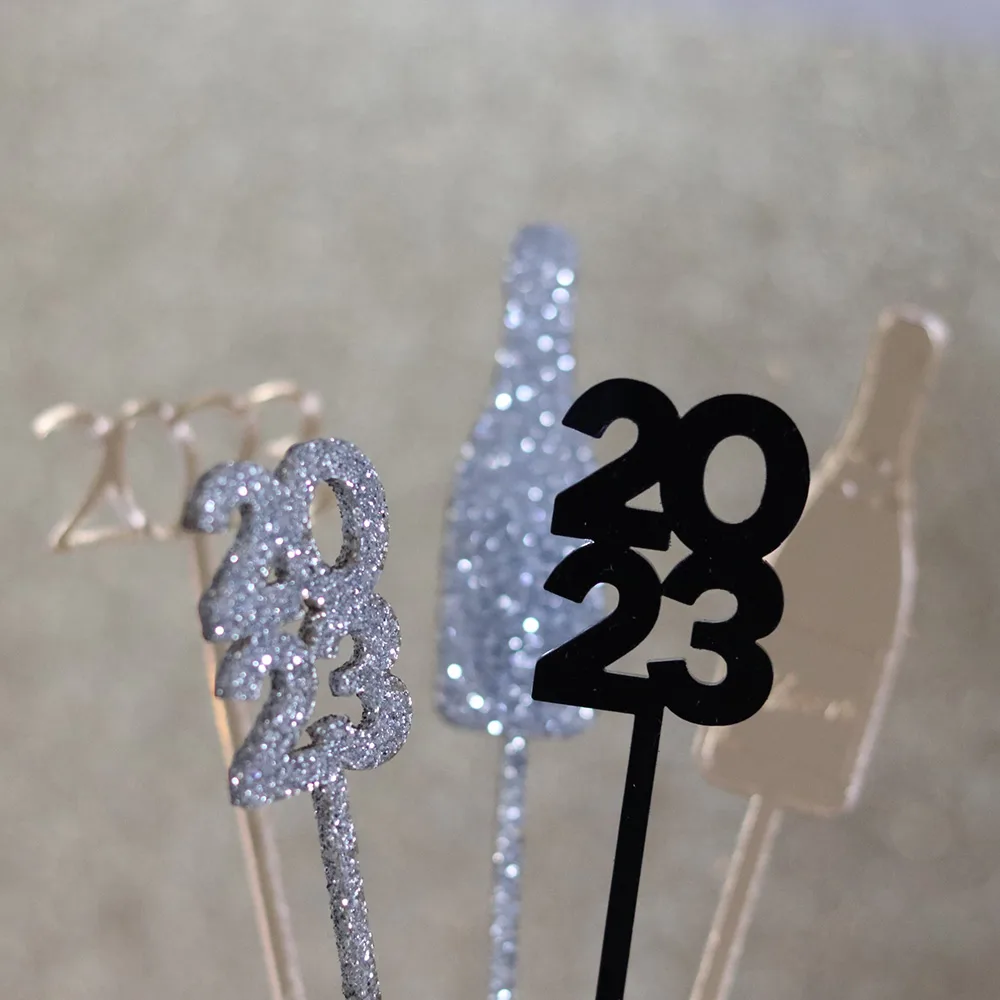 I would love to hear your Glowforge questions and tutorial requests so that going forward I can make a list and try to tackle them. Not only has having a laser machine changed the way I create, it has also made us some real $$$ and was worth the investment.