---
I have the easiest wreath tutorial EVAH' today! This is a no sew, no glue DIY Fabric Strip Wreath. All you need to know how to do is use a pair of scissors and tie a knot. Think ya' can do that?
If so then this wreath is for you. Pick cotton print fabrics you want to use and let's go.
Are you a fabric scrap hoarder? Get rid of all those fabric scraps you have around!
I have made a handful of scrap fabric wreaths over the years and when I first started they looked a little sad and frumpy. There are a few tricks to making them plush and full.
I usually stock up on the fabrics when they are on sale or make sure to use my Joann coupons when purchasing. For this wreath I am showing you the one I made for Christmas last year
Fabric Strip Wreath Supplies
Scissors
3-5 yards of fabric
Before I start with my instructions here are a few of my tips.
Make sure your wreath form has 3 or 4 layers of wire to tie the fabric onto.
Don't skimp on the fabric. The more fabric the fuller the wreath will be.
Use scissors instead of a rotary cutter to cut the fabric if you like the rag look. It will lend more to creating frays in the fabric. I use a really sharp pair and it cuts like butter.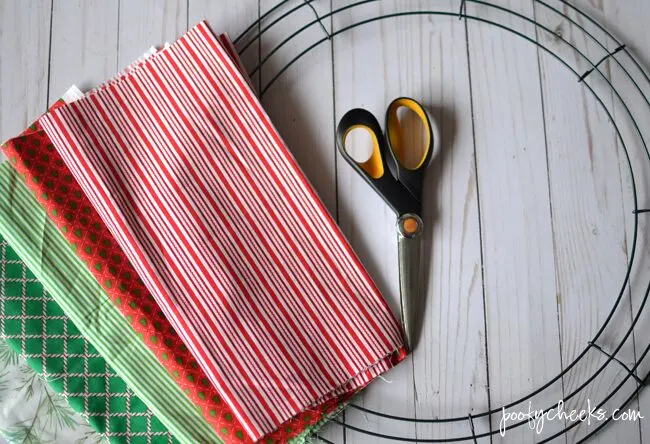 Fabric Strip Wreath Instructions
Step 1 – Lay each yard of fabric out and cut into three equal pieces (about 10 inches). Cut from the salvage edge to the fold. (The salvage edge is where they usually print the fabric name, color swatches and manufacturer information.)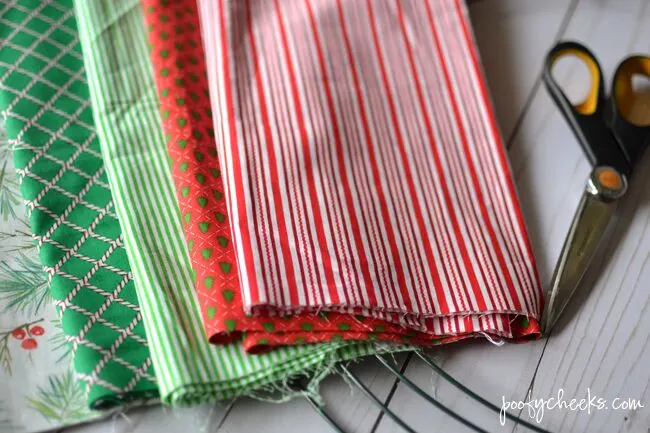 Step 2 – With the fabric still folded cut pieces parallel to the salvage edge. Cut these pieces about 1.5-2 inches thick until you get to the end. Each piece should measure approximately 11×2 inches but these don't have to be perfect whatsoever. If you cut them crooked or uneven you won't be able to tell once they are on the wreath.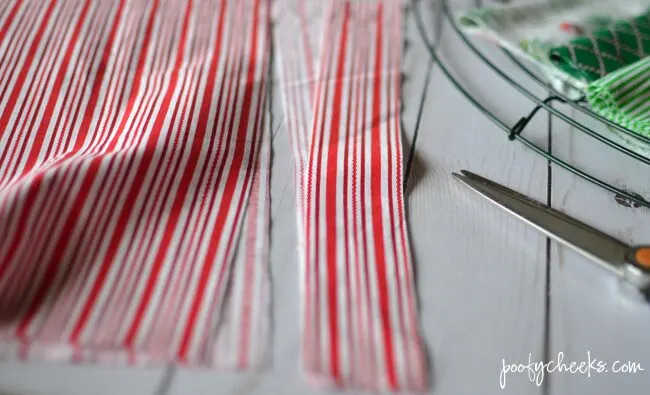 Step 3 – Once all of the fabric is cut into strips get cozy on the couch with your fabric and wreath form and start knotting the fabric onto the form. I leave a little breathing room between each piece. Don't pack them tight but don't leave big enough gaps so that you will see the metal form through the fabric. Keep knotting until your wreath is full.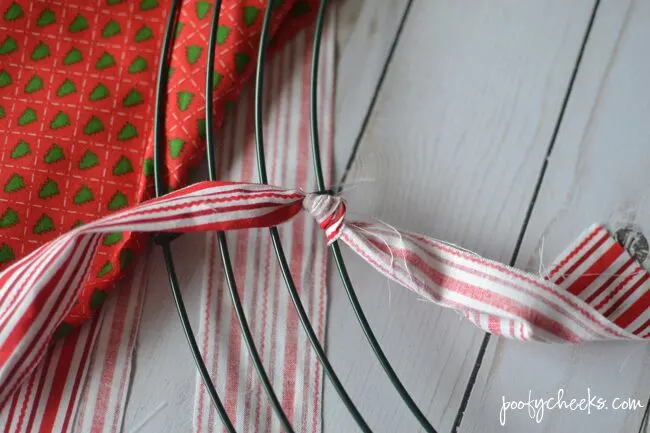 This is the perfect craft you can do while sitting on the couch in the evening with your favorite TV shows playing. As I said before it's the best way to use up scrap fabrics too! Enjoy and tag me on Instagram @poofycheeksblog if you make one. I want to SEE!