---
I'm so thankful for those of you who took the time to take my survey! It means the world to me. If you didn't get a chance to do it you can still answer the survey questions .
I read every response that has come in so far and I am taking all the information I gathered into consideration. The survey is a great way for me to learn how I can better serve you as Silhouette and Cricut creators. The last question was a spot for suggestions on how to improve Poofy Cheeks and I wanted to take time to address a lot of them one by one.
There are some suggestions I am not able to act on, a few things I have already changed and many suggestions that I plan to put into action very soon.
YOUR SUGGESTIONS – MY RESPONSES
Suvey Q&A with Kelsey
New Logo Suggestion –
I took this and ran! Thank you, thank you. I NEEDED this change and overlooked it for far too long.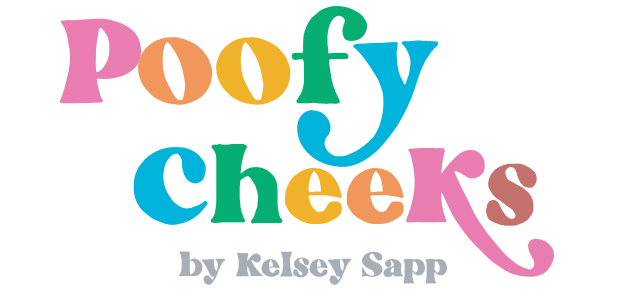 The 'F' word. Love it or hate it? Here are two responses I got.


On one of my more recent emails I snuck the 'F' word into it and I honestly wasn't sure how it would be recieved. I know this may offend or upset some of you but that word flows from between my lips every now and then – especially when I'm passionate about what I'm talking about.
I've been tossing around the idea of starting a podcast and you should know it will have adult language. I'm still in the planning phases but it will be hosted by myself, husband and one of our friends. Between the three of us we said we should name it 'Not for Work' due to language and possible topics. There is that.
Include Pictures of your Freebies in the Emails


It used to be recommended that you don't include images (or image heavy) emails because email providers would see the email as spam and send it directly to the JUNK folder. There was also research showing that the loading times were longer.
The above suggestions made me reinvestigate and I'm going to experiment with adding photos with a mixture of text and see how the open rates look. Maybe you noticed I added photos of the Friday freebies in last week's email?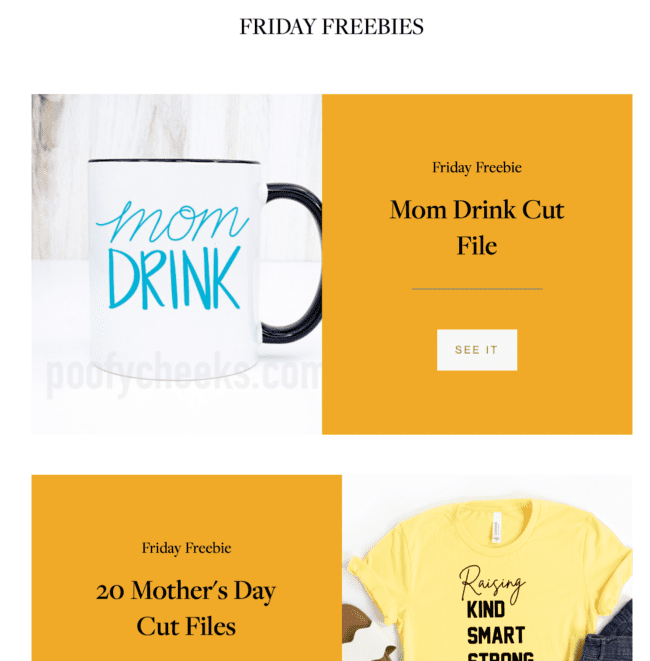 About the Freebies


I like freebies too. I try to add the freebies at the bottom for a few reasons….
To be completely transparent I am able to keep the files free because I make money on ads. If I post the files at the very top of a post, I don't make any money serving you ads.
While I know the ads can be aggravating, without them I would spend hours (lots of hours!) creating cut files and writing blog posts. In turn I would not be able to share any files for free. It would be a hobby instead of a business and I have too many kids eating me out of house and home for hobbies.
At the end of the day Poofy Cheeks is a business. While I absolutely LOVE to serve and share free things with all of you I have to make it work for me too.
By putting the freebies at the bottom of the post on every post I don't think it is too difficult to scroll until you find the download box.
Collaborations

I LOVE this suggestion and want to start reaching out to other creators to see if they are up for a collab or blog post swap. From past experience it is hard to do this because of how busy bloggers work on creating their own content. Also some creators want payment in return for blog posts and that makes it more difficult. Definitely something I am going to work!
In Person or Zoom Classes
I do in person classes on how to use Cricut and Silhouette cutting machines. I would totally be game to do zoom classes too! If this is something you would be interested in reach out via email!
Want it or Not?
I got so many different answers on how you want to recieve tutorials and what you want in general. I got comments saying less chit chat, more personal info, that you don't want emails about certain topics, that you don't want small business tips, that you DO want small business tips.
I'm on the fence about researching how to do more email segmenting so you can opt out of certain topics or keeping it to Friday emails and you can pick and choose what you click on.
Things You Can Expect
Because of the way the internet is changing and people are consuming information (skimming instead of reading) I will continue to do Friday Freebies with flash freebie files. After 8 days the files will go into the membership area and my digital file shop on ETSY.
I'm slowly but surely working on switching older freebies to those two spots so please be patient.
MORE HOME DIY
My current passion is home DIY projects. I've always loved decorating and interior design. From the time I was in high school it ranked high on the 'what I want to be when I grow up' list. I did so many projects this past year and my knowledge has grown exponentially. I'm working on getting some of those projects up on the blog.
Thank you for being here!!!