This past Christmas my daughter was obsessed with bath bombs (and still is). Santa filled her stocking with different bath bombs but he also bought her all the supplies to make a batch of her own DIY bath bombs.
Rewind this story back to 2011. I tried my hand at soap making, sugar scrubs and other bath products. Anne-Marie is the owner of Brambleberry.com and her DIY videos were the first ones I ever watched on YouTube. I've been buying all of my bath bomb and DIY soap supplies from her business ever since.
When it was time to buy the supplies for Delilah's Christmas bath bomb kit, I went to Bramble Berry. I added everything I needed for bath fizzies to my cart. We made the bath bombs on Christmas night and they turned out perfect. Honestly they were better than many of the ones Santa bought.
The most recent batch of bath bombs we made will be party favors for my sister's Bridal Shower. We made pink bath bombs with a pinch of rose gold sea salt. Making bath bombs with kids is easy and they love mixing with their hands.
What makes them so special? They contain pink sea salt that is coated in Rose Gold Mica. The shimmery salt gives the bath bombs a lovely pop of color that match the party decorations. Thinking about it I should have bought some rings on Amazon and made bath bombs with rings.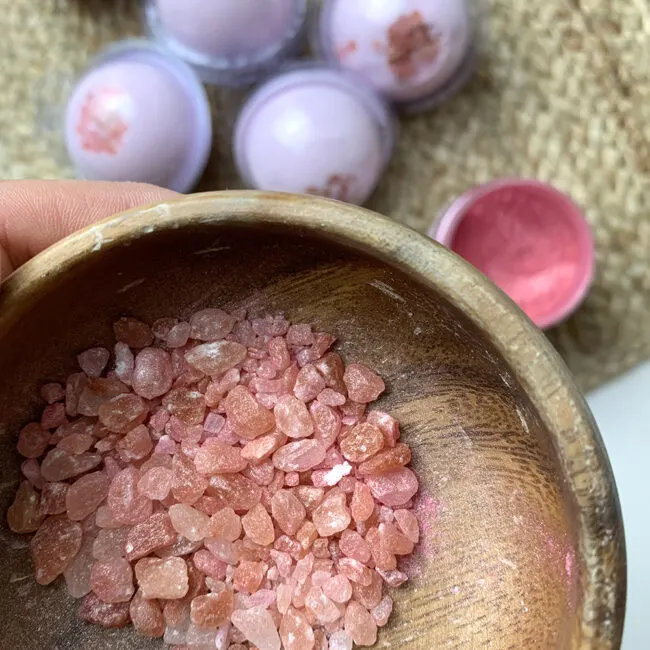 Filling the Molds
Note about filling the mold – you want to use your finger to get extra mixture away from the edges so it doesn't squeeze out when you press the two halves together. If you don't like the way it looks after you close the mold, use a small paintbrush to remove excess powder where the two halves meet.
At the same time you want to make sure the mold is completely filled, so add a little extra to the middle of each half before squeezing together.
What if I don't have Polysorbate 80?
If you don't have polysorbate your bath bombs will still work and fizz. The polysorbate helps to dispurse the fragrances and color throughout the tub. It also reduces the colorant making a ring around the tub.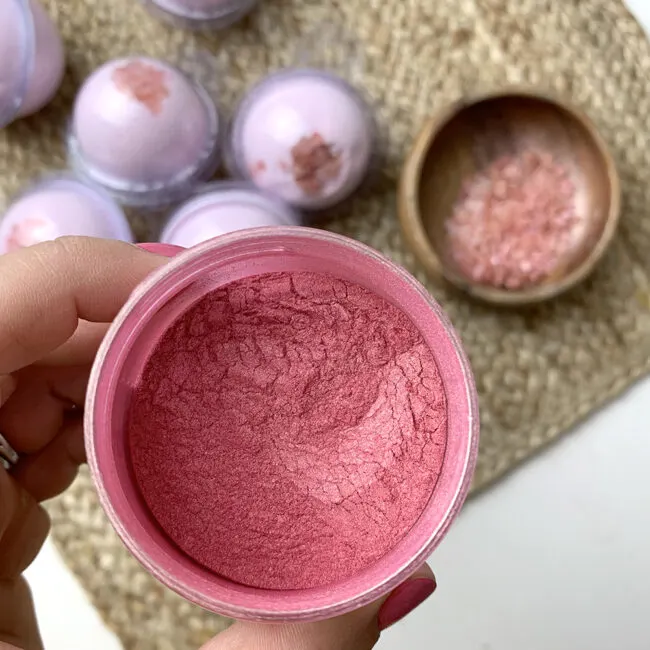 Bath Bomb Colors and Colorants
Since the two main ingredients in bath bombs are white (baking soda and citric acid) the color tends to be pale or pastel. The best colorants for bath bombs are mica powders and a little goes a long way. If you add enough to get bright, deep colors you will also have a nice ring around your tub afterwards.
Purchasing the Supplies
For the sake of only paying one shipping fee, I try to order all of my bath bomb supplies from Bramble Berry. However I have ventured to ETSY for specialty fragrance oils and mica powders.
Sodium Bicarbonate is baking soda. Don't let the big name fool you. I purchase it right from the baking isle at my grocery store.
Watch the 2 Minute Tutorial – See the FIZZ!
Two Minute Bath Bomb Tutorial Video
DIY Bath Bomb Supplies
Yields 6 Bath Bombs
Bath Bomb Directions
Mix the sea salt with a pinch of rose gold mica. Set aside.
In a mixing bowl sift together baking soda and citric acid. Add in fragrance oil, rose gold mica and use the dropper to measure and add fragrance oil.
Mix the mixture using your hands until the mica colorant is even throughout.
Use the spray bottle to spray the witch hazel on the mixture. Mix with your hands. Spray and mix a small amount at a time until you can squeeze it in your hand and it holds the shape.
Once the mixture is able to hold isn't shape, put a few pieces of sea salt in one half of the mold and then press the mixture to fill. Fill the other half of the mold with the mixture and then press together.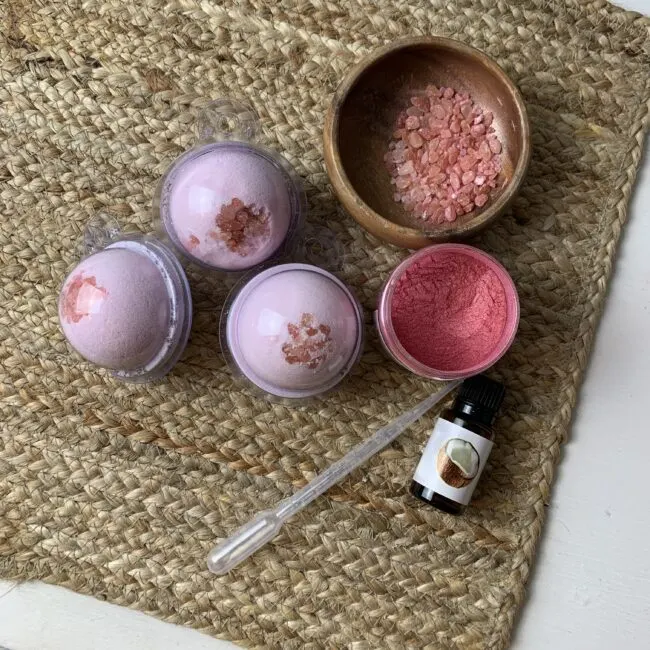 More DIY Projects For You: