Glitter tumblers seem to be gaining more and more popularity. As you may know, I love trying any new craft that involves my Silhouette Cameo and a free Poofy Cheeks cut file or two. When I saw the vinyl decals being used with the epoxy tumblers I knew I wanted to try it out.
I always like to research new projects when they involve spending more than a couple bucks. I guess you could say it's the DIYer in me that doesn't like buying unnecessary supplies.
Now that I have quite a few glitter tumblers under my belt, I wanted to write a few blog posts for beginners.
Cup Turner
The cup turner is the #1 most important supply needed for tumblers. I've seen people who manually turn a piece of PVC (sorry I don't have time for that!) or who have built their own turners. I followed the tutorial on Leap of Faith Crafting to make my own cup turner. While it only cost me around $15 and worked, I would highly suggest buying a heavy duty cup turner for around $35.
After about the third cup with my DIY turner it would stop turning every now and then, so I had to keep a very close eye on it. When people started asking to order tumblers from me, I decided it was time to buy a turner. I bought this cup turner on Amazon and it works flawlessly.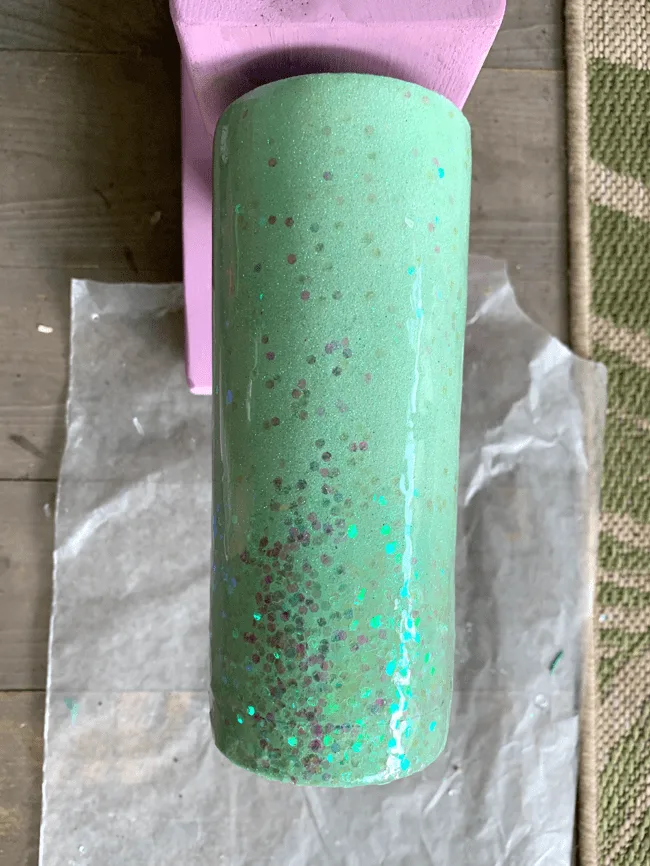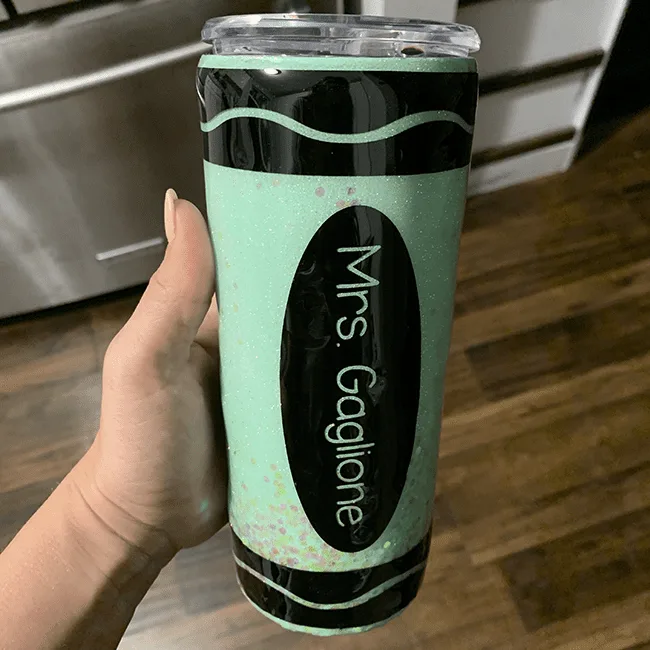 Epoxy for Glitter Tumbler
I bought the We R Memory Keepers Spin It epoxy for my first cups at Michaels. I bought it because I could get it right away and use the Michael's 40% off coupon. I have about 1/3 left and have made around 10-15 tumblers so far.
I can't really compare since I haven't used any other epoxy brands, but the reviews aren't very good and say it is notorious for causing fish eyes and ripples. (Fish eyes are area where the epoxy separates and creates a well in the surface.) I have experienced both of those issues even after I have followed all of the directions precisely. I'll be ordering Alumilite epoxy when I run out.
Epoxy comes with two parts which you mix together. Most brands require a 1:1 ratio, but some are a 2:1 ratio. Be sure to read the instructions and measure to keep the amounts exact.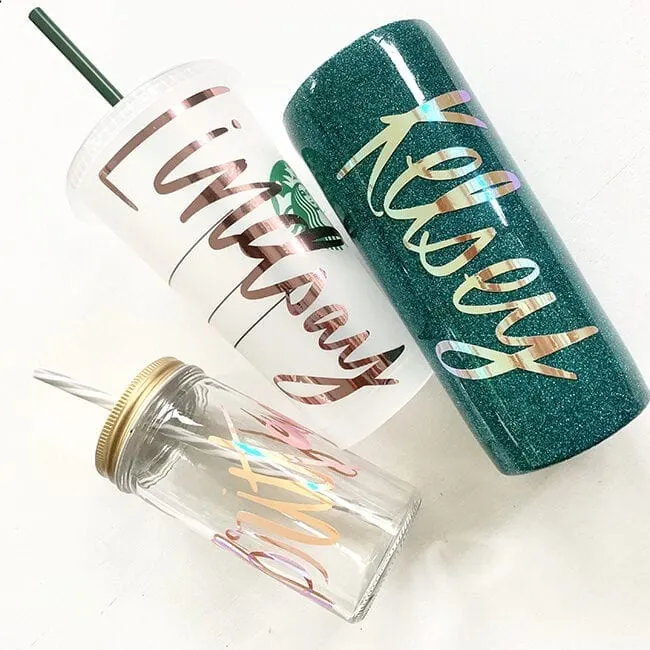 Glitter
I suggest starting with extra fine glitters for your first cup. The chunky glitter is a bit harder to work with and can require extra coats of epoxy to get everything smooth. I have used all different kinds of glitters without an issue.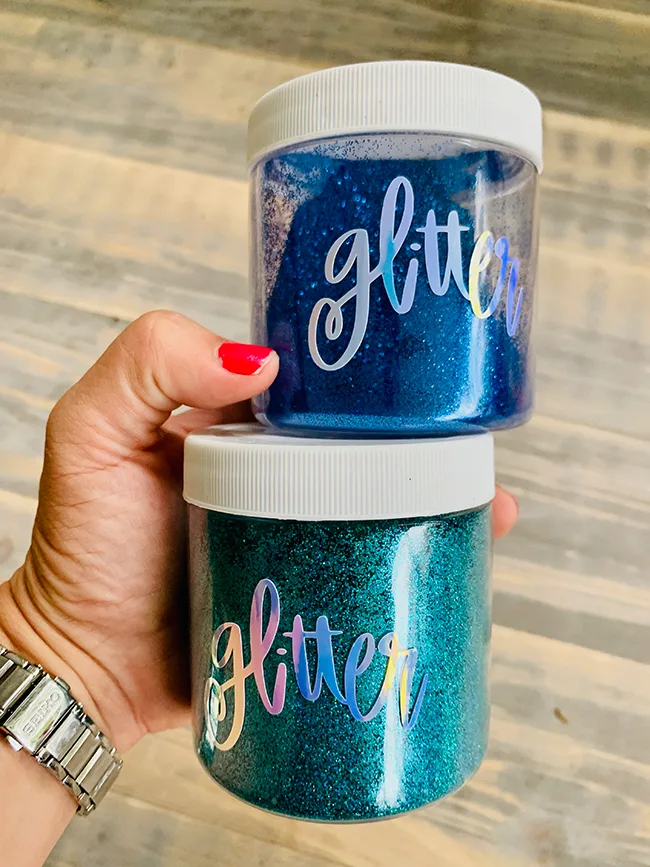 Gloves
Epoxy is very sticky and you must wear disposable gloves. Cups come out best when you use your finger to coat the epoxy on. I tried using a silicone brush but it left too many ripples.
I put the gloves on before I even start mixing my epoxy because I'm a bit messy.
Popsicle Sticks and Cups
Popsicle sticks are the best way to mix the epoxy. You start by pouring part A and stirring slowly for about 60 seconds scraping the sides. You then do the same with part B using a new cup and stick. Then pour both parts into a new cup and stir with a brand new popsicle stick.
Medicine cups with the measurements on the sides work best. Another option are silicone cups that you can reuse. I am waiting on these silicone cups to arrive.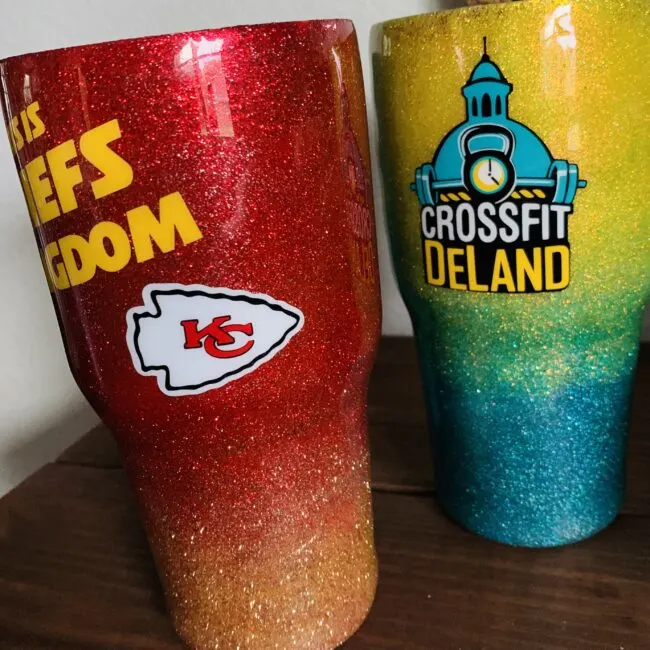 Heat Gun
When mixing epoxy it is inevitable that you will get at least a few air bubbles. Sometimes when you coat your tumbler you will notice larger air bubbles appear. You can try to smooth it back out if the epoxy hasn't starting curing or you can hit it quickly with a heat gun and it will pop almost instantly.
Minimal Supplies Needed to Make an Epoxy Glitter Tumbler
Glitter
Tumbler
Mod Podge (Hard Coat or Dishwasher Safe)
600 grit wet/dry sandpaper
Vinyl Decal (optional)
Additional Supplies for Making Epoxy Glitter Tumblers
When I first started making tumblers I went with the minimum supplies. I told you I did a DIY turner and I also made my own cup holder from a scrap piece of 2×4, leftover PVC pipe and a cut up dollar store pool noodle.
Now that I'm making more glitter tumblers I have started adding a few extra supplies to my arsenal.
Silicone Mats to collect drips of epoxy and keep my space clean
Spray paint (recommended for light color glitters)
Rubbing Alcohol
Stay tuned – I'll be sharing a glitter tumbler tutorial post with video next!
More Epoxy Tumbler Tutorials: