I LOVE strawberries and lately I have been loading up on them and adding them to every meal! Last week I made french toast and gave it the royal treatment – fresh strawberries! It was better than any restaurant (minus the fact I had to clean up the mess when the meal was finished). French toast is one of my favorite breakfasts because it is versatile, delicious, cheap and easy!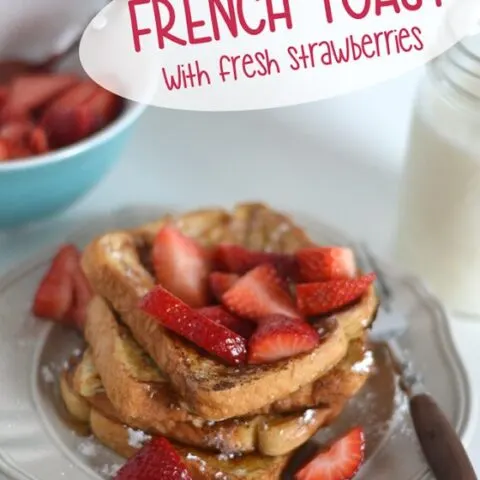 French Toast with Fresh Strawberries
Ingredients
2 cups fresh strawberries, sliced
1 tablespoon granulated sugar
12 slices bread
1 cup milk
2 eggs
1 teaspoon vanilla extract
cinnamon and powdered sugar, optional
Instructions
In a small bowl mix together sliced strawberries and sugar. Stir to coat and set aside.
In a low dish such as a pie plate lightly beat together eggs, milk and vanilla.
Place a griddle on medium heat grease the pan with shortening. (See my notes below)
Working with one slice of bread at a time, dip and press the bread into the egg mixture, flip and repeat to coat the other side. Hold the bread over the egg mixture for a second before placing on the heated griddle.
Sprinkle cinnamon over the slices and allow to cook for 2-3 minutes or until golden brown, flip and repeat. Sprinkle with powdered sugar.
Serve french toast with fresh strawberries and syrup!
Nutrition Information:
Serving Size:

1 grams
Amount Per Serving:
Unsaturated Fat:

0g
Strawberry French Toast Notes
**As the strawberries sit with the sugar it draws out some of the juices making a strawberry-like syrup. You don't have to add the sugar but I highly recommend it!
**I prefer to use shortening to grease my pan because it doesn't turn brown like butter can when the pan gets too hot.
**When I make french toast I store the finished slices in an oven safe dish inside a 200 degree oven so that they stay warm and we can all have a hot meal together at the table as a family.
I am a total breakfast person – I personally love nights when we eat breakfast for dinner! French toast is one of my favorites and adding the fresh strawberries just kicks it up to a whole new level!
Enjoy,