Scarlett from Made It. Ate It. Loved It. is here today to share some really fun thumbprint cookies! Enjoy!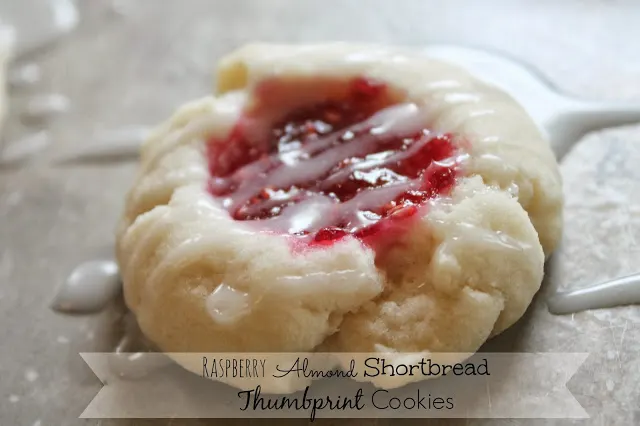 Hey, this is Scarlett from Made It. Ate It. Loved It. I was thrilled when Poofy Cheeks asked if I would like to join in on the cookie exchange fun! A few cookie ideas came to my mind, but this one was at the top! I just love how easy, pretty, and yummy these cookies are. And during the busy holiday season what more could you want!
Raspberry & Almond Shortbread Thumbprint Cookies
yields: 3 dozen
Cookie:
1 cup butter, softened
2/3 cup sugar
1/2 teaspoon almond extract
2 cups all-purpose flour
1/2 cup seedless raspberry jam
Glaze:
1/2 cup confectioners sugar
3/4 teaspoon almond extract
1 teaspoon milk
Preheat oven to 350 degrees F.
In a medium bowl, cream together butter and sugar until smooth. Mix in almond extract. Then add flour, dough will then start to come together.
Roll dough into 1 1/2 inch balls and place on ungreased cookie sheets.
Make a small hole in the center of each ball, using your thumb or finger. Fill with raspberry jam.
Bake for 14-18 minutes or until lightly browned. Let cool for 1 minute on cookie sheet.
In a medium bowl, mix together glaze ingredients: confectioners sugar, almond extract and milk. Mix until smooth. Drizzle lightly over warm cookies.