Peppermint Mocha Cupcake recipe with Peppermint Mocha Buttercream.
This time of year I love all of the sights, sounds and flavors of the holidays. I love wondering through the stores while singing along to the Christmas music they have playing. I think my very favorite part of the holidays is carrying on and creating traditions with my children. The feeling you get around the holidays is magnified when you get to experience it through your children and relive your own childhood memories.
Holiday baking has become a tradition I am trying to carry on with my children – one that my mom did with us. For the past few years we have baked here and there and then had one big baking day where my brother and sister come over and we make five or six different sweets. We started our holiday baking a little early this year because this coming weekend I am going to visit my brother at FSU and I wanted to take him some holiday sweets. Since he is three hours from home and has a job this year he won't get to come home until a day or two before Christmas – missing out on all of our baking.
Wondering what we baked up? Peppermint mocha cupcakes with peppermint mocha buttercream frosting… of course! Coffee-mate has their seasonal flavors out and I incorporated the peppermint mocha creamer to make a delicious buttercream frosting!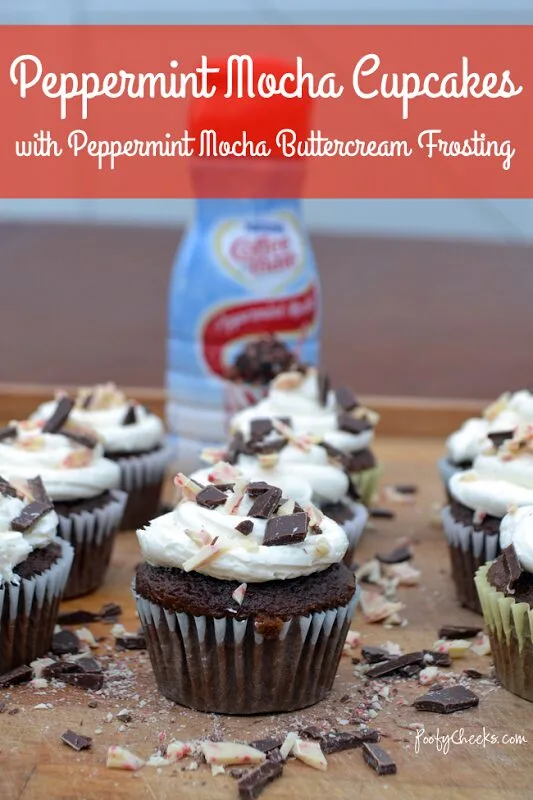 Peppermint Mocha Cupcake Ingredients:
Chocolate cake mix (and ingredients it calls for on the box)
Strong brewed peppermint flavored coffee, room temperature (enough to replace the amount of water the box cake mix calls for)
Peppermint Mocha Buttercream Frosting Ingredients:
Yields 24 cupcakes
Directions:
Bake cupcakes according to box directions but replace the water with brewed peppermint flavored coffee. Once baked allow to cool.
For the frosting – Use a mixer to whip butter until creamy. Add in powdered sugar and beat on low until well blended. Once blended mix on medium speed for two minutes.
Add salt, peppermint extract and Coffee-mate Peppermint Mocha and mix until combined.
Once the cupcakes are completely cool frost them and enjoy!
My hint: Since I only wanted a single serving of the peppermint coffee to add into the cake mix I used my French press and put it into the refrigerator for ten minutes to cool before adding into the cake batter.
I garnished mine with peppermint chocolate but candy canes would make the perfect garnish too!
Don't forget the other season flavors Coffee-mate has out right now! Make the season better with Dark Chocolate Fudge, Peppermint Mocha and Eggnog Latte.
Enjoy,

I was selected for this opportunity by Clever Girls Collective, however all content and opinions expressed here are my own.