Nothing says FALL like a batch of apple dumpling cobbler and a big glass of apple cider to go with it. The smell alone is enough to make me weak in the knees.
Making this cobbler is a staple on our fall bucket list every year. On a cool fall night after a hearty dinner like Chili and Cornbread this is the perfect dessert. My favorite part is the cobbler-like crust which absorbs the cinnamon and nutmeg syrup.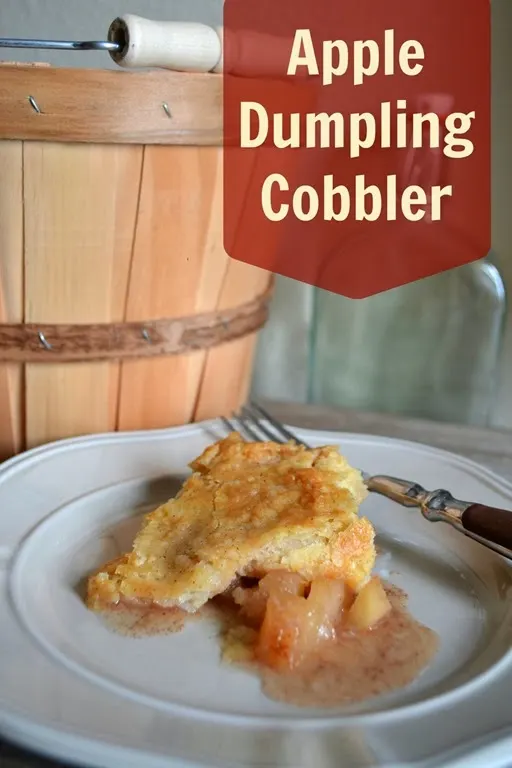 Lately I have been doing most of my grocery shopping at our Super Target since it is the closest to our house. They have had a really good selection of apples at the front of the produce section so I grabbed a bag of Macintosh. You want to use a good fresh baking apple for this recipe – jonamac, macintosh, honeycrisp or whatever your favorite is!
Thank you to my mom for being such an awesome cook and passing this recipe down to me!
Apple Dumpling Cobbler Recipe
For Syrup
1 ½ cups sugar
¼ teaspoon cinnamon
¼ teaspoon nutmeg
¼ cup of butter
2 cups of water
For Crust Topping
2 ¼ cups of flour
2 teaspoons of baking powder
2/3 cup of shortening
½ cup of milk
½ teaspoon salt
For Apple Filling
6 small apples or 5 large apples (cored, peeled, sliced)
1/3 cup of sugar
¼ cinnamon
¼ nutmeg
¼ stick of butter – sliced
Directions:
Preheat the oven to 375 degrees and grease a 9×13 baking dish/pan.
In a large bowl combine apple filling ingredients and toss to mix. Pour into the bottom of the baking dish. Top with slices of butter.
In a medium saucepan make your syrup. Combine sugar, cinnamon, nutmeg and water. Bring to a boil and then reduce and allow to cook for five minutes. Remove the pan from the heat and stir in butter. Set aside.
For the crust combine flour, baking powder and salt. Cut in shortening. Add milk all at once and stir just until the mixture is moist – do not over-mix. Form into a bowl and turn out onto a floured surface. Using a rolling pin roll out to fit over the top of your baking dish. Gently lay over the apples tucking and tearing to fit.
Pour the syrup over the top of the crust. It will run down into the apples. Sprinkle the top with cinnamon if desired.
Bake at 375 for 45 minutes.
Enjoy,