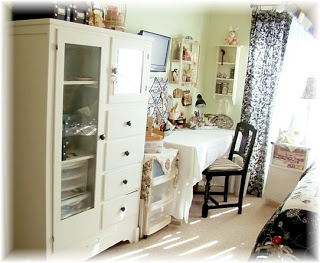 Beth from Alyssabeth's Blog & Shop is here showing off her shabby chic craft room – and have I mentioned that I am head over heels for shabby chic? If you like the style of her craft room – you should really follow her on Pinterest!! She is always pinning shabby chic! Hi everyone, I'm Beth from Alyssabeth's Crafting Blog, where I craft, decorate and repurpose just about anything I can lay my hands on! Come on in and see my new little craft space, and because I'm never through decorating it's still a work in progress.
For the last two years I had taken over my formal dinning room as a work area for my Etsy shop and craft space for my blog, but it was not the best space for either. I've been redecorating my step-daughter's bedroom in my eclectic shabby chic style over time and once she graduated high school and move off to school I took the chance to take over, well most of it – I still have to share my space with a guest bed.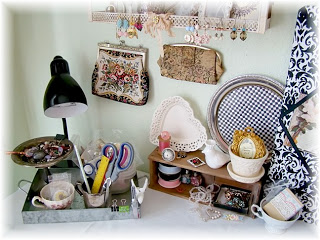 This is the one space in the house that I can fully 'girl out' and make my own, for some reason my hubby doesn't care for the shabby chic look in the rest of the house. I've filled this room with white painted antique furniture, black & white damask, all sorts of little vintage treasures found at flea markets and junk shops!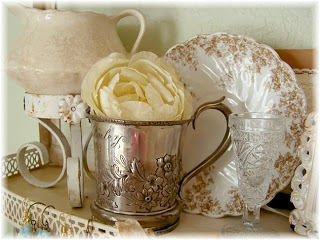 I'm still in the process of getting organized, but I've created buttons jars out of retro style sugar shakers; use those wonderful black boxes from Ikea to store supplies that I don't use everyday. The shelves of my antique chifarobe are stacked with boxes and boxes of jewelry supplies for my online shop and finished pieces. The lovely art deco vanity is now my shipping area, the top drawers are the perfect size for rolls of ribbon and the bottom drawer holds my jewelry boxes, envelopes and other shipping supplies. For extra scraft supply storage I have a vintage suitcase and over night case stack on a little stool my father in-law made bakc when he was in high school.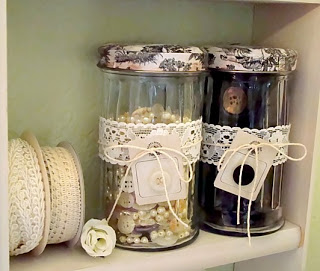 I feel so much more creative in this new bright, cheerful and very girly space and now my husband want's a space of his own!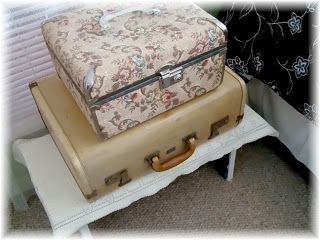 Happy Crafting,
Beth