Print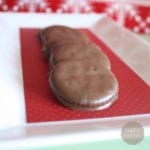 Thin Mint Cookies
The easiest cookie you will ever make with only two simple ingredients.
Pour the baking chips into a microwave safe bowl and heat in 30 second intervals. Between intervals pull the bowl out and stir the chips. Continue to do this until all of the chocolate is melted and smooth.

Dip the crackers into the chocolate one by one using a fork then flip.

Use a fork to remove the crackers from the chocolate and let the excess chocolate drip off.

Place on wax paper to cool and allow the chocolate to harden.