Print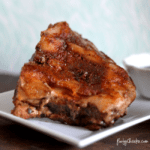 Crock Pot Ribs Recipe
An easy and quick crockpot ribs recipe that is sure to make your mouth water.
In a small bowl mix together brown sugar, paprika, salt, pepper, garlic salt, and cayenne pepper. Rub the mixture all over the ribs.

Place the ribs in a crock pot on low for 6-8 hours.

Gently remove the ribs from the crock pot as they will be tender and falling off the bone and place on a foil lined baking sheet. Brush with BBQ sauce.

Place the ribs under the broiler for six minutes, flipping halfway through.