**This post contains affiliate links to products I use and recommend. I may recieve a small commission, at no cost to you, if you make a purchase through a link.**
Sweet Tea Cut File for Silhouette – This post contains affiliate links to products I use and recommend. By making a purchase I may receive a small commission.
Last week my family went on an amazing cruise aboard Royal Caribbean's Oasis of the Seas. I had to laugh because my southern raised kids asked for sweet tea at each meal. They were told every time that they only had unsweetened tea with sugar packets.
Unsweetened tea with sugar packets is nothing like good ole' southern sweet tea. As my nine year old son tried it for the first time he was highly disappointed. The kids passed the glass around taking sips and discussing how awful it was. Fresh brewed tea mixed with way too much sugar was something my kids were practically drinking from their bottles and they knew no different.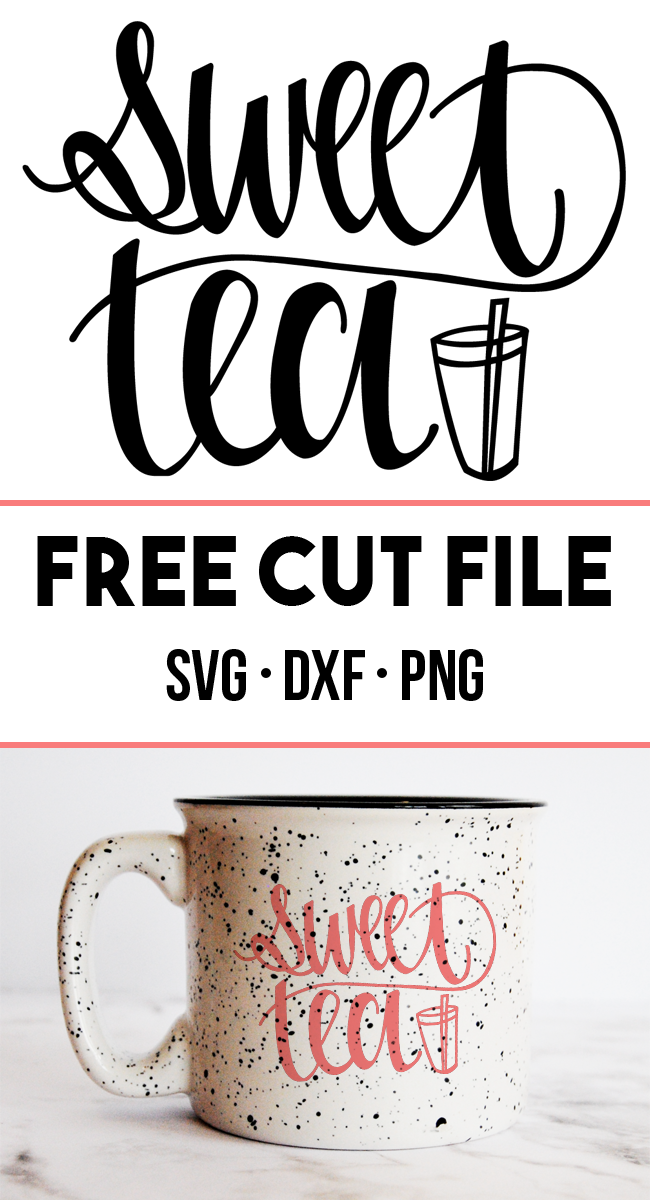 Sweet, Sweet Tea
I know I've shared before that I'm from the Midwest. I can't think of one place in Illinois that brews fresh tea – especially sweet tea. Most teas are the Lipton syrup that come from the soda machines. Oh, and we call them 'pop' machines up north.
My husband grew up in Georgia and Florida and takes credit for turning me into a sweet tea drinking, 'soda' saying gal. My first job when I moved to Florida after high school was a waitress at a seafood restaurant and when I'd ask people what kind of pop they wanted I always got the strangest looks. I quickly learned to start saying soda instead of pop. I also quickly learned how to make fresh brewed sweet tea as we ran out once at least once a shift.
The Sweet Tea cut file for Silhouette and Cricut machines was created using hand lettering and then digitized in Adobe Illustrator. At the very bottom of this post you can download the cut file in DXF format for Silhouette Cameo and SVG for Cricut machines. I also include a PNG file if those two formats aren't working for your machine.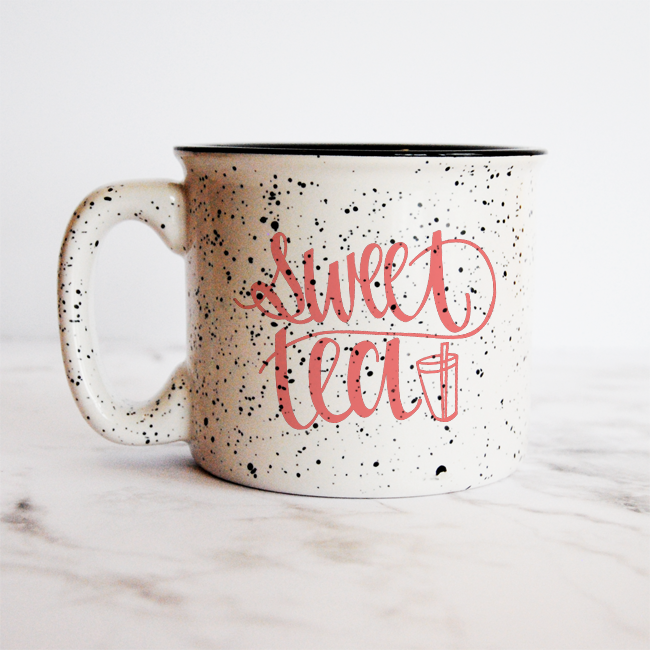 Sweet Tea Cut File FAQs
What can I make with these cut files?
Cut these files onto any medium you prefer and make SO MANY THINGS! Make mugs, cups, shirts, onesies, tote bags or basically whatever your heart desires. I have put together a list of adhesive and iron-on blanks to give you more ideas. My Vinyl Direct has a whole bunch of blanks you will fall in love with.
Where do you get your vinyl?
I buy from a handful of different places to get my hands on new products when they come out. My favorite is Happy Crafters because the girls are always so willing to help and they have quick processing time. I hate waiting around for items to ship ya' know!? My next favorite is Expression Vinyl. Both of these places offer the typical colors and types of vinyls and both have an array of fun prints staying on top of new trends.
Do I have to input my email and name each time I want to download a new freebie from your site?
Yes, this is how we tell what is popular and how many times each cut file is downloaded.
Can I sell items I create with the free cut files?
Yes, the cut file is for personal and commercial use. You may NOT sell the digital files themselves but you may sell items you create using the cut file designs. Please tag us with your creations on IG (@poofycheeksblog) and we may share on our own feed!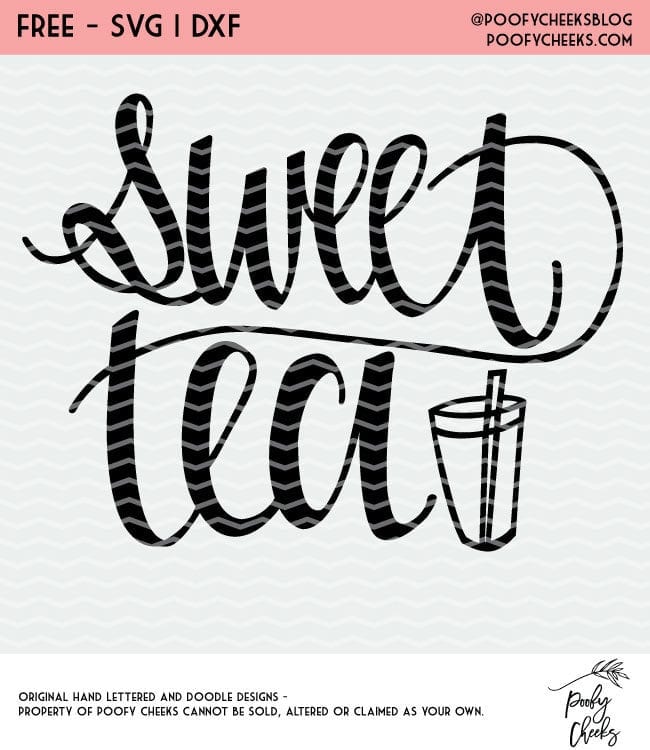 More Free Cut Files from Poofy Cheeks
Download the Sweet Tea Cut File for Silhouette and Cricut
Sweet Tea Cut File
Enter your name and email so we know where to send the files. They will arrive in your inbox within minutes!