**THE PHONE APP USED TO CREATE MONOGRAMS IS NO LONGER AVAILABLE FOR IPHONE OR ANDROID. AN UPDATED POST IS COMING SOON AS I HAVE FOUND A SOLUTION**
Monograms are a timeless classic and never seem to lose their popularity. I am sharing how I make monograms using a phone app and the Silhouette Studio program today. I have seen monogram fonts for sale online and in the Silhouette design shop but for $.99 you can get access to a few different monogram styles and a bunch of other fonts. Making monograms is a breeze once you get the steps down and here I am to show you those precise steps with screenshots of everything. Ready to get started!? Let's get started creating monograms with Silhouette.
The first thing you need to do is download an app from the Google Play or iTunes store.
The app is called Monogram It! by Firelit Studios.
For easy to follow purposes look for the pink circles as indicators of where you need to click throughout the images of this tutorial.
Tutorial for Making Monograms with Silhouette Studio-
I am using the android version so I apologize if the iTunes version is different. When you open the app you will get to a screen that looks like the one below. Press the '+' sign on the top right to create a new monogram.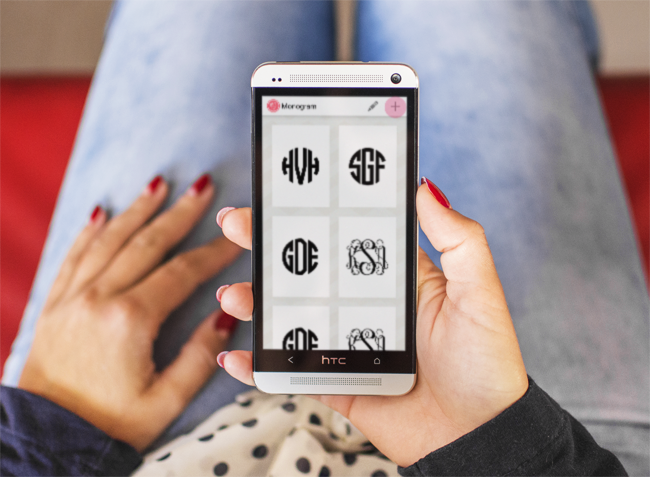 Click the monogram ABC along the bottom of the screen to type in the monogram letters you want to use. The traditional letter order for a monogram is first, last, middle.
Type the two or three letters you want to use for the monogram on the keypad. Now you can pick which kind of monogram font you want. If you scroll through the choices you will see other letters and fonts for full names. You can use any of these to create a cut file in Silhouette Studio by following the steps below. You need to be sure to pick black for the font color because we are going to use the Silhouette trace tool to create the cut file and black and white images work best. Once you get the hang of the app you can also add in frames (again use black and white for tracing purposes). When you have what you want click the save button on the top right.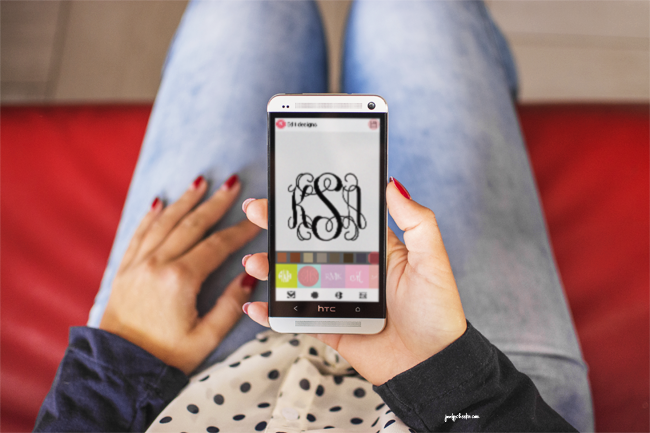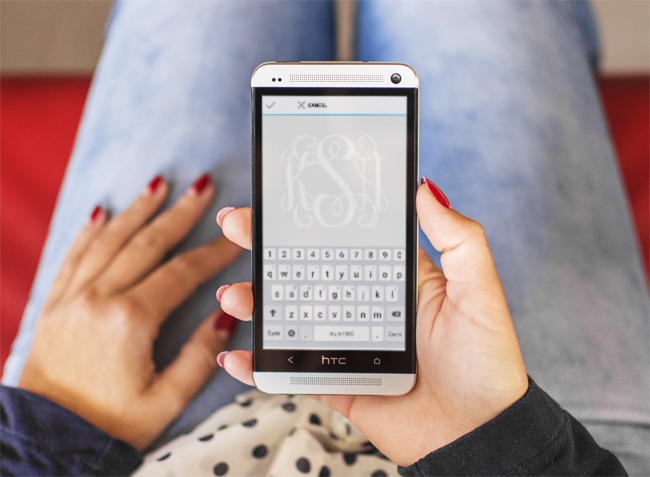 Once you click the save button on the top right of the monogram/color page you will be taken back to the first screen. Hold down on the monogram you want to use and share to your email and then email it to yourself. You can send multiple monograms at once if you are working on a bunch.
Go to your computer and open the email and save the files to your computer.
Then open the files in Silhouette Studio. I resize my image to be larger than it is at first so I can see the lines better. Click on the trace button which is the button on the top menu bar. Then the side panel will show trace options. Click on 'Select Trace Area' and drag a box around the monogram and then release.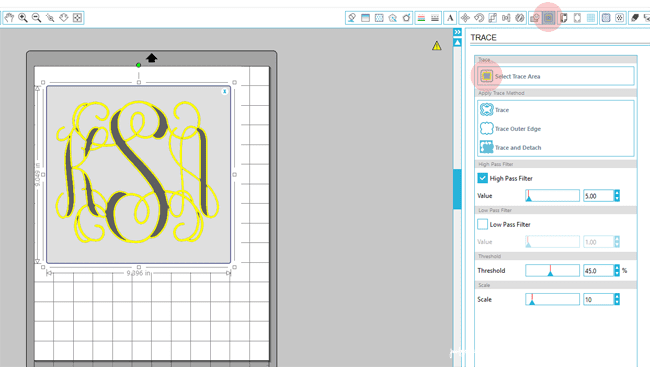 Then click the 'Trace' button and the yellow lines will turn to red lines. All the red lines are where the machine will cut. Sometimes the trace function will add extra cut lines where there shouldn't be any. I am going to show you how to remove the extra lines.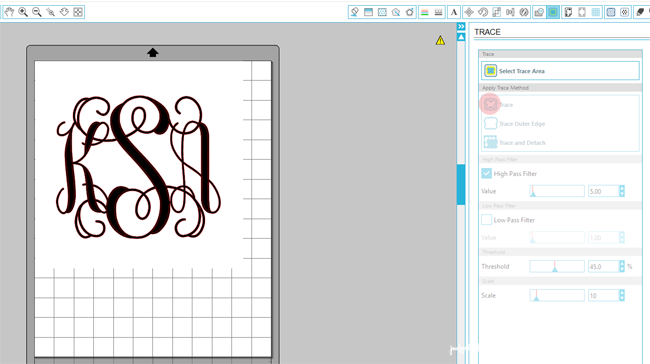 Drag the original image to the side. You can delete it but with the cursive monogram font sometimes I like to use it as a reference so I don't delete any lines that should stay.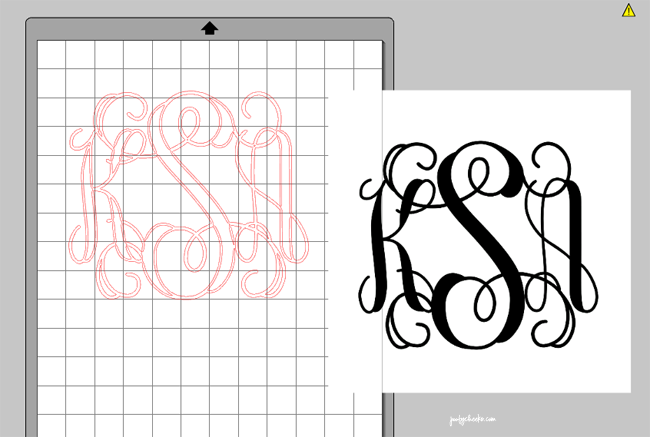 Click on the red cut lines and one box should appear around it. Right click and select 'release compound path' or click on the 'release compound button' on the bottom menu bar. Now every cut will have it's own box around it and you can select individual parts of the design.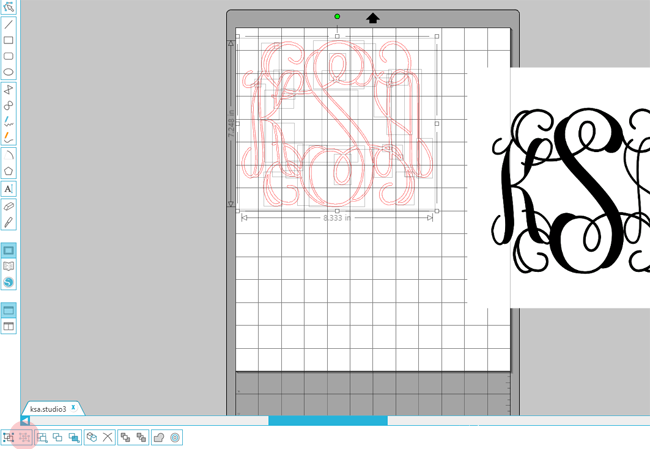 Drag the parts of the design you do not want to use to the side. Once you have the design the way you want it select the original image and the extra pieces and delete them. Then select the design, right click and select 'create compound path' to turn it all into one design again. This make it easier to resize and move the design around without leaving a piece behind.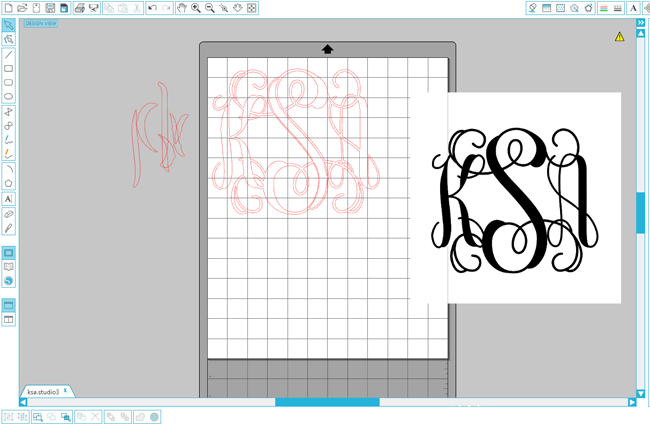 Resize the image to the size you want it to be and arrange it to cut where you want. Select the 'cut' icon from the top left menu bar and select your material, blade depth, cutting speed and thickness. I am cutting adhesive vinyl to make a monogram to fit on my aqua RTIC cup so I am using vinyl, blade set to 2 (even though it says 1 on the screen), speed of 5 and depth of 10. My blade is on it's way out which is why I am using a higher blade depth than I would normally use. If I had a brand new blade I would be using a blade depth of 1.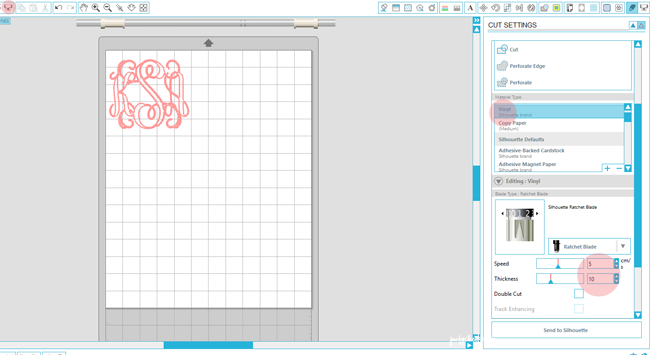 Here is an example of the monogram font being used with glitter heat transfer vinyl for a Fourth of July tank top I made for my little Delilah last year.
I hope you enjoyed this tutorial for making monograms with Silhouette and will be able to use it to cut monograms and save a bit of money! I can't wait to see what you make! Be sure to tag #poofycheeksblog on Instagram and your project could be featured on our feed!
If you are interested in other Silhouette or Cricut machine tutorials, tips, tricks or free files check these posts out –
Let's Get Cutting-
Join over 2,756 other Silhouette and Cricut users and sign up to get our newest content sent to your inbox! PLUS get access to exclusive free cut files.