**This post contains affiliate links to products I use and recommend. I may recieve a small commission, at no cost to you, if you make a purchase through a link.**
I feel like it has been too long since I gave you all an update on things going on in my everyday life! I try to check in every so often and tell you a bit about myself rather than the technical writing from a DIY post. A lot has changed in the past few months and it has kept me so occupied I decided it was time to play catch up. After nearly four years of staying at home with my children I went back to a 40 hour a week job! It has been huge for our family in more ways than one.
Last spring I told my husband I was ready to return to work. I had expressed this to him many times before but in the end we always decided it wasn't time yet. If I went back to work it meant the kids would have to be in daycare and our kids have never gone to a daycare before.
I missed being a part of a work team, I missed having conversations with people over 8 years old and most of all I wanted to have the stability of a constant check coming into our household. Blogging and running my shop have done so much financially for my family while I raised my kids that I could not be more proud of my mom hustle. I could not be more thankful for all of my customers and readers! However the stress caused by the unknown would often stress me. One week I would make a killing and the next week I would bring in pennies. Trying to financially plan bills, groceries and fun activities for a large family is hard on a fluctuating budget.
When I thought I was at my wits end I told my husband it was time. Our youngest, Emmett, is two now and talking so I felt he would be perfectly fine at daycare. If anything were to happen to him he would tell us and we found a daycare where not only our two littlest could go but the two big boys would be able to go to after school as well. I applied to a handful of places and ended up starting my new job on June 12th. Things have been GO GO GO every since.
I always said that when I quit my job I never realized how much a stay-at-home mom actually has to do and how much work taking care of the house and kids are. Now that I am back at work I have said that I completely forgot how much you run around like a crazy person picking kids up and dropping kids off then hustling to do homework, baths, dinner and bedtime only to do it over again the next day. Right now I constantly feel like a chicken with my head cut off. We eat out more, we are on the go more and there is no time to enjoy a hot cup of tea in the morning because it is a mad dash to get everyone out the door on time.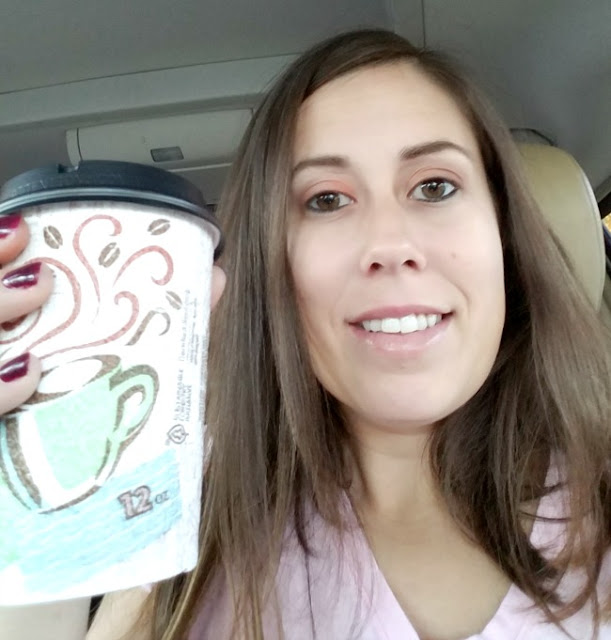 The Dixie® To Go cups have become a go-to in my morning routine since I can snap the lid on and drink it in the car on the way to daycare and school drop off. The leak-resistant lid & insulated layer gives the best on-the-go experience. We load in the car before the sun comes up and a girl needs her morning pick-me-up! Once I get the kids dropped off I turn up the radio and get myself into a peaceful mindset while I make my 20 minute drive to work. I focus on how I am going to crush the day and rule my own little world.
It has been a whirlwind and I have tried my best to keep blogging since it is a passion and selling my handmade goods as a little bit of extra income. (The cost of daycare for four kids is mind blowing!) I have finally found my spot in my new position and am already known as the 'crafty girl' around the office. I have been recruited to help with signs, donation boxes, fliers and even Christmas ornaments for a fundraiser. I have started to make new friends that are older than age eight and get to feel like I am my own person again!
I was selected for this paid opportunity as a member of CLEVER and the content and opinions expressed here are all my own.
Enjoy,
I party
HERE