**This post contains affiliate links to products I use and recommend. I may recieve a small commission, at no cost to you, if you make a purchase through a link.**
I'm a cupcake girl – I could eat cupcakes for breakfast, lunch and dinner. I would pass up a chocolate bar or slice of cheesecake for a cupcake any day! Sometimes I open my pantry just hoping the cupcake fairy has left me a batch of cupcakes but no such luck. There are days when all I want is a cupcake but I just don't have the time or energy to make a whole batch. On top of that – sometimes I want to sneak off to my bedroom and enjoy a cupcake all by myself without having to feed them to my kids and pick up their mess! A few weeks ago I kept going to the pantry – opening it like there was going to be something different than the time before. By the third time I was determined to come up with something. There she was – a box cake mix starring at me. I knew if I made a whole batch I would have to pull out the mixer, the cupcake pan and cupcake liners. The kids would drag the dining table chairs over and want to help then when they were finished the kids would want to eat them and the crumbs would fall onto my just-mopped floors. It was then that I came up with the Cupcake in a Mug and because every now and then we all deserve a little confetti I added sprinkles.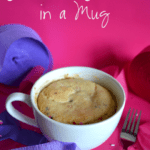 Confetti Cupcake in a Mug Recipe
Ingredients
1

cup

of cake mix

from a box

1

egg

1/4

cup

vegetable oil

2

teaspoons

Jimmy Sprinkles
Instructions
Mix all ingredients in an oven safe mug and bake at 350 degrees for 25-30 minutes. (Baking time may vary depending on your mug and oven – it is finished when you insert a toothpick in the middle and remove it without any batter on it.)
These are just a reminder that everyday should be a celebration! Lately I have had a case of the baby blues so just celebrating the fact that I can make it from one day to the next is reason enough!
Enjoy,

I party HERE
Check out the Poofy Cheeks Blog Pinterest Board for other craft and recipe ideas! Follow Poofy Cheeks's board Poofy Cheeks Blog on Pinterest.